The 2022 State of Backlinks for SEO report by uSERP found that 46.5% of companies spend $5,000 to $10,000 a month on link-building. Medium-quality links cost on average $300, and high-quality links – $700-2000. Most companies that outsource link-building spend at least 25% of their marketing budget on that.
Even if you decide to build backlinks in-house, it doesn't work out cheap when you consider the time of your staff and the cost of tools.
In our article, we share 23 tips, tactics, and top link-building strategies that will help you save on linkbuilding – and get the most out of your link-building budget.
TL;DR
Here are 23-proven ways to save on link-building:
Choose a reputable link-building agency with expertise in your niche and a proven track record of delivering results for their clients.
Use free link-building tools and choose pricing plans that match your needs. Don't compromise on quality if it costs you energy and time, though.
Offer a free tool on your own site to naturally generate backlinks and introduce users to your product or services.
Unlinked brand mentions are a low-hanging fruit because the web page owner is already writing about you.
Implement a strategy to monitor and reclaim lost links avoid link rot and save thousands on lost links.
Search for websites with lots of backlinks, like resource pages, for broken links and suggest your content as a replacement.
Engage in guest blogging exchanges to scale your link-building while minimizing costs and maintaining quality.
Create LinkBait content to attract links. Examples include content that is visually attractive or controversial.
Secure backlinks from site owners who are using your infographics or other visuals, and share them in image banks for free use in exchange for links.
Building your personal brand on LinkedIn and establishing yourself as an authority may result in inbound requests for collaboration and potential backlinks to your own website.
Strategically exchange links with your partners by including their products and services in your content.
Implement ABC exchanges to build links while avoiding Google penalties.
Don't get too worked up about how many links other sites have – prioritize the quality of backlinks over quantity.
Focus your link-building strategy on supporting pages with commercial intent to get the most bang for your link-building buck.
Providing genuine testimonials to your partners is a simple link-building tactic that requires hardly any effort.
Establish and nurture long-lasting relationships, ensuring your link-building strategy is mutually beneficial.
Ensure your content is valuable and offers clear benefits to your link-building partners.
Get your quality content featured on resource pages or create your own.
Reach out to an author of a roundup blog post in your niche and get your website included in the next roundup.
Utilize HARO to provide expert insights to journalists in exchange for backlinks from high-quality websites.
Buy expired domains and set up 301 redirects to your own website.
Collectively buy domains through platforms like Shared.Domains to secure high-quality links.
Invest time in self-education and experimentation with various link-building strategies to make better-informed decisions.
BacklinkManager is a link-building tool with link-monitoring and CRM features. If you want to see how it can help you save on link-building, book the demo!
23 Tried and Tested Ways to Save on Link-Building
To compile the list of the most cost-effective link-building strategies, I reached out to leading SEOs, link-building agency owners, and outreach specialists. Here's what they recommend!
1. Team up with the right link-building agency
As soon as you put out the word that you're after link-building services, your mailbox will be flooded with so many offers, mostly of questionable quality, that you won't recover for the rest of your life.
Instead, reach out to your network for recommendations. That's how you can find reliable agencies with relevant expertise in your niche.
When making inquiries, don't focus on the price only but more importantly – on their results:
Good agencies care about delivering results to their clients, while bad ones care about delivering links. They have a lot more transactional relationships with their clients and once they've delivered the links their clients paid for, they'd love them to bugger off and never bother them again.

Michal Jackowski, the founder of BacklinkManager.io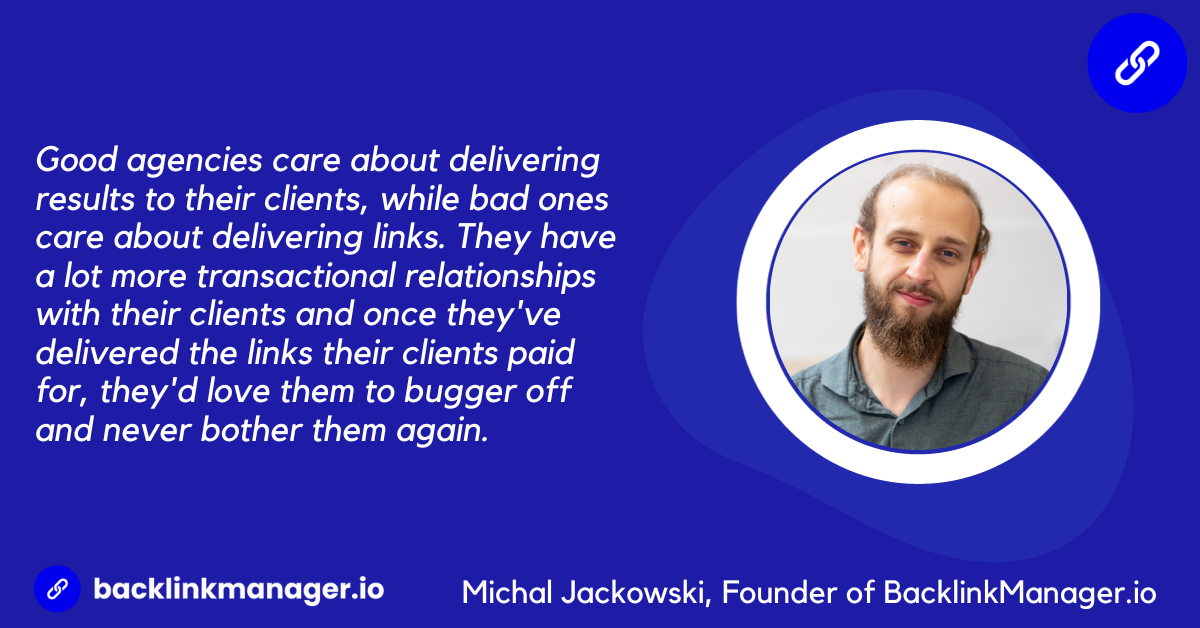 Michal recommends looking for a link-building agency that offers a guaranteed link-rot protection period – ideally lifetime, or at least 2 years. What's more, look for agencies that offer a live reporting dashboard so that you can easily keep track of the links they've built for you.
2. Optimize your tool stack
As an SEO content marketing agency or department, you need quite a few tools. Keyword and backlink research, prospecting and outreach campaigns, backlink monitoring, content creation and management, collaboration, and project management… The list goes on.
The cost of maintaining your tool stack does add up and can put a strain on your budget but there are a few things you can do to reduce the cost:
Look for free alternatives – other products may offer free plans that tick all the boxes, like Ubersuggest for keyword research, or BacklinkManager for monitoring your backlinks (offers 24/7 monitoring of up to 250 links for free) and managing your link-building partnerships.
Consolidate – look for tools that could replace 2 or more subscriptions; for example, Notion, which you might be using for creating content briefs or SOPs, offers project management features as well.
Review your usage – if you're charged based on your usage, there might be a lower plan that will satisfy your needs. Also make sure you remove any former employees that might be still using up seats you're inadvertently paying for!
At the same time, don't skimp on good tools that will save you a lot of time and energy. It makes no sense to switch to a free product with poor UI and limited functionality that will give you lots of grief.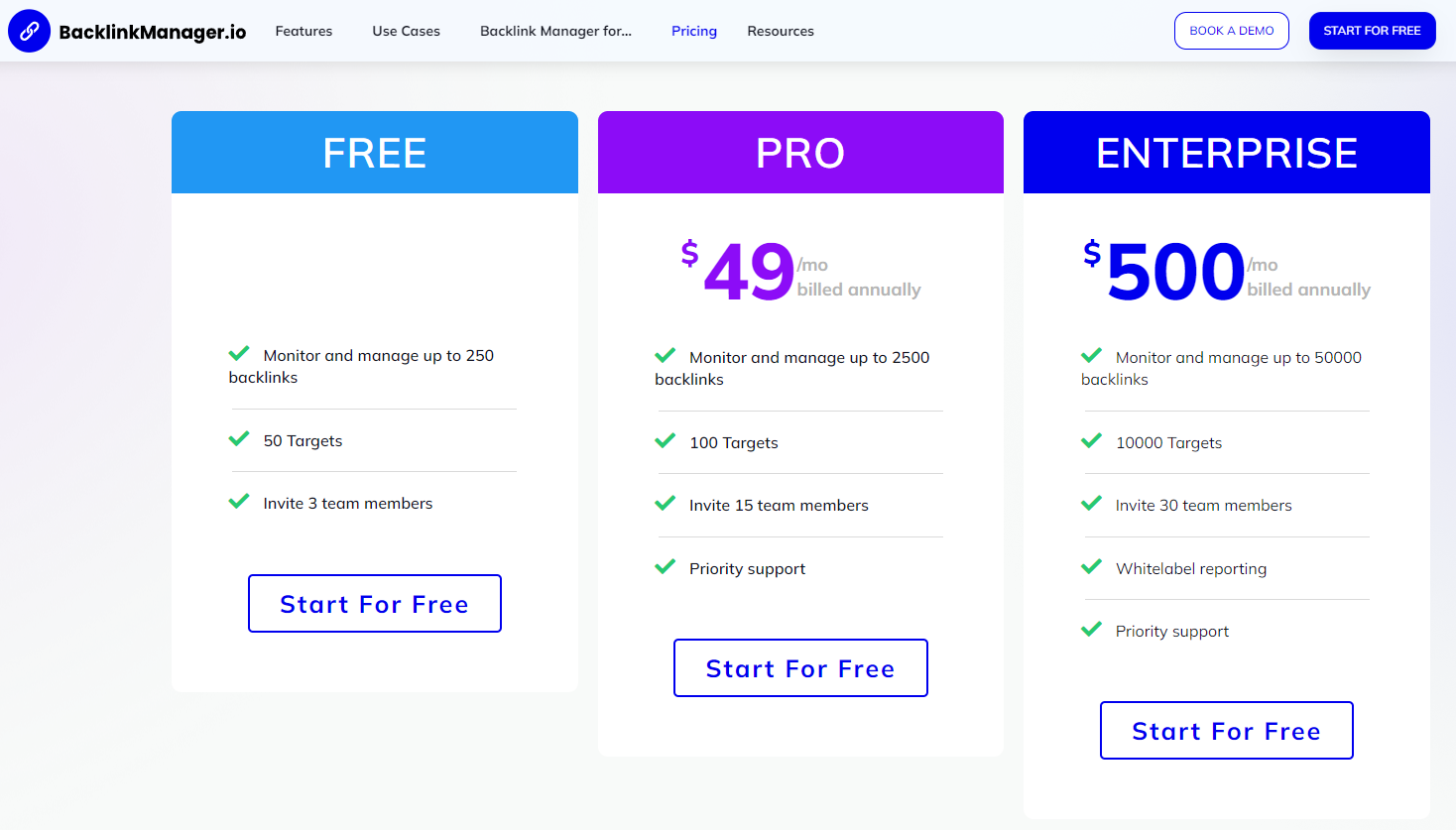 3. Offer a free tool
Talking of free tools…
Offering a free tool or feature could become an excellent source of backlinks.
For example, the SurferSEO free Chrome extension, Keyword Surfer, has generated over 285K backlinks from 8.8k websites, and the Ahrefs free SEO tools I'm using to get the figures for this section have got 4.9M backlinks from 84K domains.

The added benefit of offering free tools is that they help users experience the value of the product and help you acquire new paying customers. Even if you're not in the SaaS space, you can use it to attract a lot of organic traffic to your website (e.g. a free tax calculator for an accounting firm).
4. Seek out unlinked brand mentions
Paulina Wałczyk, the SEO Manager at Brand24, finds link-building from unlinked mentions a good place to start your link-building campaign.
Acquiring backlinks from unlinked mentions using media monitoring tools is an effective and easy method that provides a starting point for further link-building efforts.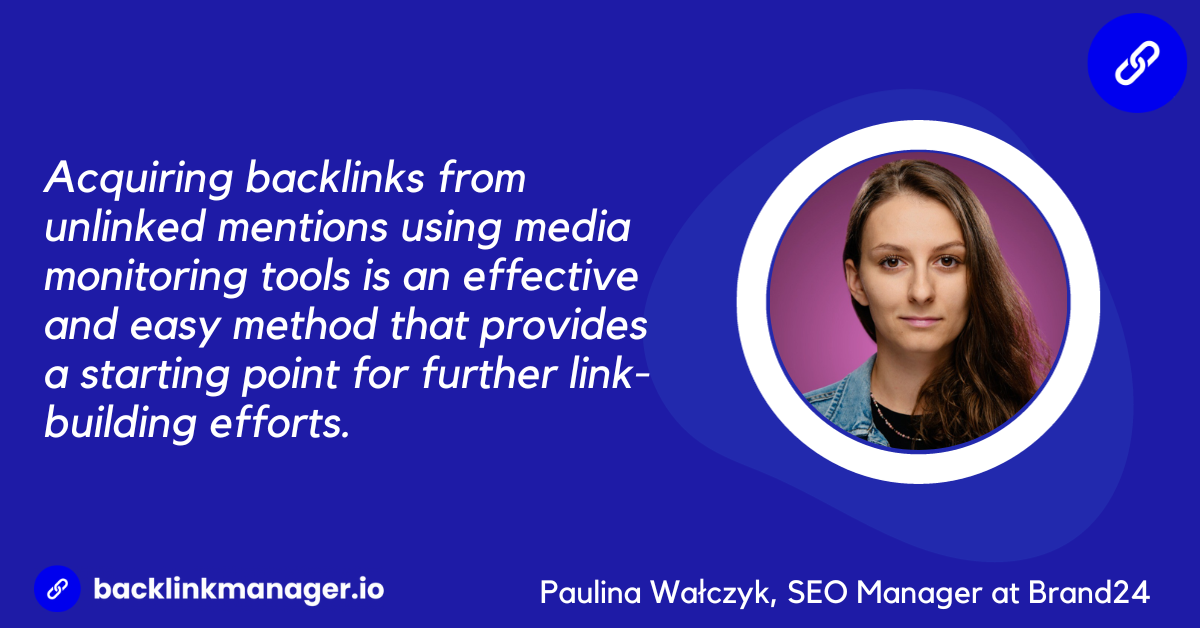 With tools like Brand24, Buzzsumo, Ahrefs Content Explorer, or SEMrush Brand Monitoring, you can easily identify sites that already write about your brand, business, or product. As the content is already there, securing a backlink from such sites is easier.
5. Monitor your links and reclaim lost ones
Considering that building links requires a lot of effort and money, losing them is kind of suboptimal.
And yet, according to Ahrefs, around 8% of links disappear every year due to link rot. It could be even worse! Nick Skliarov of IT Craft has found that around 8% of links rot after just 4 months.
To avoid link rot, Emilia Korczynska, the Head of Marketing at Userpilot, recommends using tools like BacklinkManager to monitor the links you've secured for your site. When you see that a link disappears, you can reach out to the website owner and ask to have it restored. Or an agency, if that's how you acquired it:
Just 6 weeks after a project was done, we noticed that 4 out of 40 links we recently built via an agency already disappeared. Luckily, we got a notification from BacklinkManager and were quickly able to reach out to the agency and have the missing links replaced. That's over $1000 in marketing budget saved.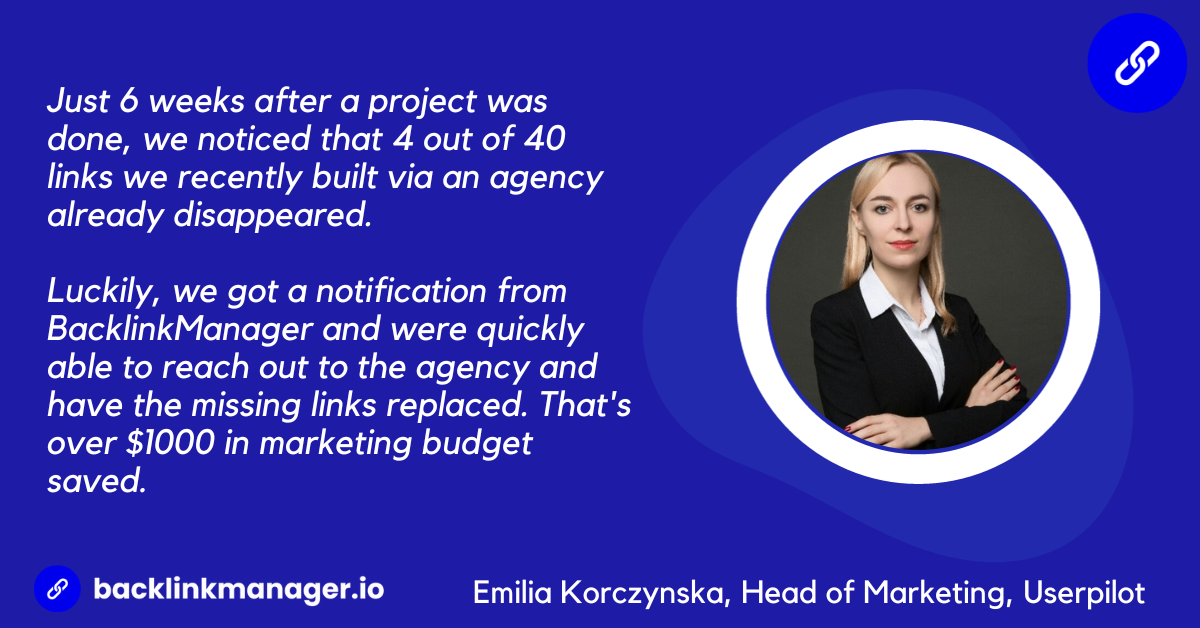 RankTracker is another popular link-monitoring tool and you can identify lost links through Ahrefs Site Explorer or SEMrush Backlink Audit too.
Overall, reclaiming lost links requires much less effort than building new ones, so don't miss the opportunity.
6. Go after broken links
Broken-link building is often confused with link reclamation but these two are a tad different.
Broken link building doesn't target lost backlinks to your content but focuses on other websites with broken links to content in your niche.
To pull it off, you reach out to bloggers or webmasters whose pages contain broken links and suggest your content that they could link to instead.
According to Brian Dean, a link-building legend, this method works so well because you offer them help first before asking for something in return. By replacing the broken links, they actually improve their sites.
How do you find broken links?
All major SEO suites like Ahrefs, SEMrush, Moz, and Majestic offer tools for that. For best results, target pages with lots of links, like resource pages (we're dealing with resource pages in more detail later on).
7. Take part in guest post exchanges
Antonio Gabric, the Outreach Manager at Hunter.io, has found guest posting, and in particular, guest post exchanges, to be an effective and scalable link acquisition strategy:
We built an invite-only Slack community around active guest bloggers. Before sending guest posts to editors, we allow everyone in the community to add link suggestions. Usually, the guest posts will be published with 3 – 5 backlinks, meaning we can expect 3 – 5 backlinks from the partner's guest posts. That way, you can scale your link building while minimizing the costs by building 3 – 5 backlinks from unique domains from just one guest post.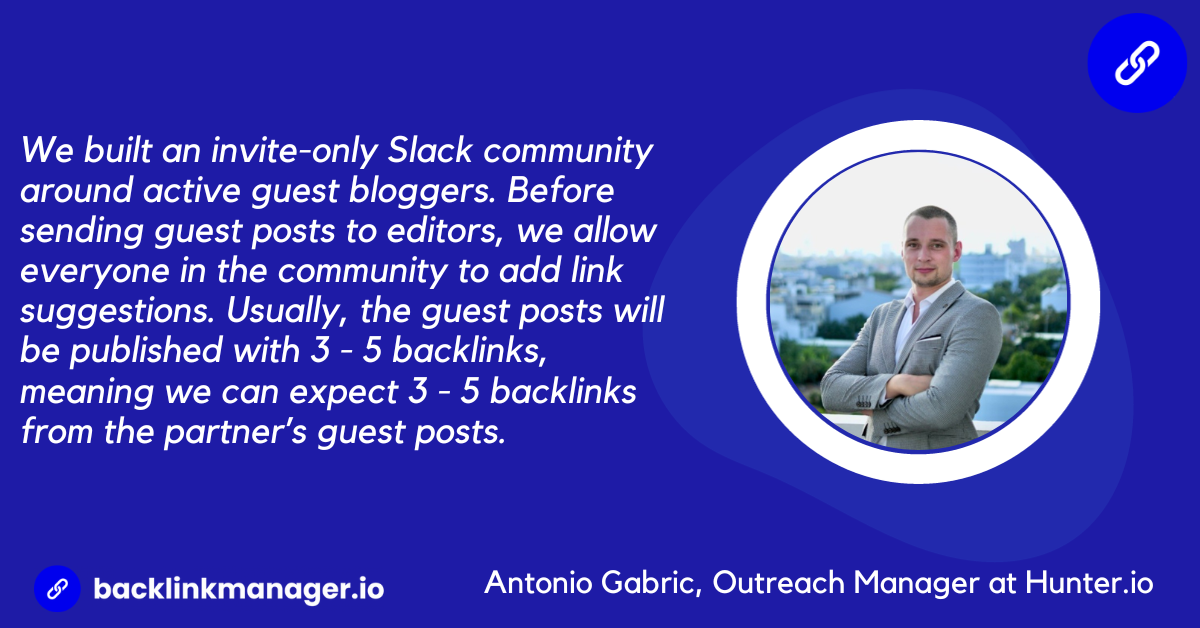 Link exchanges can be a lot of work if you're using Google Sheets to manage them. Again, if you want to facilitate link exchanges –  tools like BacklinkManager can help you facilitate the process with its dedicated link partnership module – and the tool is completely free to use for smaller companies:
8. Create LinkBait content
One of the things that you often hear is that to get links, you need to create quality content.
Sure, but the catch is that even well-researched and well-written content doesn't necessarily get linked to as much as you may think. A 2020 study by Ahrefs has found that over 66% of web pages have no links whatsoever!
Link Bait content is content that is designed to attract links, for example, through 'share triggers'. People are more likely to share content that is topical, evokes emotional responses, offers practical advice, or contains stories. They also tend to share more when they see others do it or if it makes them look better in the eyes of their peers.
So what kind of content should you create?
Visually appealing pages
Controversial content – the 'SEO is dead' kind of controversial
Stat pages – survey and study reports are extremely valuable to other writers
In-depth/ultimate guides
Topical content – hot stories sell well – and get backlinks
Whatever else people link to – do competitor research to identify the content that people are likely to link to.
Conducting original research or creating powerpages is very resource-heavy so these links are by no means free. However, such content is likely to generate links long into the future, so it's a good investment.
9. Put your visual assets to work
Creating custom infographics or other visuals could be time-consuming. It's totally worth it though as they attract links.
Now, the odds are you're already creating them to make your content more attractive (and linkable) anyway.
If that's the case, make them work a little bit harder for you and help you secure more backlinks.
First, reach out to pages that have used your visuals and ask for a backlink, just like you would with unlinked brand mentions. To find such pages, use Google reverse image search (other search engines like Bing offer similar features).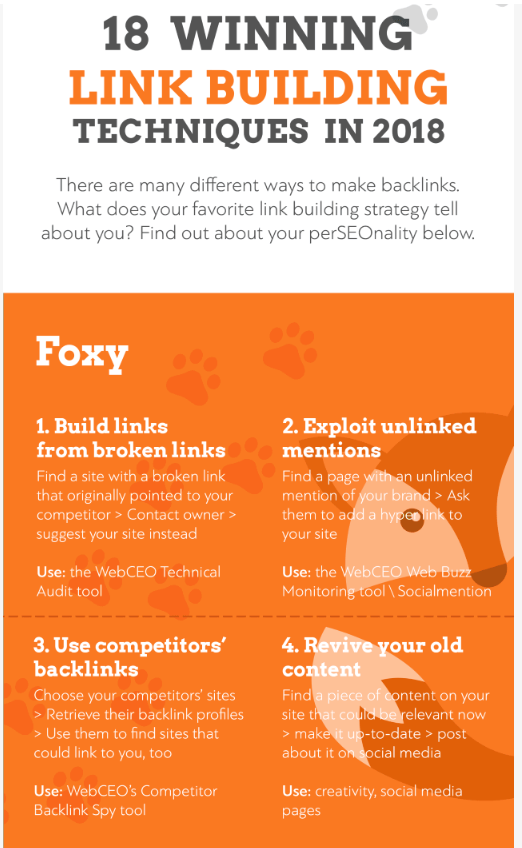 The other way to leverage your visuals is by uploading them to image banks, such as Flickr or Unsplash.
The key is to set the usage terms right. Specify the type of attribution you require (link back to your website) and choose a license that aligns with your sharing preferences, like Creative Commons.
10. Build your personal brand on LinkedIn
For Ben Goodey, the founder of How the F**k and SEO Case Study, investing time in building his personal brand on LinkedIn has paid off:
…personal brand building on LinkedIn has led to a lot inbound requests for quotes and things—that's been my most cost-effective method yet, I even got a link from Hubspot recently.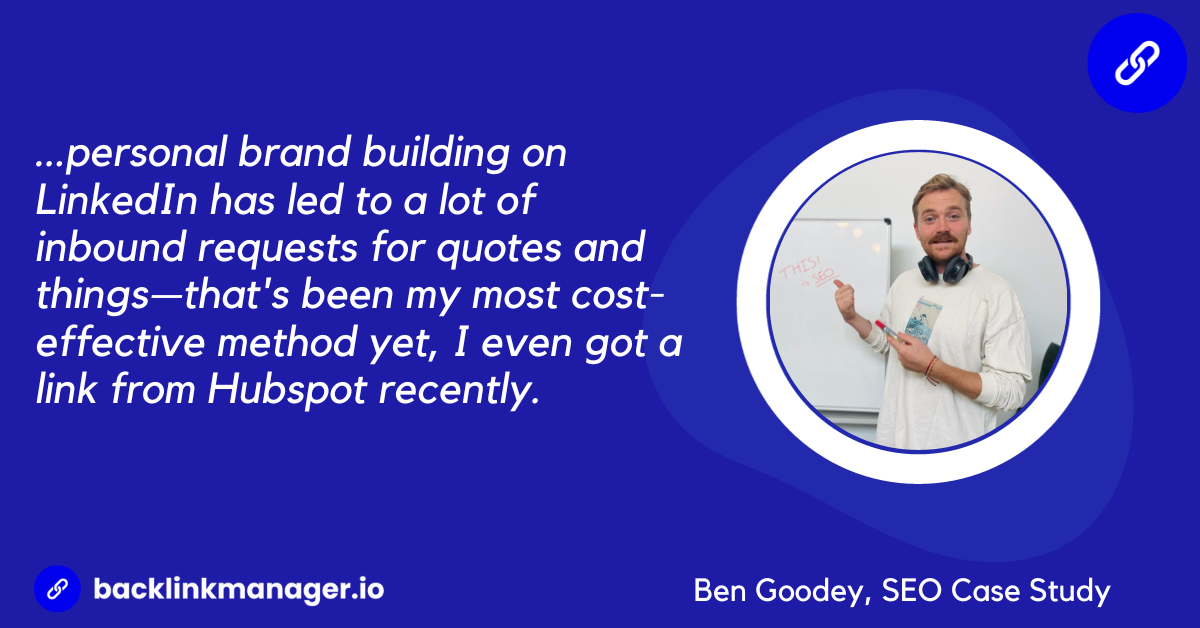 Ben has established his reputation and authority in the SEO world by consistently sharing actionable and valuable content with his LinkedIn followers.
For more tips on how to build your personal brand on LinkedIn, follow Olga Andrienko of SEMrush and Erica Schneider, the co-founder of Power Your Platform.
11. Leverage your network to strategically trade links
Jakub Rudnik, Director of Content at Active Campaign, recommends strategic link swaps as a way to cut link costs.
How does it work?
My favorite tactic is to reach out pre-publication for possible link insertions on my posts. I can control the anchors we add links to and the sites we'd add links from. Folks are happy to get links added to their target pages, and in return they'll add a link to our content from their own sites or in guest posts.
In particular, Jakub recommends listicles for this tactic. Listing 5-15 other products in your post might potentially lead to 5-15 link swaps. And it costs you nothing as you were already planning to add the links anyway so might as well get something in return.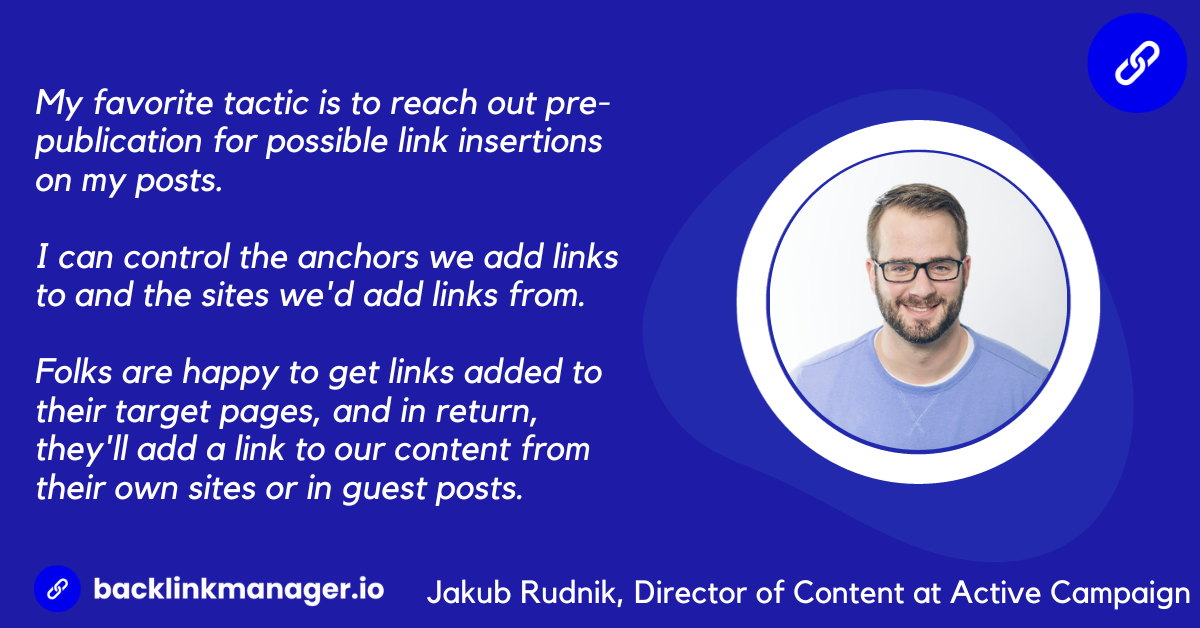 A word of warning though: link exchanges with low-quality or irrelevant sites can hurt your content and SERP performance though. That's because 'excessive link exchanges' are against Google's Webmaster Guidelines.
12. Take part in ABC backlink exchanges
ABC link exchanges are another way to avoid the wrath of Google Gods (aka penalties).
In this technique, page A links to page B, page B links to Page C, and Page C links back to page A.
In principle, this is simple, but managing all the exchanges could be tricky, so consider using a CRM tool like BacklinkManager to help you stay on top of them.
13. Prioritize link quality over quantity
Contrary to what you might hear, the number of external links that you build doesn't necessarily matter.
Olga Mykhoparkina, the founder and CEO at the SaaS content marketing agency Quoleady, believes that the quality of the backlinks trumps their number.
In fact, Quoleady has managed to boost the SERP performance of these sites with just a handful of links. For example, they managed to improve the ranking of one of their articles from #9 to #1 in 2 months with only 7 links:
To choose the right sites, they pay attention to organic traffic on Ahrefs (1000+), Domain Rating (30+), the balance of outbound and inbound links (1:5 is a dream, 1:1 is good, 5:1 is a no-go) and it's relevancy. Prospective sites should also have no links to/from adult/gambling sites.
Olga warns against using low-quality sites, like link farms, content mills, or irrelevant pages:
We don't recommend our clients building links from link farms, content mills, news magazines and other low-quality irrelevant websites as oftentimes they are designed to sell links so 1000 outbound links today can easily turn into 100K in a year thus making this backlink a waste of time and money.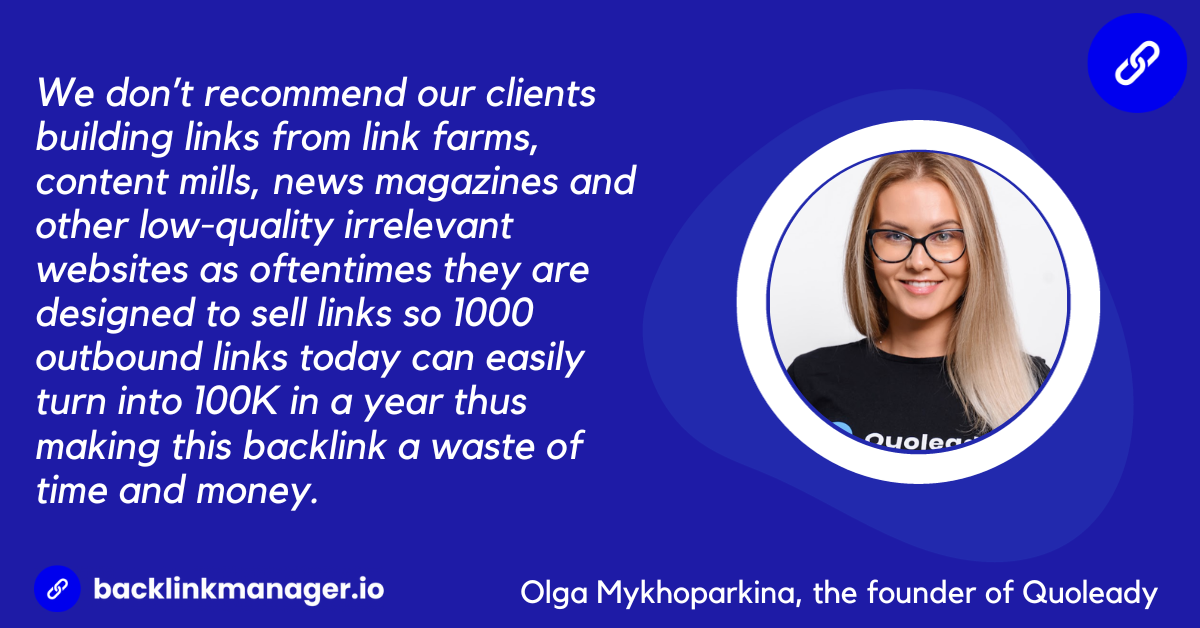 14. Target sites with commercial intent
George Blandford, the Co-owner of UK Linkology, recommends focusing your link-building efforts on pages with commercial intent:
Unless you are competing in an industry with huge authority sites, you should focus the majority of your budget on supporting pages that are further down the customer funnel: mid-funnel (typically comparison or product terms) and bottom-funnel (conversion/acquisition/purchase/enquiry terms)
According to George, such pages carry the most of your "money keywords", and as such will come with the greatest degree of competing pages. That's why this is also where you need to put your link-building money.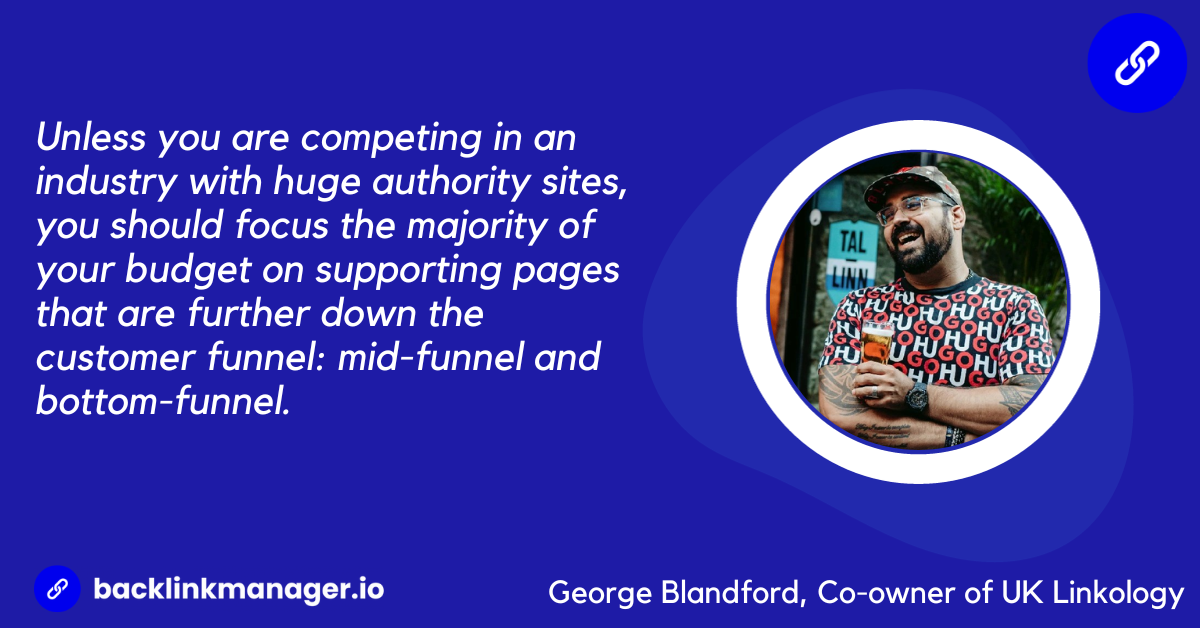 15. Offer testimonials
Providing testimonials to your partners is another easy way to secure a backlink.
As you're already using their product or services and are satisfied with their quality, there's no reason why you shouldn't write a few good sentences, especially if it comes with a juicy backlink in return.
16. Build long-lasting relationships
Irina Maltseva, the Growth Lead at Aura and Founder at ONSAAS, believes that the ability to build genuine relationships is the foundation of all successful link-building and can help you save on link-building in the long run:
To excel in link-building in 2023, prioritize relationship-based strategies. Remember, websites don't grant links, people do… By nurturing relationships, you'll effortlessly expand your network, enhance site visibility, and secure valuable link-building opportunities.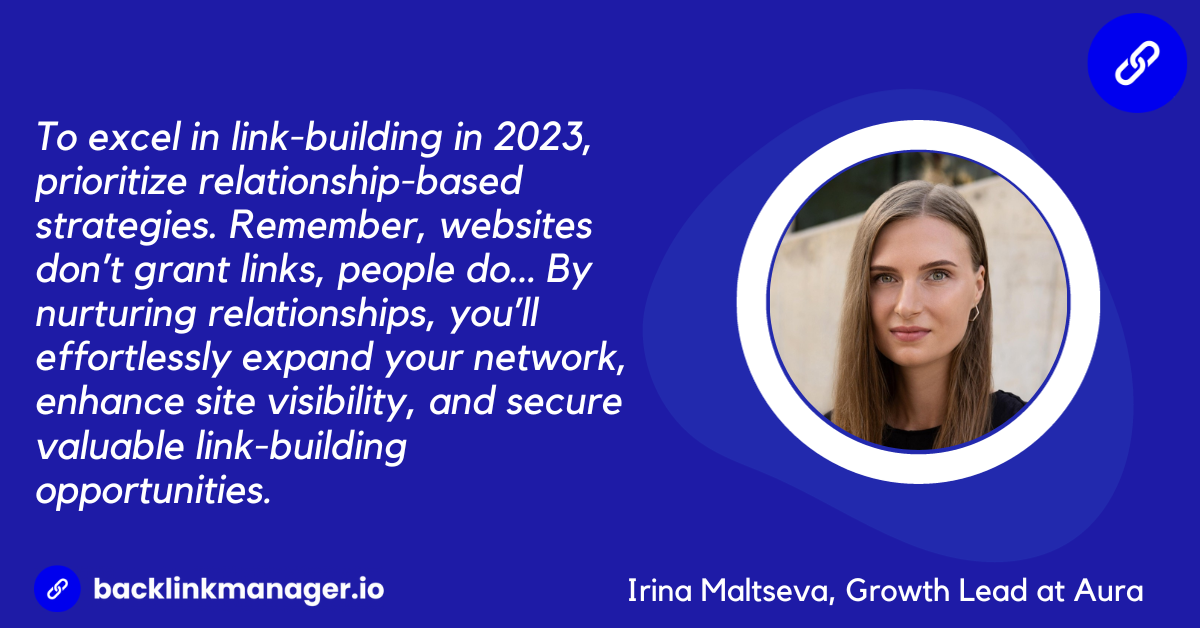 How do you build such valuable relationships?
Start by identifying sites that link to competitors. You can use Ahrefs Link Intersect for that.
After vetting the sites, engage with key decision-makers at the relevant companies via social media. By regularly leaving genuine and valuable comments on their content, you establish your authority and win their trust. Only then, reach out to them directly with requests for collaboration.
17. Always deliver value
For your link-building relationships to thrive, make sure they're mutually beneficial. If you're hoping to get a backlink from your partners, always offer something in exchange.
Here's what Georgi Mamajanyan, the CEO at Saynine.ai, has discovered:
When outreaching for link building, there's one important thing to always remember – the value you provide for your partners. For example, if you offer a backlink in return, make sure it's from a trustworthy domain with good metrics. Or, if you offer a guest post article, let them know that it will be SEO-optimized. By providing value, you will build trust and good connections with other link builders.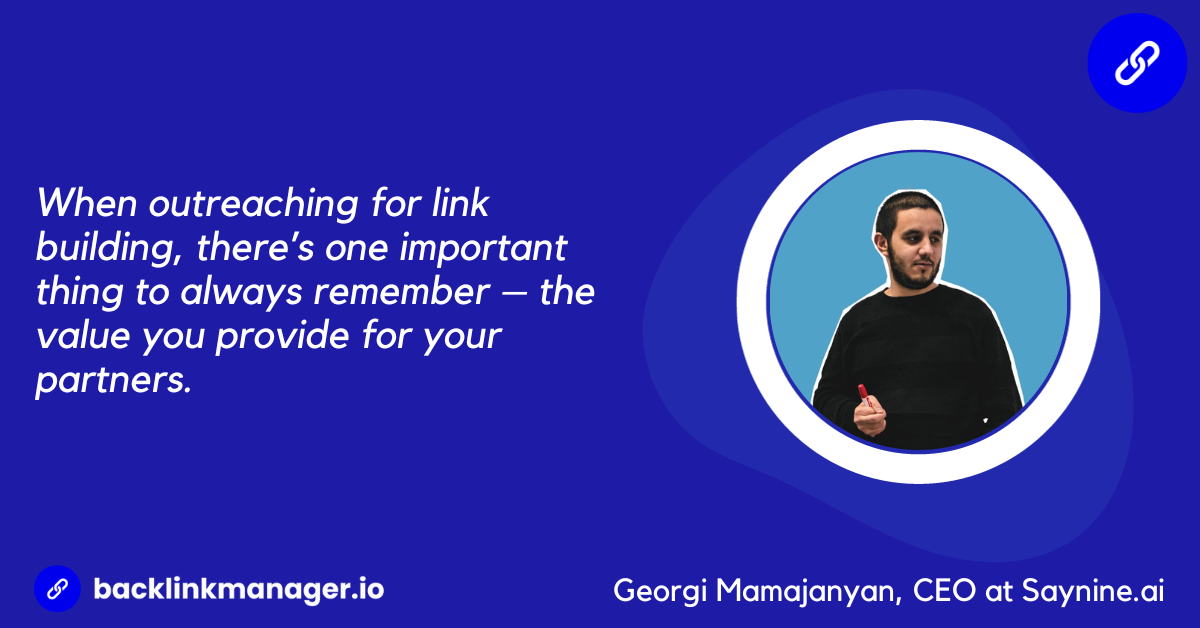 18. Get featured on resource pages… or create your own
One way to levarage your quality content to build links is through resource pages.
These pages, often created by educational institutions, organizations, blogs, and businesses, provide value to their visitors by directing them to high-quality, relevant resources on a particular topic.
To find resource pages in your niche, use Google search operators, like [your keyword] intitle:resources or [your keyword] "helpful resources".
Next, assess their domain authority, backlink profile, and relevance, and reach out to the webmaster with a personalized email with a request.
The technique is effective because adding your page adds value to the resource page.
Alternatively, you can flip the roles and create your own resource page.
Whenever you add a resource, let the authors know – they might link back to your content and spread the word on their social media. This requires a bit more effort, though.
19. Get listed in a roundup
Roundup link-building works in a similar way to resource page link-building.
Roundup posts are regularly published collections of links with the best content on a specific topic, like Top 100 Link-Building Resources or 666 Best Tools for SEO Agencies.
To get listed in one of them, use an identical process to the one described before – search for relevant pages, check their quality, reach out… enjoy the backlink.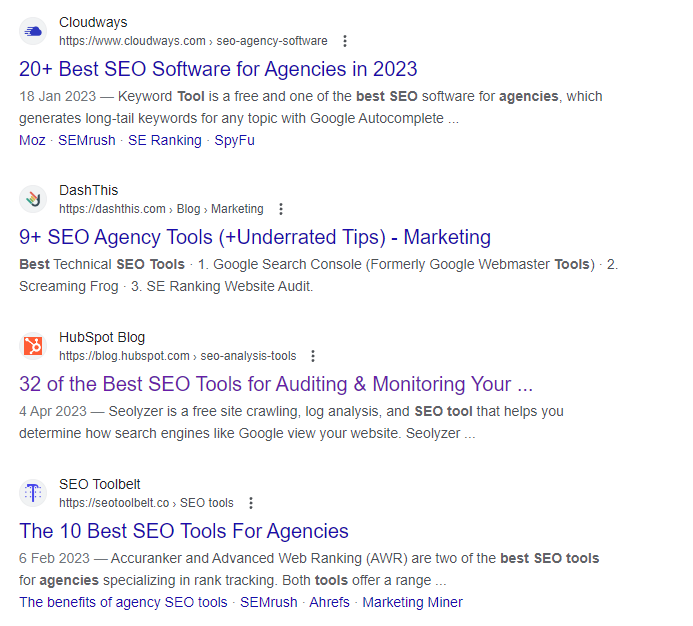 20. HARO – Help A Reporter Out
According to Milosz Krasinski, an international SEO consultant, and the owner of Chilli Fruit Web Consulting, "HARO is the bee's knees when it comes to link-building!":
…Journalists hunt for credible sources to spice up their stories, and that's where we, the experts, swoop in with our knowledge, charm, and unique perspectives.

When you answer a journalist's query and they find your response absolutely mind-blowing, they'll often feature your insights in their article along with a link to your website.

This is a great way to get backlinks from high-quality, DR>80 sites that do not offer simple link exchanges and don't sell link placements.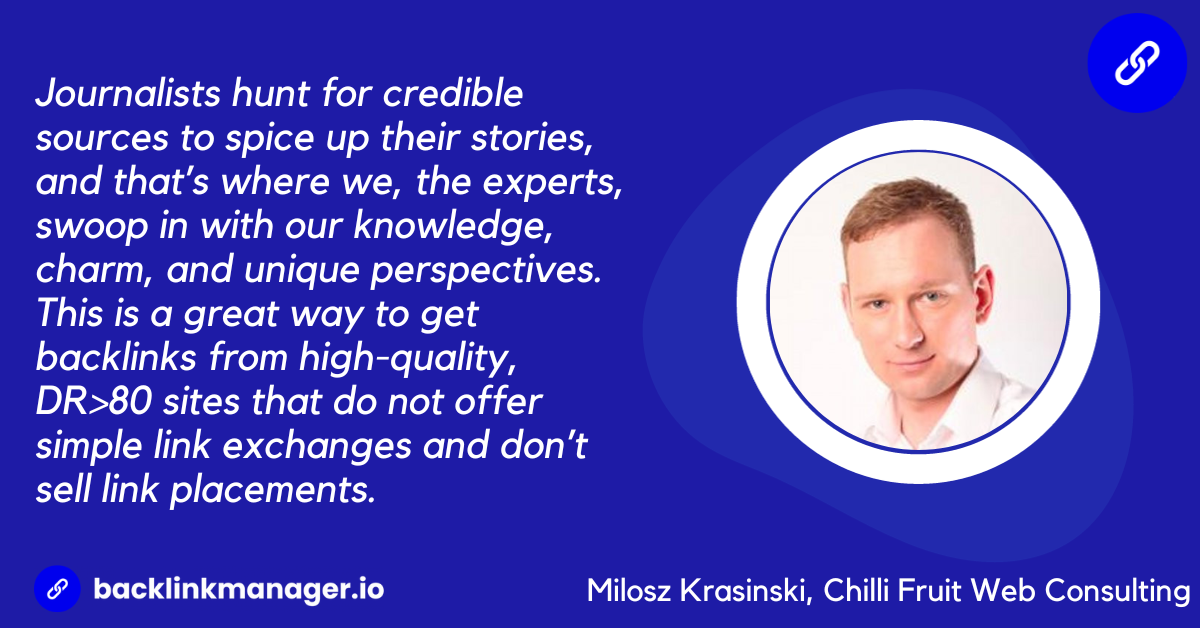 How do you start with HARO?
Head to the HARO website and sign up as a source (choose the free plan). In preferences, select the industries that you have expertise in and how often you'd like to receive queries.
Once you find a relevant query, craft your pitch. Make sure to personalize your response, and provide your credentials. Most importantly, provide concise and informative answers and stick to their deadlines.
Having sent your pitch, follow up if necessary, and monitor for mentions in the journalist's story as they may not inform you themselves. Once published, share the content on your social media and use it in your marketing collateral.
Alternative services to HARO include HAB2BW (Help a B2B Writer) and Featured (formerly Terkel.io). Apart from the HARO website, look out for requests from writers on LinkedIn.
21. Use redirects
SEOs often use 301 redirects to preserve the link equity and traffic. For example, you can set up redirects from a broken URL to the most relevant existing page, after changing URLs or when merging two pages into one.
However, redirects are also an effective way to build new links.
There are 2 very different ways to do this.
The first way to use 301 redirects is very similar to broken link building. You use a tool like Ahrefs Site Explorer to find sites with redirects to irrelevant sites, reach out to them, and offer your page as a replacement.
The other way involves purchasing expired domains that are relevant to your niche and have a good backlink profile. Then you simply redirect it to your site and watch the link juice flow:
As a strategic link-building agency, we strive to use all available methods that provide a cost-effective result. You can spend years building links, or you can simply purchase your competitor's site and redirect it to your own. 

Dmytro Sokhach, the Founder of Admix Global & Editorial Link
Here's an example provided by Dmytro. The redirect from www.allaboutgardening.com to www.epicgerdening.com was set up in September. Just look at the organic traffic! It went up from around 470k to over 900K visitors.
22. Chip in to buy a high authority domain on Shared.Domains
If buying an expired domain on your own is outside of your budget, purchasing it collectively through Shared.Domains is an affordable way to acquire high-quality links.
The process takes 8-9 weeks and gives you a chance to get links worth $2k for $150.
Here's how it works.
The team regularly searches for domains with the right backlink profile available for sale. They list the website with a quick review for clients to browse.
Clients pick the sites they're interested in and declare how much they're happy to pay for them. If there's enough interest, Shared.Domains buys the domains and the interested clients share the cost.
Shared.Domains then builds a website on the domain and each of the clients gets a do-follow link.
The solution might be particularly interesting to those looking for a cost-effective link-building approach for parasite SEO.
23. Invest time in self-education, research, and experimentation.
We're wrapping it up with advice from Oleksandr Tereshchenko, an SEO consultant and the Founder of High-Calibre.links that I perhaps should have started with: there are no shortcuts in link-building – you either spend money or time.
Oleksandr recommends the latter. This involves learning about the most common link-building strategies, researching vendors, and keeping their details organized in a Google sheet (or a link-building CRM like BacklinkManager).
However, the biggest lessons are to be learned from experimentation with different link-building methods:
To truly understand what you pay for, it's best to try to build at least one link using each method yourself. This is a game changer actually.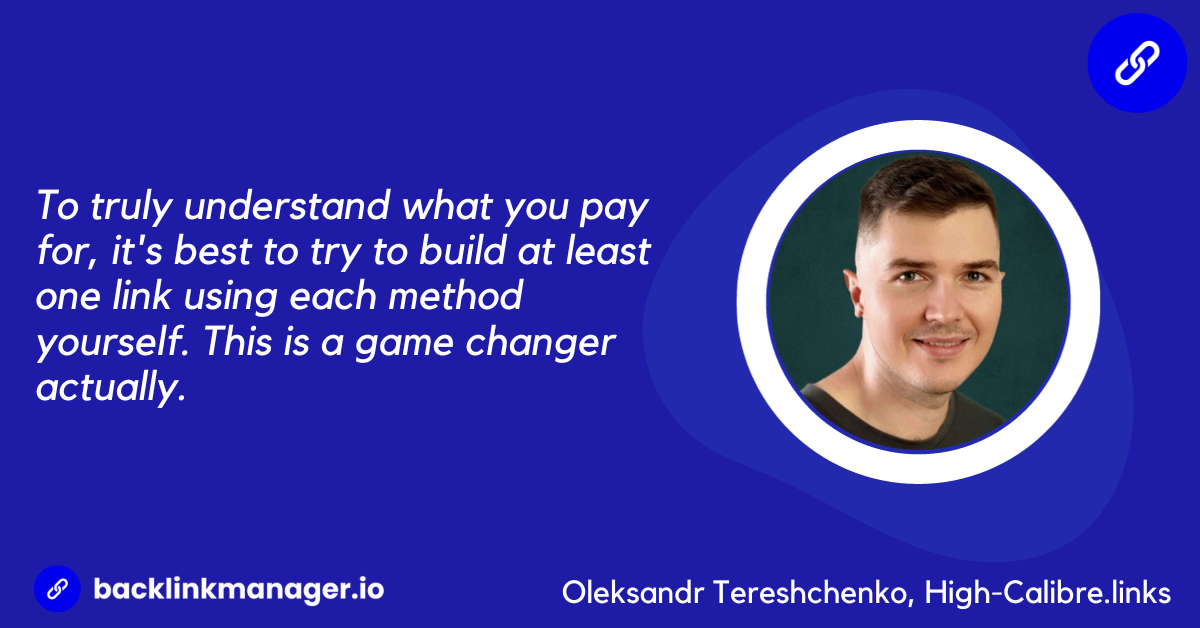 Conclusion
Backlinks don't come cheap. Whether you're using a link-building agency or building links in-house, it requires a fair bit of time, effort, and cash. Hopefully, our list of strategies and tactics will help you save on link-building and get more value for your money.
What other tips or advice on how to save on link-building would you add to the roundup? Hit me up on LinkedIn to team up.
And if you'd like to see how BacklinkManager can help you keep track of your backlinks and manage relationships with your partners, book the demo!