Choosing a digital PR/ link building agency and thinking of hiring Digital Olympus? Great. We've got some honest reviews for you 😉
Digital Olympus is a reputable link-building agency started in 2016 by Alex Tachalova, a digital PR expert, speaker and a former SEMrush Director of Marketing who clearly knows what she's doing.
But are there any downsides to working with Digital Olympus? Let's dive into their services and see!
TL;DR
Digital Olympus was founded in 2016 by Alex Tachalova, a former SEMrush Director of Marketing.
The agency focuses on relationship-based link building by placing links within existing content on reputable niche websites.
Links are organically integrated into content, avoiding paid or sponsored links.
They assess a client's content marketing strategy before link building and suggest improvements if needed.
They select referring domains from the client's niche or related niches for SEO benefits.
If niche-specific sites aren't available, they use custom-tailored email outreach for link placements.
They aim for varied anchor text with no more than 10% being exact matches.
Their 5-step link building process includes Backlink Profile Analysis, Link Plan drafting, client collaboration, Link Schedule creation, and monthly evaluations.
Pricing starts from $550, with the final cost depending on the type of pages and the client's involvement.
They offer customized link-building strategies, transparent reporting, and are committed to ethical SEO practices.
Digital Olympus was an early adopter of BacklinkManager to monitor links and manage client relationships.
BacklinkManager features include 24/7 link monitoring, link-building targets/goals setting, a CRM system, a link partnership scorecard, custom reporting, and an upcoming link matchmaking tool.
With Alexandra Tachalova's expertise, Digital Olympus stands out for its transparent, customized strategies, and ethical standards.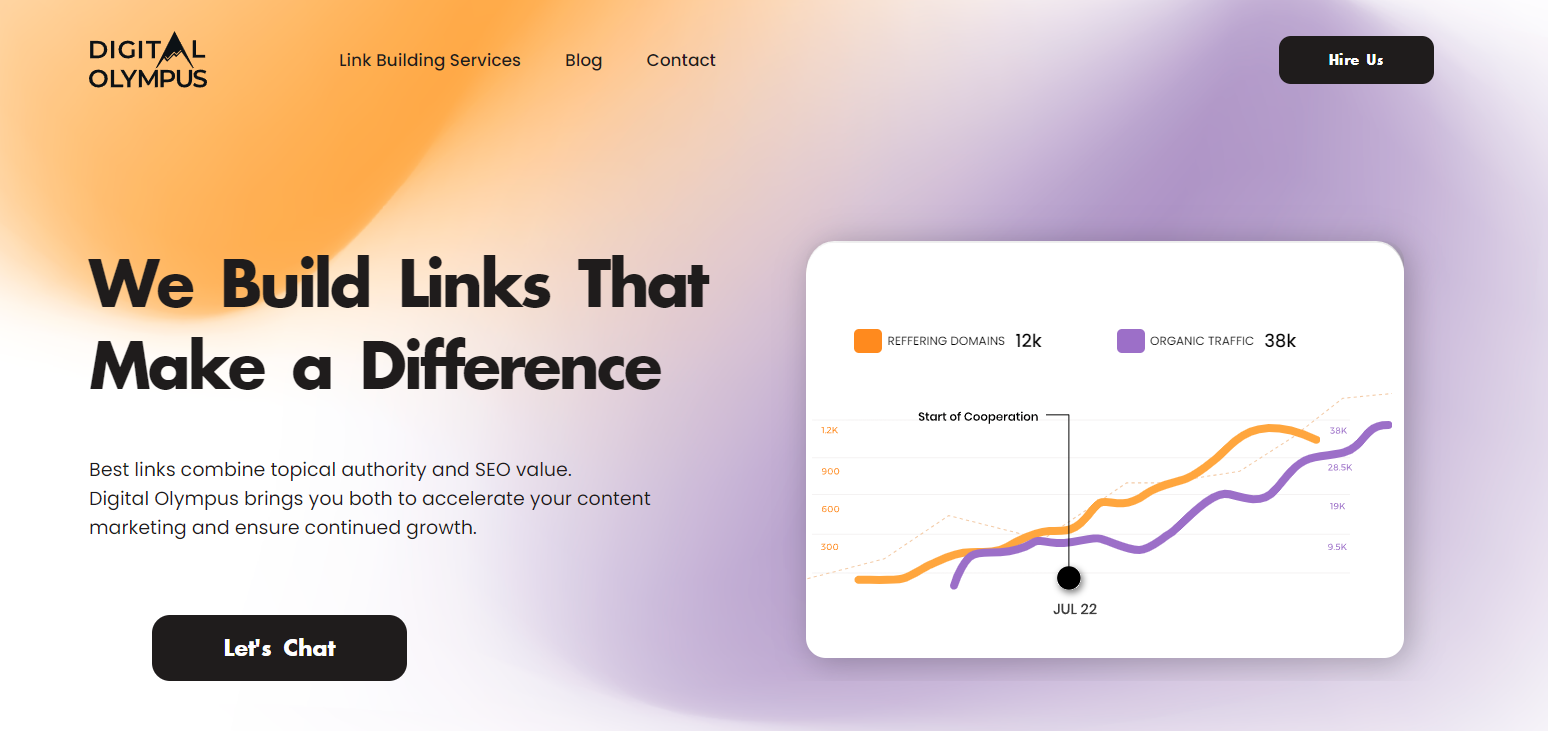 Make Link Building Easy: Introduction to Digital Olympus and their services
Digital Olympus offers secure link-building services tailored to cater to diverse business requirements, providing multiple ways to enhance online visibility and SEO. How? They've got a few tricks up their sleeve to make link building easy and effective:
First off, they're all about relationships. Digital Olympus primarily uses relationship-based link building, meaning they place links within existing content on reputable websites related to your niche. The cool thing is that the value of these links keeps growing over time.
They really care about making things look natural and SEO-friendly. The links they build are organically integrated into relevant content. No paid or sponsored links in sight. They've got Google's SEO guidelines in mind, and they know sponsored links don't add much value. Their main goal is to help your website thrive in the long run, instead of looking for a quick fix.
Before diving into link building, they'll check if your website has a solid content marketing strategy in place. If your content's a bit meh, they might suggest improvements – making sure that your links have a real impact on your search engine rankings.
Digital Olympus wants to make sure your referring domains are a perfect match for your site. They select referring domains from your niche or related niches, ensuring that your links bring long-lasting SEO benefits.
But what if they can't find a niche-specific site to place your link? No worries, they've got another ace up their sleeve. They'll kick off a custom-tailored email outreach to get your link on relevant sites, keeping things aligned with your website's theme.
Lastly, they keep things varied. No exact-match anchors hogging the scene – they aim for no more than 10% of links to be exact matches. They go for branded anchors for home pages and casual anchor text for other page types.
So, if you're in the game for easy, effective, and natural link building, Digital Olympus might just be your go-to crew!
Digital Olympus 5-Step Link Building Process: Ensuring Highest Quality Results
"Alex and her team are phenomenal at what they do. They're great to work with and get the job done right. I've referred multiple people her way already and wouldn't hesitate to send more!"

– John Doherty, Founder & CEO at GetCredo.com
Link building in the digital world is like charting a course through uncharted waters – it's crucial to have a clear path to follow.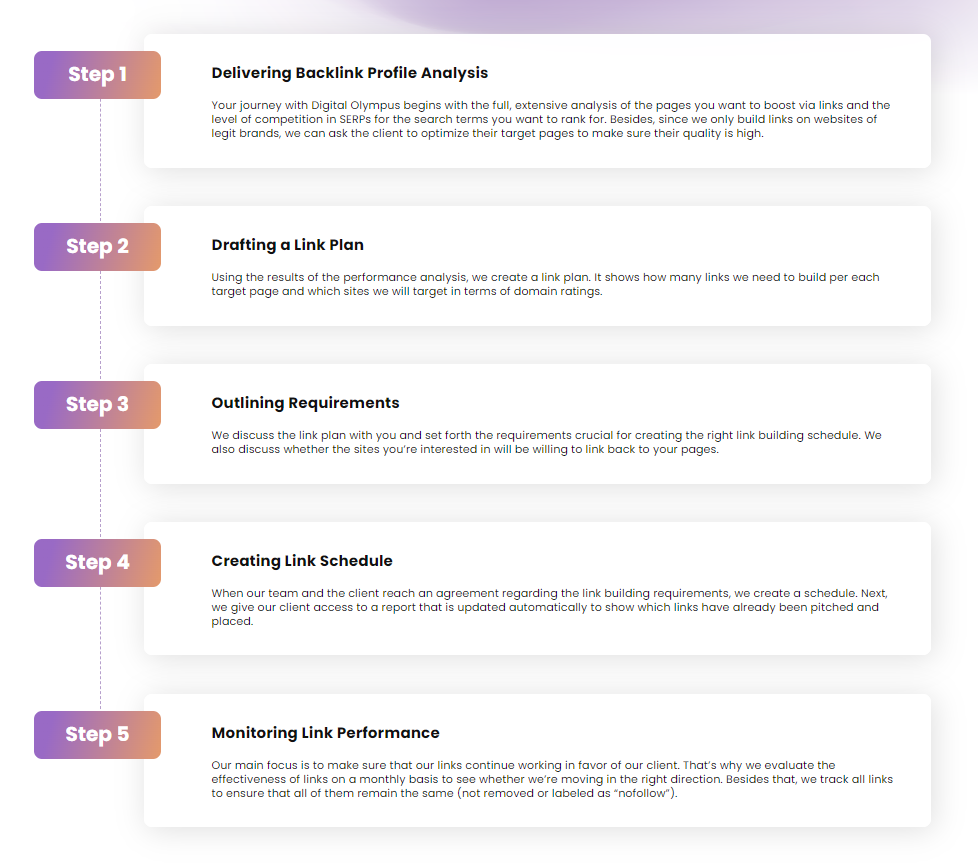 Digital Olympus follows a systematic approach to link building that begins with a Backlink Profile Analysis. This crucial step provides insights into the client's current link status and competitive positioning. It helps identify areas for improvement.
Next, they draft a Link Plan based on the analysis results. This plan outlines the number of links needed for each target page and identifies websites with strong domain ratings to target, guiding the link-building efforts.
The agency collaborates with the client to outline requirements, ensuring alignment and tailoring the strategy to meet specific needs. This step also involves outreach to potential linking websites.
They create a Link Schedule to maintain transparency and keep the client informed of progress. Clients can access an updated report to see which links have been pitched and placed.
Last but not least, Digital Olympus actively monitors link performance through monthly evaluations. This process tracks progress and makes necessary adjustments, with ongoing link monitoring to maintain link integrity.
This holistic approach aims to deliver not just links but long-lasting SEO success.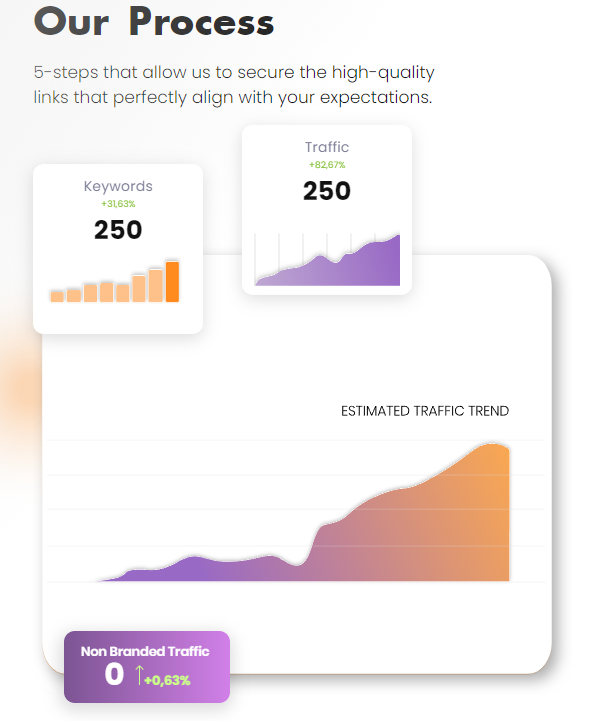 Pricing
The cost of Digital Olympus' link-building services starts from $550; the final price depends on specific factors.
One key determinant is the type of pages you intend to build links to, which includes options like landing pages, category pages, main pages, or content pages. Each page type may have a different pricing structure based on its significance and role within your website's structure.
Additionally, the degree of your involvement in the link-building process can impact the price per link. If you prefer to actively participate in selecting and approving the sites where your links will be placed, this may affect the overall cost. Your level of engagement can vary from a more hands-off approach, where Digital Olympus takes full control, to a more collaborative one, where you have a say in site selection.
This flexibility ensures that the pricing aligns with your specific preferences and requirements.
What Sets Them Apart?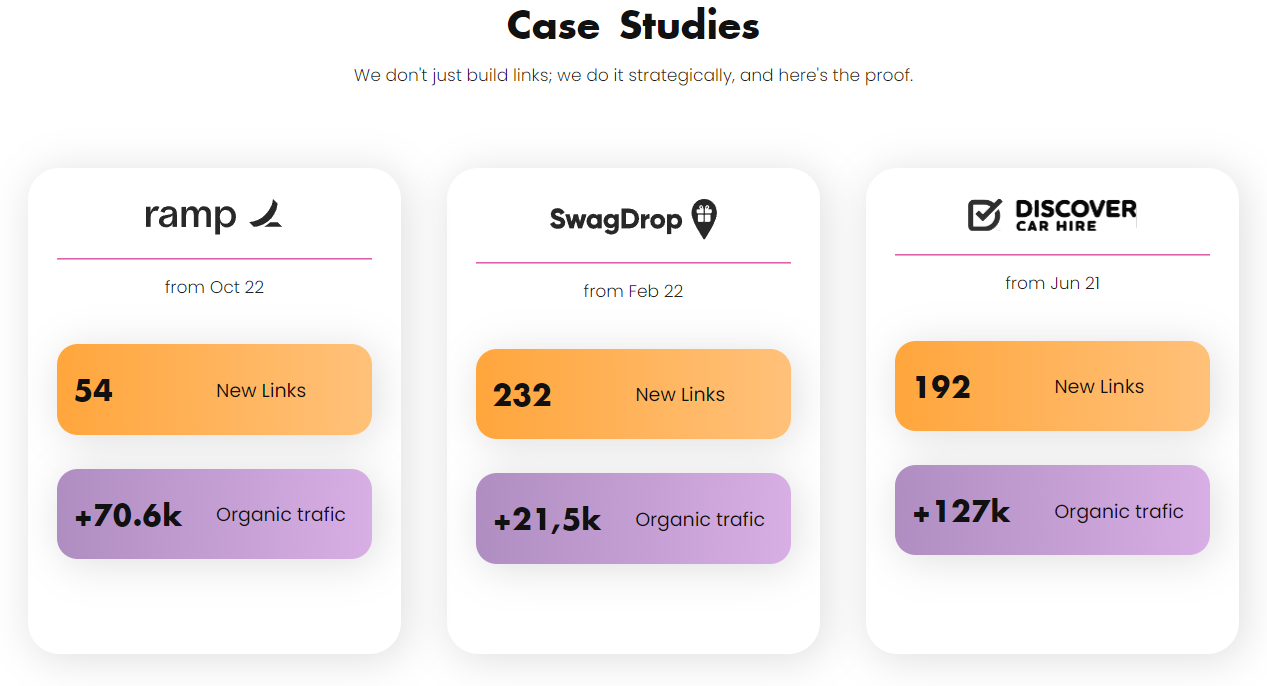 "I really enjoy working with Digital Olympus because the communication is easy, the quality of work is high, and the results are great."

– Kevin Indig, VP SEO and Content, ex-G2, ex-Shopify
1. Customized Strategies: Recognizing the unique essence of every business, Digital Olympus crafts link-building content campaigns that resonate with specific business goals and audience preferences.
2. Transparent Reporting: Clients are kept in the loop with regular, insightful reports, shedding light on the campaign's trajectory and outcomes.
3. Ethical Standards: Digital Olympus is unwavering in its commitment to ensure ethical SEO practices, ensuring sustainable and penalty-free results.
But even agencies like Digital Olympus can't avoid link rot – losing some of their hard won links over time. Digital Olympus was one of  BacklinkManager's  early adopters to monitor their links and manage their client relationships with BacklinkManager.
Simplify Link Management with BacklinkManager
BacklinkManager.io helps link-building agencies, marketing teams, and freelancers alike to monitor their links and prevent link rot, as well as find new link opportunities and manage their existing partnerships.
Let's see how BacklinkManager.io can help agencies like Digital Olympus, and their clients alike with this: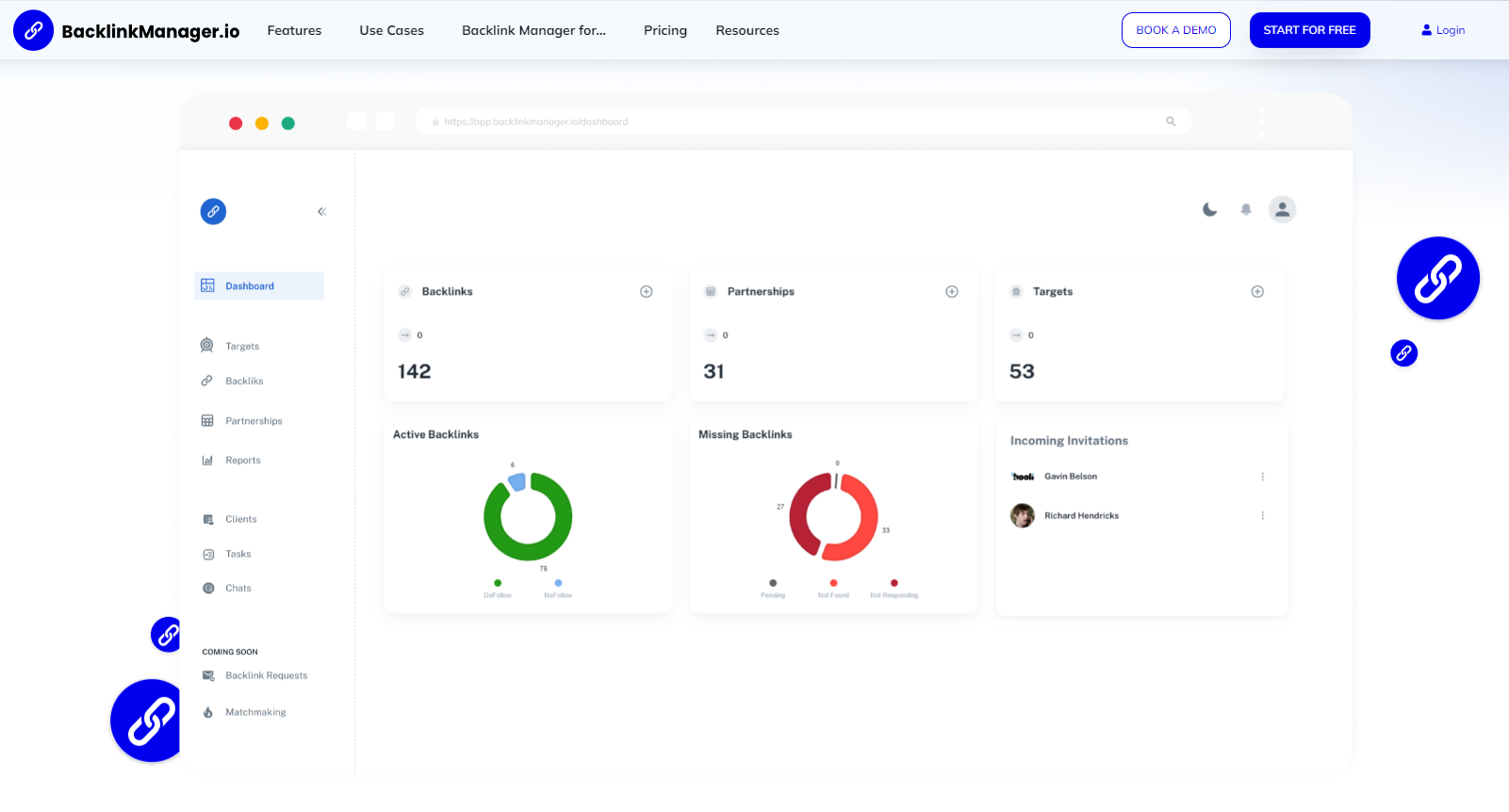 BacklinkManager Features
BacklinkManager.io stands out for its robust set of features:
24/7 Link Monitoring: With real-time link status tracking, you can stay informed about changes in your backlink portfolio.
Link-Building Targets and Goals: Maintain focus and accountability by setting specific link-building targets and goals.
Link-Building Client Relationship Management (CRM) System: Easily track link exchanges and guest posting relationships in one convenient location.
Link Partnership Scorecard: Gain insights into your external link-building efforts, helping you build fruitful partnerships.
Custom Reporting: Generate both client and internal reports tailored to your needs.
Link Matchmaking Tool (Coming Soon): Discover new link-building opportunities and manage exchanges and guest posts safely.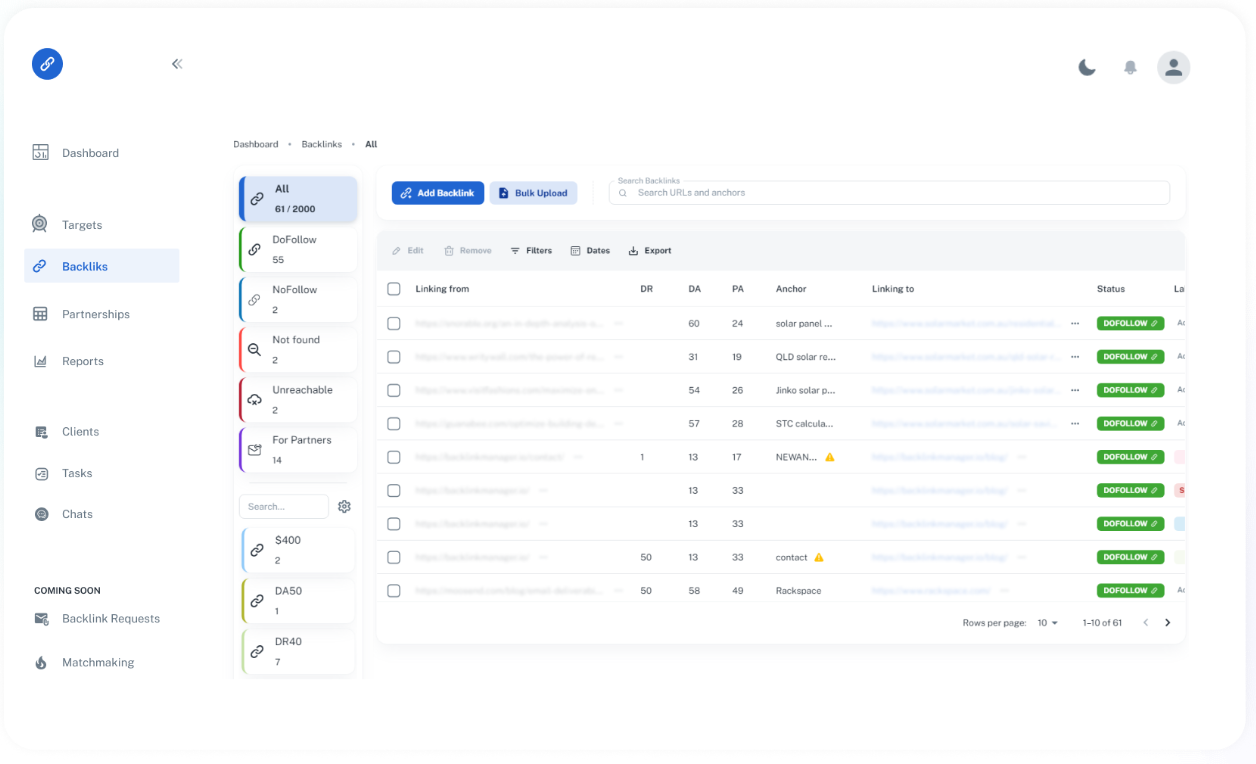 BacklinkManager Pricing
BacklinkManager.io provides flexibility with its pricing plans. The free plan allows monitoring and management of up to 250 backlinks, 50 targets, and the invitation of three teammates.
For those with more extensive needs, BacklinkManager offers two paid plans:
Pro Plan – $49 per month (billed annually): Monitor and manage up to 2,500 backlinks, set 100 targets, and invite 15 team members, all within one account.
Enterprise Plan – $500 per month (billed annually): Ideal for large-scale operations, this plan allows monitoring and management of up to 50,000 backlinks, 10,000 targets, invites 30 team members, and offers white label reporting. Both paid plans include priority support and come with a free trial period.
Incorporating BacklinkManager.io into your link-building arsenal can significantly enhance your ability to execute and manage effective link-building campaigns, aligning perfectly with the ethos of agencies like Digital Olympus.
Conclusion
With a wealth of experience and Alexandra Tachalova's strong personal brand, Digital Olympus shines as a reliable partner. Their commitment to transparent, customized strategies and ethical standards sets them apart, ensuring sustainable results.