Skyscraper link building technique is a content marketing and link-building tactic based on the premise that you always need to create content with more value than the top-ranking competitors in SERPs (which often means adding more content – thus building a "taller" post, similarly to building a skyscraper).
When Brian Dean first applied the Skyscraper link-building tactic in 2016, the number of backlinks to his article went through the roof. This resulted in the increased referral traffic, and more importantly, his organic traffic doubled.
What made it so effective?
That's only one of the questions we answer in the article. But first, we explore what the Skyscraper technique is and how it works. Then we move on to practical ways of implementing it and the tools you can use.
TL;DR
To execute the Skyscraper link-building technique, you need to create engaging content that is better than existing articles and reach out with backlink requests to people who link to them.
The technique is effective because it delivers high-quality content on popular topics and builds upon the success of existing articles with lots of backlinks.
To find the right content to improve, use SERP results and scan the main competitors. Then use an SEO toolkit to analyze their most popular content and their backlinks. Go after those with a few hundred of links.
Alternatively, start with keyword research and look for content that is ranking for medium and high-difficulty words.
In addition to the number of backlinks, look for content that you can improve.
You can enhance content by making it more thorough and exploring its topic in more depth. Adding data, case studies, real-life stories, and visuals also improves quality.
Always make sure the content is up-to-date and accurate.
Make your content easy to digest by using simple language and short sentences. Use the tone of voice of your target audience to make it more compelling.
To boost the SEO performance of your content, write long-form articles of over 2000 words that answer the search intent.
Use the right combination of keywords and distribute them in prominent places like the title, introduction and H2s.
Write catchy tag lines that include your keywords.
Pay attention to technical SEO as well. Optimize the site for mobile users, improve its speed, and make it intuitive to navigate and well-structured so that Google crawlers can find their way around easily.
To promote your content, reach out to creators who already link to similar content with personalized emails.
Getting backlinks from influencers and authorities in your field may be more difficult but is worth the effort. Such backlinks increase your domain authority and boost organic traffic.
To get influencers onboard, offer them something in exchange for their endorsement, like free access to your product.
You can leverage social media for promoting your content by sharing it and engaging with related content.
Guest posts and content syndication both involve your content being published on other sites to increase its reach.
Ahrefs is a comprehensive SEO suite that allows you to find content to work on and track inbound links.
NinjaOutreach is an influencer marketing and email outreach tool that you can use to establish and manage relationships with influencers.
With SurferSEO, you can create SEO content that will outrank competitors.
StoryChief will help you manage social media activity to promote your content.
BacklinkManager is a dedicated link-building tool that enables you to monitor the performance of your new links. Want to see how it works? Book the demo!
What is Skyscraper Link Building?
The Skyscraper technique is a link-building strategy that relies on quality content to attract more quality links and backlinks.
It was first introduced in 2015 by Brian Dean, an SEO big gun and the founder of Backlinko and co-founder of Exploding Topics.
The technique proved to be particularly successful and has since then been emulated by marketers to solicit backlinks and drive organic search traffic.
The Concept Behind Skyscraper Link Building
The key principle behind the Skyscraper method is that if you have solid content, people will link to your page.
If so, to use the Skyscraper strategy, you first need to find popular content that drives a lot of traffic. Next, you create better-researched and more engaging content. Finally, you promote it and as people notice its superior quality, they link to it.
Why the Skyscraper Technique is Effective
For starters, the Skyscraper tactic brings great results because it targets topics that are extremely popular. Since the Skyscraper posts are optimized for high-volume head terms (e.g. burnout, SaaS marketing) the chance that people would use the top-ranking post as a reference and link back to it from posts optimized for related long-tailed keywords is much higher than in the case of long-tailed KWs themselves.
Secondly, the Skyscraper link-building technique uses quality content, which is a powerful magnet in its own right. If you create something that is better than everything else written so far on the topic, people will reference it when they need sources for their own content.
Finally, the Skyscraper technique uses the existing successful content as leverage. If users already link to articles on a specific topic, they're likely to link to yours as well.
Finding the Right Content to Outrank
Implementing the Skyscraper technique begins with finding the right content to work with. This starts with higher-level competitor research, which leads to more granular content analysis.
Analyzing Competitor Content
Let's start by analyzing competitor content.
Why is it important?
First, it helps you identify popular high-ranking content that is attracting the most backlinks. Second, it tells you which websites link to their articles so that you can reach out to them later.
You could start by running a quick Google search on a broad keyword related to your niche. Search engine results pages (SERPs) will tell you who is ranking with what kind of content.
However, it won't tell you much about their backlinks.
To get these kinds of insights, you will need a dedicated keywords research tool like Ahrefs, Semrush, or BuzzSumo.
Each of them comes with backlinks analytics features that crawl the website and rank its pages based on their backlinks.
Alternatively, instead of focusing on competitors, you could start with keyword research, paying attention to keyword difficulty.
When creating an SEO strategy, you would normally look for easier words to rank for. However, the Skyscraper technique works best with medium- and high-difficulty keywords.
Why? That's because they attract the most backlinks. Keyword difficulty indicates the popularity of the KWs (typically head terms) – which means a lot of people will be linking out to the top resources on them as a reference in related posts.
Once you pick your target keyword, run another search to identify top-ranking pages and their backlink profiles. Then use your tool of choice to identify referring domains for each of the pieces.
In addition to backlinks, it's also worth looking at social media shares, with a tool like BuzzSumo.
Choosing the Best Content to Skyrocket
With all the data available, how do you actually choose the content to target?
The number of backlinks is one factor. Generally, the more, the better. However, remember that you will have to later promote your site, and reaching out to millions of other sites may not be feasible. That's why it's best to aim for relevant pages with a few hundred backlinks.
Apart from the number of backlinks and social shares, look at the intent of keywords. Informational content is best for the Skyscraper link-building tactic because it's easy to improve it. To find such articles, look at the questions section in your keyword tool.
And this takes us to the final point: the content you're targeting needs to have the potential for improvement. If you can't add value to the topic, you won't be able to convince people to link to your page.
Creating Outstanding Content
How can you create excellent content that other content creators will be happy to link to?
There are three things you can do to make your content stand out.
Adding Value to Existing Content
There's a misconception that the longer the article, the better it is. The result is content full fluff which only dilutes its value.
To add genuine value to the great content that's already out there is by making it more thorough. So if the #1 article is about "5 ways to build backlinks", go for 7, 1o, or 15 ways. Don't go OTT though. "500 ways" would look silly, would give your readers information overload rather than more value, not to mention the PTSD that your writer would suffer.
As you go about discussing ways, explore each of them in more depth. Add examples to make them easier to digest, and refer to case studies for real-life evidence. Stories always work a treat too because they're easier to relate to.
Don't stop there! Jazz your content up with visuals. Infographics aren't just easier to understand than blocks of text. They also make your page more visually appealing, and they attract links naturally through "image link building" – people who want to use your infographic in their own text, need to give you attribution as well!
It goes without saying that you need to pay attention to accuracy. Check the facts and details. Update the information whenever necessary. Don't include anything from unreliable sources.
Crafting Content That Appeals to Your Audience
When creating your content, make the effort to understand your target readers' needs and wants. In this way, you will be able to write content that is relevant, compelling, and resonates well with your audience.
This isn't limited to the actual content but also how you write. Emulating the tone of your readers' voice will allow you to engage them more effectively.
Finally, make sure that your copy is easy to read. How do you improve your content readability?
Use simple words and short sentences.
Add transition words to see relations between sentences.
Choose active voice.
Keep your paragraphs short. One-sentence paragraphs work well because that's how social media content is served.
Use a tool like Hemingway Editor to improve your text readability.
Finally, look at your page design to see if there's anything you can do to make the content more accessible, like font and color pattern changes.
SEO Best Practices for Your Skyscraper Content
Search engine optimization (SEO) is the next piece of the puzzle.
Why?
No matter how insightful, compelling, and easy to read your content is, it won't get you backlinks unless users can find it.
What factors affect your chances in the Google arena?
The rule of thumb was that your content should be over 2000 words to stand a chance. The Semrush State of Content Marketing Global Report 2022 found that 3000+ word long pieces drove more organic traffic than others.
Long-form content of 2000+ also attracts more backlinks. However, shorter posts get more social media shares.
However, it's not the word count that matters but the value the content provides and alignment with search intent.
Search intent
Your content needs to be in line with that of your users. If your target readers are looking for information, give them quality information.
Keyword usage and placement
For your content to rank, it needs to have the right concentration of keywords. However, avoid keyword stuffing as this will sound unnatural and could put your audience off.
Their placement of the keywords matters too. For example, make sure to feature the keyword in the title and then in the first sentence or the first 50 words. Add them to your H2 as well to make it easier for Google to index them.
Doing all this manually can be daunting. However, there are tools out there like SurferSEO or Clearscope that will crawl the competing content for your keywords and suggest the right length, structure, and keywords to use.
Optimizing meta descriptions
Meta descriptions are snippets of text, 120-160 characters long, that describe your page content. They're important both for your users and what the page is about so that can easily assess its relevance.
Apart from your users, meta tags are important for Google to index your content, so make sure to include your keywords there as well.
Technical performance and user-friendliness
In addition to optimizing your content, its technical performance will affect the organic traffic you get.
What should you pay attention to?
Make sure your page is:
optimized for mobile users as this is how a lot of content is consumed these days,
fast-loading so that your users don't bounce before your outstanding content loads,
well-structured so that Google can crawl it easily enough (always provide an XML sitemap as well),
secure,
free from duplicate content,
intuitive to navigate.
Promoting Your Skyscraper Content
Even the best SEO, both on-page and technical, isn't enough to maximize the full link-building potential of your content. For that, you need to roll up your sleeves and actively engage other creators and ask them for free backlinks too.
And a lot of them, for that matter. Just to give you an idea, to get 4300 backlinks, Authority Hacker needed to send out 600,000 emails to almost 152k websites over a period of 3 years.
Leveraging existing backlinks
If an author links to content in their articles, there's a chance they will be interested in linking to yours, assuming it delivers value.
To get a list of sites linking to the content that you're trying to dethrone, use your keyword research tool. Ahrefs Backlinks report offers that, and so does the backlink analytics tool in Semrush.
Once you get the list, filter it by the language you're targeting and do-follow for equity-passing links.
Finally, export the results to a spreadsheet document to create a database of potential link prospects, that you can reach out to.
The last step is finding their contact details. You can do it manually, by going through the website, or using a tool like Hunter to do the job for you.
Building Relationships with Influencers and Authorities
Influencers and authorities in your subject area are one of the most effective ways of building high-quality links. Why?
First, their websites and blogs will have high authority, so getting a backlink from them will boost your domain authority and search engine rankings too.
What's more, there's a chance that their audience will follow suit and link to your content in their articles. So in the long run, their endorsement will also increase your brand visibility and authority, and help you establish yourselves as a thought leader in your industry.
So how do you go about building such high-value relationships?
Well, you first need to find them. An influencer marketing platform will help you with that. Tools like BuzzStream or NinjaOutreach allow you to search for subject authorities based on the keywords you're after.
They provide you with contact details, enable you to reach out to specific contacts, and allow you to manage your relationship.
How do you convince influencers to collaborate with you? Paying them for endorsing your content is the obvious way, but it's also very expensive and doesn't lead to a long-term relationship.
A sneaky tactic could be requesting their input for the content you're creating, like quotes. Once the article is ready, they may be more willing to share your content or link to it on their page because it features them.
You can also bribe them with a freebie from your company, like a free subscription to your product or service.
And always highlight the benefits of your content. It's the best thing out there, after all, so don't be shy.
Effective Outreach Strategies for Skyscraper Link Building
What are the best email outreach tool and strategies that you can leverage to get your content in front of new audiences and secure backlinks? Let's look at a few battle-tested techniques that work.
Personalized email outreach
Many other outreach campaign attempts fail because they aren't personalized enough for the target audience.
Finding out who your target audience are and addressing them directly is a no-brainer. People respond better when they hear their names.
What should you do if the only email address you have is a general company one, like info@… or marketing@…? The same applies. Find out a person, like the author of the blog post, or the marketing manager, and address them so that they hopefully get the message.
Names are just the beginning though. To truly personalize your next outreach campaign and emails, segment your users based on why they link to the site.
A site explorer, like the one in Ahrefs, will give you a breakdown of page url and the anchor text that people link to. Thanks to that you will be able to mention the relevant content snippets to convince them to link to your page.
Finally, instead of using the same email template that everyone else is using, create one that reflects your content and your site identity.
Social media promotion and engagement
Promoting your content on social media is a must these days and there's no reason why you shouldn't.
There are two main ways to leverage social media.
Sharing your content on social media is the obvious one. Twitter, Facebook, LinkedIn, TikTok… whatever your target audience use. With a social media management tool like Hootsuite, you can easily automate the sharing of your blog posts across all your social channels.
Many publishing tools, like Storychief, allow you to publish your social updates automatically at the very moment you publish your content.
As you design your website, make your amazing content easy to share by adding social share buttons.
In addition to sharing your content, engage on social media with contributors writing about the same topic. Make your contributions relevant and of interest, and make references to your own content.
Guest posting
Guest blogging is another popular way for driving traffic to your domain. The idea behind it is simple: you write bespoke pieces for other websites in exchange for a backlink to one of yours.
There is, however, something to watch out for. Most importantly, it can incur the 'unnatural outbound link profile' Google penalty (especially if Google deems you're "buying links for SEO") and actually lower your position in Google SERPs or even ban you from there altogether.
How can you avoid it?
Collaborate with a select few quality and relevant websites.
Add the 'nofollow' tag.
Don't use exact match anchor text in your external links.
Make sure all guest posts are labeled.
Use a range of link-building techniques in addition to guest posting.
Content syndication
Content syndication is the process of having your content published by third-party sites.
It's different from guest blogging because you're not writing bespoke content for the site but only re-publish what you've already created. You may still tweak it for the new readers, for example, by including more links or relevant visuals, but the bulk of it remains the same.
For example, you could share your blog post content also on Medium or LinkedIn. Both will have more readers and higher authority than your site and this means readers are more likely to come across your articles.
Tracking and Measuring Success
The final part of implementing the Skyscraper strategy involves tracking your hard-earned backlinks and their impact on your website traffic.
The latter is easy. Google Analytics is a free tool with detailed reporting functionality that will give you all the insights into your organic and referral traffic you may need.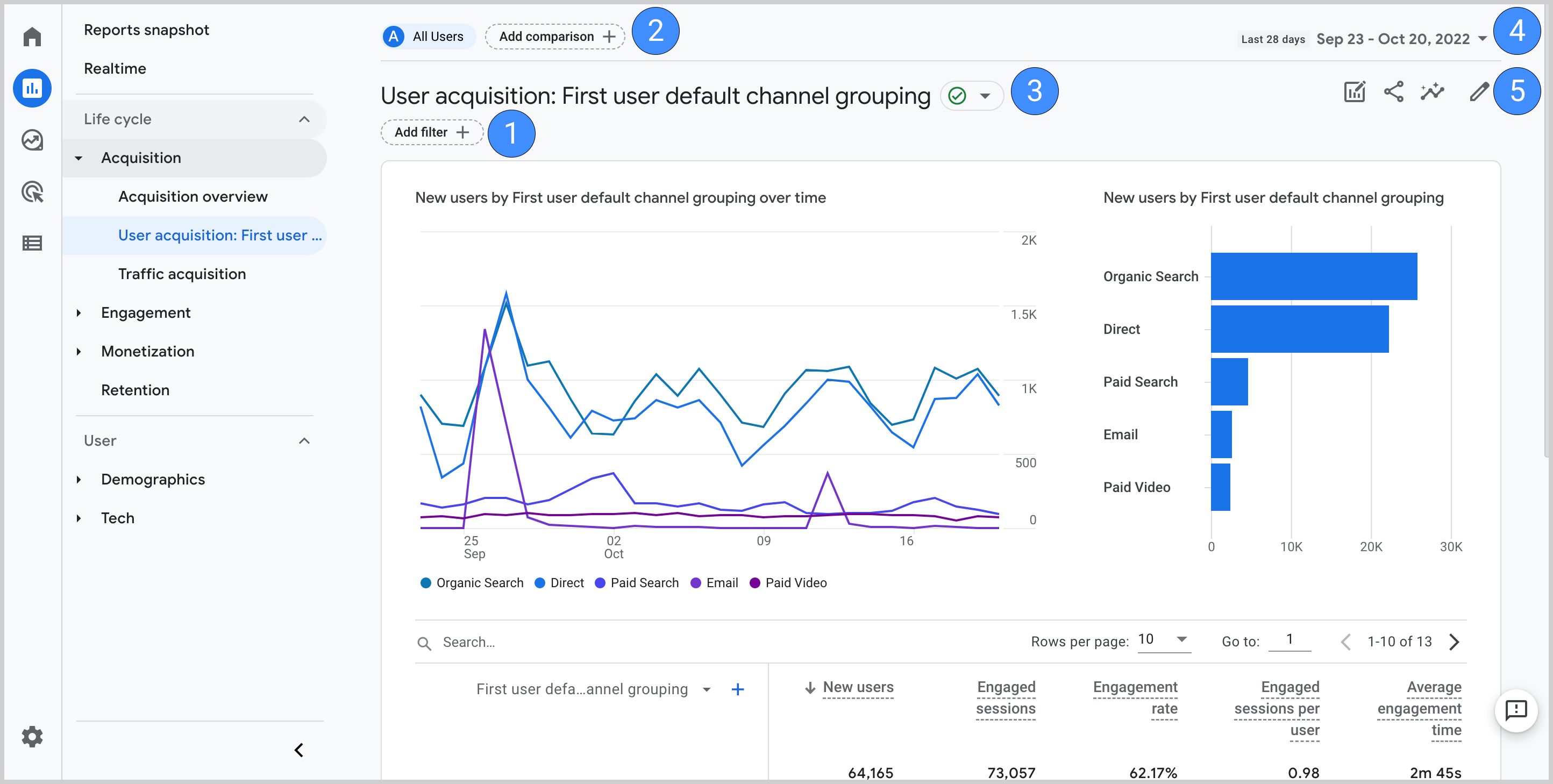 When it comes to monitoring the performance of your link-building campaigns, pick a tool like BacklinkManager that will enable you to:
set targets and share them with your partners,
automatically monitor your links,
keep track of status changes,
monitor the status of link exchanges, their quantity, and quality.
Best tools for executing the Skyscraper link-building strategy
To effectively implement the Skyscraper technique, you need the right tool stack.
Let's look at a few choices that will make it easier to identify the content worth improving, develop great content, identify and contact prospects, schedule your social media posts, and manage your backlinks.
Ahrefs
Ahrefs is a comprehensive SEO suite with features for link building.
The key tools that you want to look at are:
Site explorer – use it for competitor research, for example, to identify the number of backlinks and the pages that link to a domain.
Keyword explorer – use it to identify keywords that are worth targeting and find the content that you want to improve on.
Content explorer – use it to look for content on specific topics.
NinjaOutreach – best for email outreach
NinjaOutreach is an influencer marketing tool that will help you find the right influencers to promote your content.
Once you run a search of the keyword, you get a list of influencers with:
their name and description,
SEO metrics,
engagement data,
social media following,
contact details.
This makes it easy to reach out to them at scale and manage your relationships.
SurferSEO – best for content creation
SurferSEO is an AI-powered SEO tool that enables your to carry out keyword research and site audits and analyze the performance of your site.
However, it's the content editor that's particularly worth mentioning in the context of the Skyscraper link-building technique.
How does it work?
Basically, you enter the keyword you're writing about and SurferSEO does its magic. It crawls the internet for competing content and analyses it to tell you what you need to do to outcompete it:
keywords to use
text length
number of paragraphs
number of images
You can also use its H2 and H3 suggestions to create your outline in no time.
StoryChief – best for content management
Storychief is a content creation platform that content writers, editors, and marketers with tools for creating and managing content. With Storychief, your content team can collaborate on blog posts and publish it quickly to numerous channels with one click.
It's key features include:
SEO and readability optimization
Content calendar and scheduling
Multi-channel publishing
Social Media management
Analytics and reporting
BacklinkManager – best for keeping track of your links
BacklinkManager is a link-building tool that allows marketing agencies and other content marketing teams to stay on top of all their links.
Thanks to its link monitoring features, you can
track links and receive automated status updates,
get notifications about link status changes (do-follow, no-follow, page not found, link removed),
track how many links you've built to reach your targets
BacklinkManager also offers functionality for managing link exchanges. It allows you to
share link-building targets with partners via sharable sheets,
easily send link requests from specific pages on your partners' domains,
receive status updates on link exchanges,
keep score with each link exchange partner – both in terms of link quantity and quality (average DR of linking domains),
track the average DR of websites you get links from.
What's more, its roadmap for the nearest future includes Reporting and Link Exchange Marketplace.
Conclusion
Although the Skyscraper link-building technique has been around for a few years, it still remains one of the most effective link-building tactics.
To harness its power, you need to:
find popular content,
create even better content, and
promote it so that people link to it.
If you want to see how BacklinkManager helps teams keep track of their backlinks, book the demo!