Boosting the traffic and improving the SERP performance of your clients' content is hard without high-quality backlinks. Backlinks from reputable websites act as votes of confidence and indicate quality content. That's why they're one of the key ranking factors that Google and other search engines take into account.
Whether you're building the backlinks for your clients yourselves or outsourcing it to professional link-building services, it's a resource- and labor-intensive process.
A solid backlink reporting tool will allow you to streamline the link-building process, identify link-building opportunities, analyze competitors' link-building strategies, and monitor the status of the links you've already secured and prevent their rot.
What's the best backlink reporting tool available at the moment?
There's no simple answer here. To help you make the choice, we've prepared a roundup of 10 powerful reporting tools that an SEO agency can leverage to boost their link-building efforts.
TL;DR
Things to consider when choosing a backlink reporting tool include the depth of insights offered and metrics, data accuracy and reliability, integrations with other SEO tools, intuitive UI and pricing.
BacklinkManager offers unique features like 24/7 link monitoring and a linkbuilding CRM system, with pricing starting at $49 per month for the Pro plan (there's a free plan too).
Ahrefs is known for its accurate data and extensive link index, offering plans starting from $79/month.
SEMrushprovides comprehensive capabilities in backlink auditing and link building, with plans starting from $129.95 a month.
Moz Pro's Link Explorer offers features like a Domain Authority checker and Spam Score, with pricing starting from $79/month.
Majestic SEO specializes in backlink analysis with features like Trust and Citation Flow, offering plans starting at $499 a year.
Ubersuggest by Neil Patel is a user-friendly tool with a Backlink Checker and Competitive Analysis, offering premium plans starting at $29/month.
BuzzSumo provides basic backlink analytics features along with content inspiration tools, with pricing starting from $159/month.
CognitiveSEO offers comprehensive backlink monitoring features and unnatural link detection, with plans starting from $89.99/month.
Monitor Backlinks stands out for its automatic updates and competitor backlink tracking, offering plans starting from $25/month.
Linkody specializes in managing and monitoring backlinks with features like 24/7 link tracking, with pricing starting from €10.50/month.
What Makes a Good Backlink Reporting Tool?
There are a number of features that you should look out for when choosing a backlink analysis tool for your agency.
Features and functionality – look for a complete SEO solution that satisfies a range of reportingneeds, like competitor analysis or backlink monitoring.
Accuracy in data reporting – your tool should provide accurate and in-depth backlink analysis, ensuring that all your backlinks are accounted for and that the backlink data is reliable.
Comprehensive insights into backlink quality and relevance – the tool should offer detailed insights into backlink quality and relevance so that you can easily distinguish between good and bad backlinks.
User-friendly interface – an intuitive dashboard and user-friendly interface are essential for navigating and interpreting data efficiently.
Integration capabilities with other SEO tools – seamless integration with other SEO and marketing tools enhances the tool's functionality and allows for a more comprehensive SEO approach.
Pricing – the tool needs to be cost-effective and have a pricing structure that's easy to scale up or down if your needs change.
---
Best backlink reporting tools in 2023
Let's dive into our roundup of the top backlink reporting tools available, each with unique features to meet the varied needs of SEO professionals.
1. BacklinkManager
BacklinkManager.io is a unique tool for managing and monitoring backlinks that allows link-building and SEO agencies, marketing teams, and freelance link-builders to track the progress of their link-building campaigns and keep a pulse on the status of the backlinks they've secured for their clients.
BacklinkManager Features
BacklinkManager features include
24/7 link monitoring – so that you can keep track of link status changes in real time
Linkbuilding targets and goals – to give your link-building efforts focus and accountability
Linkbuilding Client Relationship Management (CRM) system – for easy tracking of link exchange and guest posting relationships
Link Partnership Scorecard – so that you can easily tell how many external links you've built for your partners and vice versa
Custom reporting – both client and internal
Link Matchmaking Tool – to easily find new link-building opportunities and safely manage link exchanges and guest posts (coming soon)
BacklinkManager Benefits
BacklinkManager.io is one of the few backlink monitoring tools on the market that enable live link status monitoring. Users get notified whenever a link disappears or changes status, for example, to nofollow. This can help you prevent link rot – and customer dissatisfaction.
The CRM features benefit agencies with numerous accounts and partners as it enables you to keep the details of all relationships in one place.
All of this comes packaged in a user-friendly and intuitive UI that's easy to navigate from the get-go.
BacklinkManager Pricing
BacklinkManager offers a generous free plan that allows you to monitor and manage up to 250 backlinks, set 50 targets, and invite 3 teammates.
If that's not enough, there are 2 paid plans available:
Pro – $49 per month (billed annually) – monitoring and management of up to 2,500 backlinks, 100 targets, and invites 15 team members.
Enterprise – $500 per month (billed annually), allowing monitoring and management of up to 50,000 backlinks, and 10,000 targets, invites 30 team members, and offering white label reporting.
Both plans offer priority support and start with a free trial.
2. Ahrefs
Ahrefs is a comprehensive SEO software suite with a range of tools for link building, keyword research, competitor analysis, rank tracking, and site audits.
It allows you to compare a website's current and historical data, see your competitors' top-performing pages globally, and observe backlink growth or decline.
Ahrefs Features
Ahrefs provides a comprehensive set of features integral for SEO agencies seeking to enhance their link-building processes:
Site Explorer – for in-depth backlink and keyword analysis,
Backlink Checker – to scrutinize the quality of backlinks and the referring domains,
Domain Comparison – for competitive analysis for up to 10 sites, so that you can research competitors' backlinks and identify new link-building opportunities
Benefits
Ahrefs is known for its accurate data and extensive link index. This is possible thanks to its super-active web crawler that only Google itself outperforms.
The user-friendly interface allows for easy navigation and data interpretation, making it a favorite among SEO professionals.
Pricing
Ahrefs offers free backlink analysis tools, including Backlink Checker and Broken Link Checker.
However, they offer limited insights. To access all the metrics, you may want to upgrade to one of Ahref's paid plans:
Lite – from $79/month
Standard – from $159/month
Advanced – from $319/month
Enterprise Plan – custom pricing
---
3. SEMrush
SEMrush is a versatile SEO tool known for its comprehensive capabilities in backlink auditing, link building, and bulk analysis.
It provides a wealth of data and insights, enabling SEO agencies to craft effective link-building strategies and monitor a website's backlink profile.
Features
SEMrush is equipped with a range of linkbuilding features and tools, including:
Backlink Audit Tool – for easy monitoring of the backlink profile; can be used to find broken links
Backlink Gap – track up to 5 competing backlink profiles and identify new linkbuilding opportunities
Bulk Backlink Analysis – for large-scale analysis of new link-building prospects
Link Building Tool – to automate and manage backlink-building outreach campaigns
Integrations with Google Search Console, Google Analytics as well as a range of SEO and project management tools
Benefits
Just like Ahrefs, Semrush has a huge database of backlinks, which means the tool offers comprehensive data.
Thanks to seamless integration with other SEMrush tools, you can get a holistic view of all relevant SEO metrics.
The competitor analysis feature enables agencies to stay ahead by analyzing and adapting to competitors' link-building strategies.
Pricing
There are 3 Semrush plans:
Pro – from $129.95/month
Guru – from $249.95/month
Business – from $499.95/month
---
4. Moz Pro's Link Explorer
Moz Pro's Link Explorer a part of the Moz Pro suite. It's one of the best backlink checker tools out there enabling SEO professionals to conduct in-depth link profile analyses.
Features
Some of the most relevant features of Moz Pro's Link Explorer include:
Domain Authority checker – for analyzing metrics like Domain Authority (DA), Page Authority (PA), and Spam Score of referring domains
Anchor text analysis – to see how websites link to your content
Spam Score – so that you can decrease the number of poor quality spammy links referring to your site and build quality links instead.
Link monitoring – to track new and lost backlinks
Integrations with Hubspot, Linkody, and WordPress, to name a few
Benefits
The tool is known for its user-friendliness and extensive link index, making it a reliable choice for SEO professionals. It also integrates seamlessly with other Moz tools, providing a comprehensive SEO solution.
Pricing
Just like some of its competitors, Moz Pro offers free backlink checker tools. To get the best of the tool, however, you'll have to subscribe to one of its 4 pricing plans:
Standard – from $79/month
Medium – from $143/month
Large – from $239/month
Premium – from $479/month
---
5. Majestic SEO
Majestic SEO is a specialized digital marketing tool. Unlike comprehensive tools like Ahrefs or SEMrush, Majestic SEO is dedicated to backlink analysis, claiming to have the world's best backlink checker tool.
Features
Site Explorer – for detailed analysis of external inbound links, including new and lost backlinks and anchor text analysis
Backlink History Checker – to track link acquisition over time
Bulk Backlink Checker – for analyzing multiple URLs or domains simultaneously
Trust and Citation Flow – proprietary metrics reflecting the quality and quantity of backlinks pointing to a site
Benefits
The advanced features and proprietary metrics that Majestic SEO offers allow teams to analyze backlinks in great detail, which makes it a valuable asset for link-building agencies.
It offers a number of integrations that expand its functionality, including 90 DataGrabber, PitchBox, and SEOMatique.
Pricing
Majestic SEO offers three main pricing plans:
Lite Plan – $499/year
Pro Plan – $999/year
API Plan – $3,999.90/year
---
6. Ubersuggest
Developed by Neil Patel, Ubersuggest is a versatile SEO tool that offers quick insights into backlinks, domain overviews, and SEO analysis. With its simple interface, it is particularly user-friendly, making it a popular choice for those new to SEO.
Features
Backlink Checker – for a general overview of the backlink profile and new/lost link tracking
Backlink Competitive Analysis – to identify new backlinking opportunities by researching gaps between your domain and your main competitors.
Benefits
Ubersuggest is one of the very few free backlink checker tools. The simplicity of its interface makes it accessible, and it provides quick insights, making it a practical tool for swift backlink analysis even if its features don't match those of larger competitors.
Pricing
Ubersuggest offers a free version with limited features. For example, the competitive analysis reveals only a limited number of backlink opportunities. If that's not enough, there are 3 premium plans:
Individual Plan – $29/month or $290 for lifetime access
Business Plan – $49/month or $490 for lifetime access
Enterprise Plan – $99/month or $990 for lifetime access
---
7. BuzzSumo
BuzzSumo is best known as a social media analytics and content inspiration tool designed for marketers. It assists in discovering popular and trending content across the web, based on specific search queries.
However, it also offers backlink analytics features that can be of use to link-building agencies.
Features
BuzzSumo's Backlinks tool enables teams to easily
Monitor backlinks pointing to your domain or specific site – or your competitors
Stay on top of new links thanks to Instant alerts – when new backlinks are added or removed, you get notified by email.
Leverage integrations with social media platforms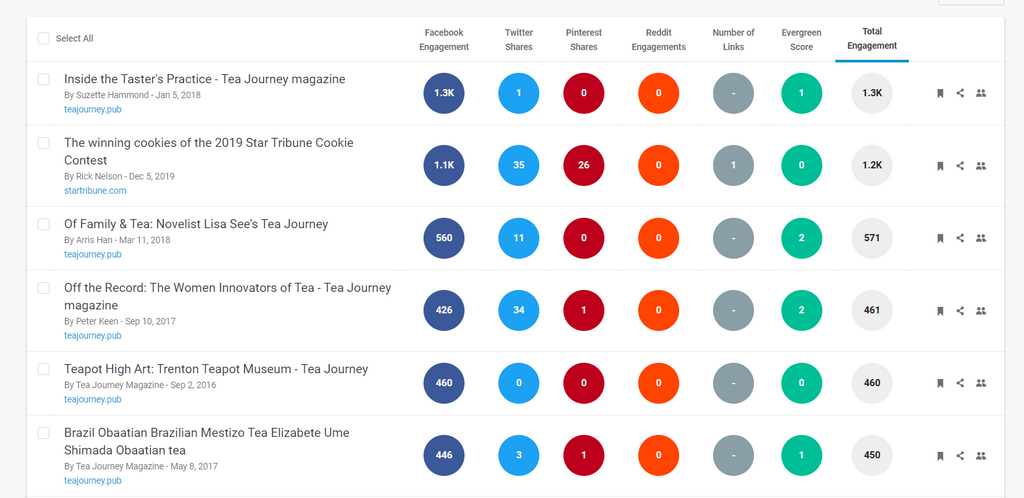 Benefits
While BuzzSumo's backlink analysis tools may not be the most advanced ones, SEO agencies can leverage them to develop better content and identify relevant influencers to reach out to in linkbuilding campaigns.
Pricing
BuzzSumo offers several pricing plans.
Content Creation – from $159/month
PR & Comms – from $239/month
Suite – from $399/month
Enterprise – $999/month (annual billing only)
---
8. CognitiveSEO
CognitiveSEO is a high-quality SEO software tool used by professionals, agencies, and brands alike. It offers a range of SEO tools and features, including comprehensive backlink monitoring features.
Features
CognitiveSEO's features that could be of use for backlink builders include:
Instant Backlink Checker – for a quick overview of the site's backlinks
Link Audits – for a complete picture of the website's backlink profile
Link Navigator – so that you can browse through your links with ease
Unnatural Link Detection – a visualization tool that allows to analyze the naturalness of the site's link profile
Google Disavow File Generator
Benefits
CognitiveSEO allows teams to track detailed link metrics and track the status of their links, while its unnatural link detection feature can help you avoid Google penalties.
It also receives positive reviews for its user-friendly and intuitive interface.
Pricing
CognitiveSEO offers 3 paid plans:
Starter – from $89.99/month
Premium – from $209/month
Elite – from $349/month
---
9. Monitor Backlinks
Monitor Backlinks is a dedicated tool designed to provide automatic verification of backlinks, keyword rank checking, and in-depth backlink reports.
It's widely used by professional link builders and SEOs to focus sharply on backlink strategies with the highest ROI.
Features
Keyword Rank Checker – to see how your keywords are performing in search engine rankings
Backlinks Management – filtering, tagging, custom descriptions
In-Depth Backlink Reports – for comprehensive analysis of patterns and trends like anchor text distribution
Link Disavowal Tool – to protect your site from potentially harmful backlinks and penalties
Bulk Link Import – for existing links, from spreadsheets or URLs
Email reports and alerts
Benefits
Monitor Backlinks stands out for its automatic updates and competitor backlink tracking.
It offers SEO metrics from multiple sources like Majestic, Moz, and Alexa, allowing users to assess the value of links and manage them effectively.
The tool also sends important notifications via email, keeping users informed about their backlink profile.
Pricing
Monitor Backlinks offers 7 pricing plans:
Start – from $25/month
Plus – from $47.40/month
Professional – from $89.91/month
5D4C – from $106.16/month
7D4C – from $139.92/month
10D4C – from $187.42/month
Custom
10. Linkody
Linkody is a comprehensive link management and monitoring tool offering SEO professionals a range of features that are essential for running effective link-building campaigns and maintaining a healthy backlink profile.
Features
Clear dashboard for vital link metrics, including Mozrank, Domain Authority, Spam Score, Trust Flow, Citation Flow, and Alexa.
Link profile analysis – to view how backlink distribution across key metrics as well as anchor texts
Competitive analysis to identify backlink-building opportunities
Disavow Tool
24/7 link monitoring with email notifications about new links and status changes
Integrations with Google Analytics and Ahrefs for more complete data tracking
Benefits
Linkody's benefits lie in its ability to help manage and monitor backlinks, which is crucial for improving SEO ranking. By providing regular updates and reports, Linkody allows users to stay on top of their backlink profile effortlessly.
Pricing
Linkody pricing is built around 5 paid plans:
Webmaster – from €10.50/month
Advanced – from €17.20/month
Pro – from €34.40/month
Agency – from €68.20/month
Agency XL – from €104.20/month
Conclusion
Backlink reporting tools are essential for effectively building and managing backlinks for your customers, improving their website's search engine ranking, and maximizing their online presence.
Considering how many backlink reporting tools are available, each with its unique features, benefits, and pricing models, SEO agencies need to do their homework to identify a solution that will meet their specific needs and objectives and will fit their budget.
If you want to see how BacklinkManager can help you stay on top of the backlinks you're building for your clients, book the demo!