Our guide looks at the best tools for link-building agencies for all the stages of the entire link-building campaign, from link-building opportunity research to outreach campaigns, relationship management, link monitoring. and content creation.
Let's get right to it!
TL;DR
Ahrefs offers a comprehensive suite for link-building research, including tools like Content Explorer and Site Explorer, aiding in finding link prospects and analyzing competitors' backlink profiles.
SEMrush is a versatile digital marketing suite with features for finding link prospects, conducting link audits, and monitoring both linked and unlinked brand mentions.
Moz Pro is known for its user-friendly interface and accurate data, offering tools like Link Explorer and Keyword Explorer for finding link prospects and analyzing competitors.
Majestic SEO specializes in link intelligence data, featuring tools like Keyword Checker and Backlink History Checker for finding link prospects and analyzing competitors.
Google Search Console, while not specifically designed for link building, provides valuable insights through External and Internal Link reports.
HARO (Help a Reporter Out) serves as a platform connecting journalists with industry experts, resulting in high-quality backlinks and increased brand visibility.
Apollo, Buzzstream, Respona, Postaga, and Pitchbox are pivotal outreach tools, each offering unique features for personalized email campaigns, prospecting, automation, analytics, and team collaboration.
SurferSEO AI excels in content creation, offering rapid, SEO-optimized content generation.
Link-tracking tolls like BacklinkManager and RankTracker enable 24/7 link monitoring and offer link status notifications that allow you to respond quickly should a link disappear.
BacklinkManager is a dedicated CRM for link-building, offering features like Link Partnership Scorecard and chat and comments for effective relationship management and reciprocal link building.
To see how BacklinkManager can help you keep track of the links you build for your clients and manage relationships with your partners, book the demo!
Best link-building tools for researching link-building opportunities
Researching link-building opportunities is the first step of the link-building process.
A few common ways to identify your link-building prospects include:
For starters, Google + advanced search operators could be a good source of potential prospects.
However, the SERP will not give you all the insights you need, like the authority of the website. Moreover, tracking down all the backlinks in this way may be very time-consuming.
That's why, most link-building agencies use dedicated backlink research tools, like Ahrefs, Semrush, Moz Link Explorer, or Majestic.
Ahrefs
Ahrefs is one of the best link-building tools out there.
It provides a wide array of features for researching link-building opportunities and enhancing the website's overall SEO strategy.
How exactly can you use different Ahrefs tools for link-building research?
Here are a few ways:
Finding link prospects

Content Explorer
This tool allows you to search for relevant websites, articles, and resources in your niche. You can use specific keywords or phrases to discover content that aligns with your niche and link-building goals.

Competitor analysis

Site Explorer
Site Explorer enables you to analyze your competitors' backlink profiles to understand their link-building strategies.
Link Intersect
With Link Intersect, you can identify websites that link to your competitors but not to your site.

Broken Link Building

Broken Link Checker
The tool can help you find broken links on relevant websites in your niche.

Unlinked Brand Mentions

Content Explorer
Ahrefs' Content Explorer is a powerful tool for finding unlinked brand mentions. You can enter your brand name into the search bar and filter the results to show only pages that don't link to your website.
Alerts
Ahrefs alerts work like Google Alerts – it can notify you whenever a keyword is mentioned online. By setting up an alert for your brand name, you can receive notifications of new unlinked mentions.
Ahrefs features can also support other aspects of the link-building process.
With Content Explorer, you can identify niche-relevant websites that accept guest posts, Site Explorer allows you to monitor the effectiveness of your link-building efforts by regularly assessing your website's backlink profile and Ahrefs alerts can notify you whenever new backlinks are detected.
Lastly, for outreach, Ahrefs provides an Email Finder feature to locate contact information for potential link partners, while the Outreach Tool facilitates efficient management of your email outreach campaigns.
Ahrefs pricing
Ahrefs offers 4 paid plans:
Lite – from $79/month
Standard – from $159/month
Advanced – from $319/month
Enterprise Plan – custom pricing
It also offers a range of free link-building tools, like Backlink Checker and Broken Link Checker.
SEMrush for link research
SEMrush is a comprehensive digital marketing suite renowned for its wide range of tools and features that empower businesses and marketers to optimize their online presence across various digital marketing channels.
With robust capabilities in search engine optimization (SEO), pay-per-click advertising (PPC), and social media marketing, SEMrush provides invaluable insights and facilitates data-driven decision-making.
When it comes to link building and managing your website's backlink profile, SEMrush offers powerful features for conducting link audits and ensuring a healthy link profile:
Finding Link Prospects

Link Building Tool
SEMrush's Link Building Tool allows you to find and prioritize prospective link opportunities. By entering your domain and target keywords, the tool generates a list of potential websites and blogs that are relevant to your niche.
Keyword Research
Utilize SEMrush's Keyword Magic Tool to identify relevant keywords in your niche. By analyzing the SERP features for these keywords, you can discover websites and platforms that you can leverage for building links.

Competitor Analysis

Backlink Analytics
Backlink Analytics provides comprehensive data on your competitors' backlink profiles. By analyzing the sources and types of backlinks your competitors have, you can uncover new link-building opportunities and understand the strategies they are employing.
Competitor Backlink Gap
The Backlink Gap tool allows you to compare your backlink profile against those of your competitors, presenting opportunities for outreach and link acquisition.

Broken Link Building

Site Audit
SEMrush's Site Audit tool can be used to identify broken outbound links on other websites in your niche.
Backlink Audit
The Backlink Audit feature can also be used to find broken or lost backlinks to your own site. By reaching out to the site owners, you can reclaim the lost link.

Unlinked Brand Mentions

Brand Monitoring Tool
SEMrush's Brand Monitoring Tool is specifically designed to track mentions of your brand across the web. It allows you to monitor both linked and unlinked brand mentions and provides insights into the sentiment and reach of the mentions.
SEMrush Alerts
Similar to Ahrefs, SEMrush also offers an alert feature. By customizing your alert settings, you can receive notifications for unlinked brand mentions.
SEMrush pricing
There are 3 Semrush plans:
Pro – from $129.95/month
Guru – from $249.95/month
Business – from $499.95/month
---
MOZ
Moz  is a renowned SEO tool suite that offers a plethora of features designed to help businesses and marketers optimize their online presence and enhance their digital marketing strategies.
Known for its user-friendly interface and accurate data, Moz is a go-to resource for professionals aiming to improve their website's visibility and increase organic traffic.
Moz Link Explorer provides a range of powerful features for managing your website's backlink profile and uncovering link-building opportunities:
Finding Link Prospects

Link Explorer
Moz's Link Explorer helps you identify and prioritize potential websites and platforms relevant to your niche for link building.
Keyword Explorer
Leverage Moz's Keyword Explorer to uncover relevant keywords in your industry. Analyzing the SERP features for these keywords can reveal platforms and websites that could offer backlinks to your site.

Competitor Analysis

Link Intersect
Moz's Link Intersect tool enables you to analyze your competitors' backlink profiles and identify websites that are linking to them but not to you.

Broken Link Building

Link Explorer
The Link Explorer tool can help you identify broken links on relevant websites within your niche.
Moz Pro pricing
To take full advantage of the Moz Pro features, you need one of its 4 paid plans:
Standard – from $79/month
Medium – from $143/month
Large – from $239/month
Premium – from $479/month
---
Majestic for link analysis
Majestic SEO is a specialized SEO tool suite known for its extensive link intelligence data.
It offers a variety of features that assist businesses and marketers in enhancing their online presence, analyzing backlink profiles, and developing effective link-building strategies.
Majestic SEO offers several robust features for managing your backlink profile and discovering link-building opportunities:
Finding Link Prospects

Keyword Checker
Use Majestic's Keyword Checker to find relevant keywords and explore your niche. This tool provides insights into potential websites and platforms where you can contribute content and secure link placements.

Competitor Analysis

Backlink History Checker
The Backlink History Checker allows you to analyze the backlink profiles of your competitors, uncovering their link-building strategies and revealing new opportunities for link acquisition.
Clique Hunter
Majestic's Clique Hunter helps you identify potential link prospects by revealing websites that link to your competitors.

Broken Link Building

Site Explorer
Majestic's Site Explorer can be used to find broken links on relevant websites.

Unlinked Brand Mentions

Link Context Filtering
Majestic SEO offers a Link Context Filtering feature that tracks mentions of your brand across the web.
Majestic SEO Pricing
There are 3 Majestic SEO paid plans:
Lite – from $41.67 per month
Pro – from $83.33 per month
API – from $333.33 per month
---
Google Search Console for link data
Google Search Console is a free service offered by Google that helps website owners, webmasters, and SEO professionals monitor and maintain their site's presence in Google Search results.
It's an essential tool for anyone looking to understand their website's visibility, improve site performance, and uncover opportunities for its growth.
While Google Search Console is not specifically designed for link building, it offers several features and insights that can be leveraged to identify and research new link prospects:
External Links Report
Google Search Console provides an External Links report that shows the pages on your site with the most links from other websites. By analyzing this report, you can identify which content is attracting backlinks and use this information to create similar, link-worthy content.
Internal Links Report
The Internal Links report shows how pages on your site are linked to each other. Internal link building helps search engines navigate and index your pages. It also drives traffic from one page to another.
HARO
Help a Reporter Out (HARO) is a platform designed to connect journalists with industry experts and sources.
Journalists seeking insights, quotes, or information for their stories submit queries to HARO, and experts who can provide relevant information respond to these queries.
This symbiotic relationship allows journalists to access valuable expertise, while experts and businesses get the opportunity to be featured in publications.
There are a number of benefits of using HARO.
Being featured as a source in a journalist's article often results in a backlink to the expert's website. These backlinks are typically from reputable publications, making them high-quality and beneficial for SEO.
Being quoted or mentioned in such publications increases brand visibility and credibility. It positions the expert or business as an authority in their field, fostering trust among readers and potential customers.
What's more, HARO is a chance to gain media coverage that can significantly amplify your clients' reach and influence.
HARO Pricing
There are 4 HARO plans, including a free one:
Basic – free
Standard – $19 per month
Advanced – $49 per month
Premium – $149 per month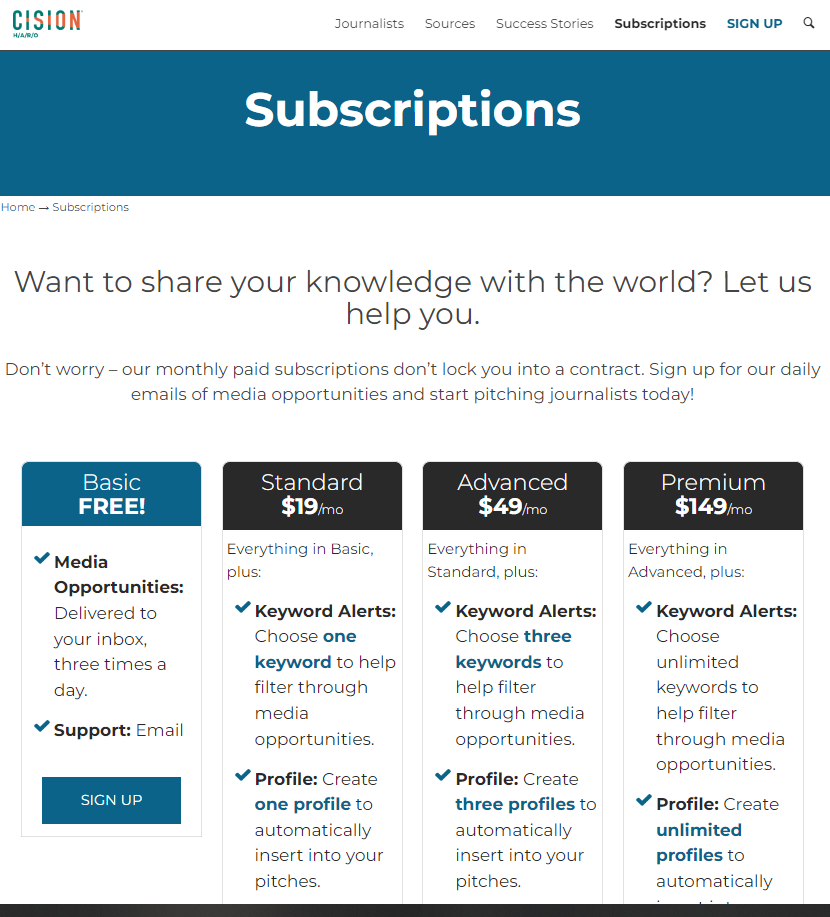 Best link-building tools for outreach campaigns
Once you identify websites that you'd like to target in your link-building campaign, it's time to reach out.
For that, you need to be able to gather the contact details of the editors or website owners. While extracting the email address from the website manually can sometimes be the only way to do so, there are dedicated outreach tools that can help you automate the process.
Outreach tools are also indispensable when it comes to executing your campaigns. They can massively enhance your link-building efforts by helping you create personalized email sequences and track their performance.
Popular link-building outreach tools include Apollo, Buzzstream, Respona, Postaga, and Pitchbox.
Apollo.io
Apollo.io is a comprehensive sales intelligence and engagement platform that enables businesses to find, contact, and close clients.
With a living database of over 265 million contacts, Apollo provides access to accurate data, enabling users to connect with prospects through streamlined engagement workflows powered by AI.
The platform is designed to help sales and marketing teams generate more opportunities with the least work possible, making it one of the best tools for link-building outreach campaigns.
Appolo.io features include:
Vast database of contacts
Apollo boasts the world's most up-to-date lead database, allowing users to find thousands of new leads, verified emails, and phone numbers.
Custom sequences
The platform offers a Workflow feature for creating custom sequences, enabling users to email, call, and connect on LinkedIn with ideal buyers.
Apollo AI
Apollo AI supports users in sending the right message at the right time, enhancing the effectiveness of outreach campaigns.
Integration with CRM systems
Apollo integrates with popular CRM systems, like Hubspot, ensuring seamless data synchronization
Chrome extension
The Apollo Chrome Extension allows users to gather verified email addresses and phone numbers directly from LinkedIn.
Apollo pricing
Users can choose from 4 plans, including a free one:
Free
Basic – $39 per user per month
Professional – $39 per user per month
Organization – $79 per user per month
---
Buzzstream
BuzzStream is a renowned digital PR and outreach platform, designed to streamline and amplify the results of link-building and digital PR campaigns.
Whether working individually or as part of a large team, users can leverage BuzzStream to stay organized, build more links, and secure increased traffic and coverage.
Key Buzzstream outreach features include:
Prospecting
BuzzStream excels in discovering metrics and contact information for prospects, enabling users to build a comprehensive database of potential promoters, thereby securing more links and traffic.
Outreach
The platform facilitates sending personalized emails at scale, ensuring effective communication with prospects and minimizing the risk of lost emails or inbox overload.
Analytics and reporting
Users can measure the performance of their outreach campaigns through open rates, reply rates, placements, and team activity tracking. This data-driven approach allows for the optimization of outreach ROI.
Buzzstream pricing
There are 4 Buzzstream plans available, all of them paid:
Starter – $24 per month
Growth – $124 per month
Professional – $299 per month
Custom – $999 per month
Respona
Respona is a cutting-edge email outreach tool, meticulously designed to streamline the process of connecting with influencers, publishers, and prospects.
It combines advanced search capabilities with personalized email outreach, making it an invaluable asset for digital PR and link-building campaigns.
Here are the main Respona features:
Prospecting
Respona's App Search feature helps users build a robust database of relevant high-quality contacts, enhancing the potential for link acquisition and successful outreach.
Outreach
With features like Email Finder and Email Personalization, Respona excels in facilitating personalized and effective communication. The platform allows users to find verified email addresses and craft tailored messages, ensuring that outreach efforts resonate with the recipients and minimize the risk of communication breakdowns.
Automated email outreach
Respona offers email outreach automation features and a variety of built-in campaign templates. These features streamline the outreach process, allowing users to send personalized emails at scale and ensuring consistent and impactful communication with prospects.
Analytics and reporting
The platform provides Email Analytics, enabling users to monitor the performance of their outreach campaigns through open rates, reply rates, and other essential metrics.
Team collaboration
Respona incorporates team collaboration tools, allowing multiple team members to work seamlessly within the platform. This feature ensures effective management of relationships and outreach efforts, even in a collaborative environment.
Respona pricing
Respons offers just 2 plans:
Starter – $99 per month
Unlimited – $399 per month
---
Postaga for email outreach
Postaga is a dynamic email outreach tool, specifically designed to automate and enhance the process of connecting with prospects.
It integrates AI-powered technology with personalized outreach, making it a go-to platform for those looking to elevate their link-building and digital PR campaigns.
What features does Postaga offer to link-building agencies?
Here's the breakdown of a few:
Prospecting
The Opportunity Finder and Contact Finding features enable users to identify relevant contacts and build a comprehensive database of potential collaborators.
Outreach
Thanks to features like Contact finder and email personalization users can locate verified contact information and craft messages that resonate with the audience. These features are pivotal in maintaining effective communication and fostering positive relationships with prospects.
Outreach automation and campaign analytics
Postaga offers Outreach Automation, allowing users to streamline the process of sending personalized emails at scale. Additionally, the platform provides campaign analytics, which enable users to monitor and optimize the performance of their outreach campaigns through data-driven insights.
Team collaboration and educational resources
Postaga incorporates team collaboration tools, facilitating seamless cooperation among team members working on outreach campaigns. Moreover, the platform offers a wealth of educational resources, providing users with valuable knowledge and insights to up their outreach game.
Postaga pricing
Just like in Respona, there are 2 pricing plans available:
Pro – $84 per month
Agency – $250 per month
---
Pitchbox
Pitchbox is a premier link-building and outreach platform, carefully crafted to facilitate connections with publishers
It stands as a comprehensive solution for SEO agencies, brands, and publishers aiming to optimize their link-building efforts and secure high-quality backlinks.
How can you use Pitchbox to facilitate your link-building strategy?
Prospecting
Pitchbox offers advanced features that enable users to identify and connect with relevant contacts in their niche.
Custom outreach templates
Pitchbox provides custom outreach templates, facilitating the creation of personalized and impactful communication that resonates with the audience.
Automation and performance tracking
The platform automates follow-ups, ensuring consistent communication and maximizing opportunities for link acquisition. Additionally, Pitchbox allows for tracking campaign performance, providing insights and analytics that are essential for optimizing outreach strategies.
Integration with SEO Tools
Pitchbox integrates seamlessly with other SEO tools, like Ahrefs, SEMrush, Moz, and Majestic, offering a cohesive and streamlined user experience. This integration allows for easy access to valuable data and insights, enhancing the overall outreach process.
Pitchbox pricing
Pitchbox is a premium tool and so is its pricing. Neither of the 2 plans is affordable for small agencies or freelancers:
Professional – $495 per month
Enterprise – $1350 per month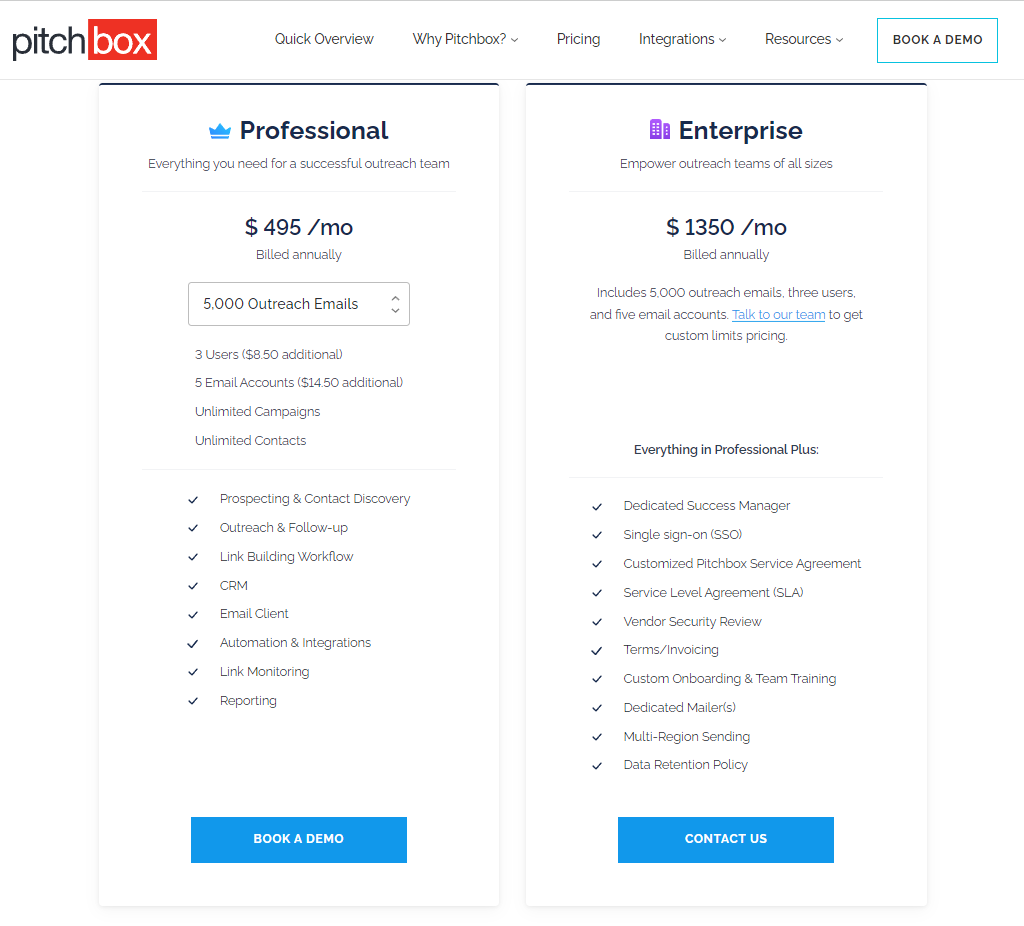 Best tools for link-building agencies: Managing Link-Building Contacts through a CRM
Managing contact information is pivotal for optimizing outreach and fostering relationships with link-building prospects, partners, and vendors.
A link-building CRM system acts as a centralized hub for essential data which enhances organization and communication.
Let's look at BacklinkManager as a dedicated link-building CRM.
BacklinkManager
BacklinkManager.io offers a suite of features and tools that cater to various aspects of link-building, ensuring that users can effectively manage relationships and assess the value of their backlinks.
What features for managing relationships does BacklinkManager offer?
Link-building Client Relationship Management
The link-building CRM feature enables users to efficiently manage and nurture relationships with clients. This functionality is crucial for maintaining clear communication and ensuring that client expectations and goals are met.The feature also allows users to streamline interactions with vendors and freelancers. This feature ensures that collaborations are well-coordinated and that the link-building process is seamless and productive.
Chat and comments
BacklinkManager incorporates chat and comments features, facilitating real-time communication and feedback within the platform. This enhances collaboration and allows for immediate resolution of queries and discussions, contributing to the overall effectiveness of link-building campaigns.
Link Partnership Scorecard
BacklinkManager introduces the Link Partnership Scorecard, a tool designed to assess the value and effectiveness of link partnerships. Basically, the scorecard helps you keep track of who acquired which backlinks for whom.
Link Matchmaking Tool (coming soon)
Excitingly, BacklinkManager is set to launch an innovative Link Matchmaking Tool. This upcoming feature promises to further streamline the process of finding and connecting with potential link partners, enhancing the platform's capabilities in fostering valuable link-building relationships.
BacklinkManager pricing
BacklinkManager offers 3 pricing plans:
Free
Pro: $49 per month
Enterprise: $500 per month
To learn more about each plan and get started, visit BacklinkManager's pricing page.
Best link-building tools for monitoring and tracking links built
As a link-building agency, your job is not only to acquire links for your clients. To ensure their satisfaction and keep them coming back, you must ensure that the links they've paid for don't rot.
Link monitoring tools have two main roles: tracking the links you've built for your clients and their status.
SEO tools like Ahrefs and SEMrush offer features that can help you do the tracking. However, there are also a few superb dedicated link-monitoring tools, like BacklinkManger (yes, again) and RankTracker.
BacklinkManager for Link Monitoring
Apart from being an excellent link-building CRM, BacklinkManager is also a robust tool for link monitoring.
It offers a suite of features designed to provide continuous insights and updates and keep users informed and in control of their hard-earned links:
24/7 Link Monitoring
BacklinkManager offers 24/7 Link Monitoring, ensuring that users have real-time insights into the status of their backlinks.
Reliable Link Crawler
Equipped with a reliable Link Crawler, BacklinkManager scans the web efficiently to identify and evaluate backlinks. This feature guarantees accurate and up-to-date information.
Link status notifications
To keep users informed, BacklinkManager provides link status notifications. These timely alerts notify users of any changes in link status, enabling quick response to developments such as link losses.
Link-building targets, goals & target groups
BacklinkManager facilitates the setting of link-building targets and goals, allowing users to define and pursue specific objectives. By identifying target groups, users can tailor their link-building strategies to reach the right audience and achieve desired outcomes.
Backlink monitoring by status
The platform offers the feature of Backlink Monitoring by status, enabling users to categorize and assess backlinks based on their current status.
RankTracker
RankTracker is a link monitoring tool offering a range of features that allow professional link builders to stay on top of the links they've secured for their clients.
Key RankTracker features include:
Backlink CheckerRankTracker is equipped with a Backlink Checker, a feature that efficiently scans the web to identify and catalog backlinks associated with a user's website.
Backlink MonitorThe platform also features a Backlink Monitor, designed to continuously track the status and health of backlinks. This monitoring tool is crucial for detecting any changes or issues promptly.
Historical DataWith RankTracker, users can access historical backlink data, gaining insights into the evolution of their link profile and making informed decisions based on past trends and developments.
Best link-building tools for content creation
Link building and content creation go hand-in-hand. When reaching out, link builders need to offer valuable content that would be of interest to potential partners.
If you're a link-building agency, you may need to produce a lot of content. There are countless AI writing tools available on the market and by the time I finish writing the paragraphs a few more will pop out, but the quality varies.
SurferSEO AI
When it comes to quality, SurferSEO AI definitely stands out.
It combines advanced AI technology with SEO optimization to ensure that the content produced is not only engaging but also ranks in SERPs.
What features make SurferSEO AI shine?
Rapid content creation
SurferSEO AI enables users to generate well-crafted content swiftly. This feature is invaluable for those looking to maintain a consistent content output without compromising quality.
Good quality:price ratio
SurferSEO AI allows users to produce high-quality guest posts on a budget.
SEO optimizationSurferSEO is used by thousands of creators to optimize the SEO performance of their content. SurferSEO AI combines its flagship SEO features with the AI writing assistant functionality.
Customizable outlines
Before writing, the users have the flexibility to tailor the structure of the content to suit their preferences and requirements. This customization allows for the creation of content that is coherent and well-organized.
Avoid AI DetectionSurferSEO AI can help you outmaneuver the AI detection tools by ensuring that the generated content appears natural and human-written.
Surfer AI Pricing
Articles generated by SurferSEO AI cost $29 a pop. On top of this, you will need a subscription to one of its paid plans:
Essential – from $69 per month
Advanced – from $149 per month
Max – from $249 per month
Enterprise – custom pricing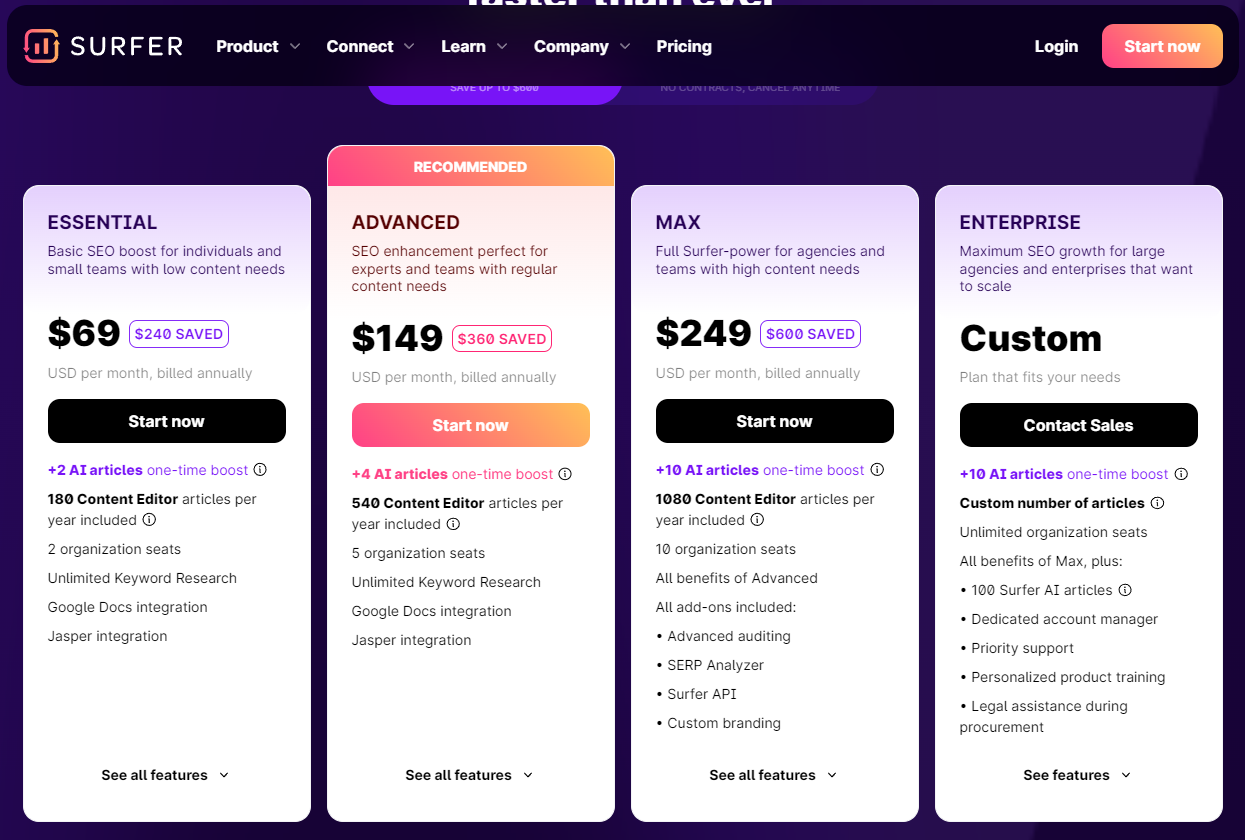 Conclusion
Choosing the right tools for your link-building agency will allow you to optimize your prospecting and outreach processes and track the performance of your campaigns. It will also help you cultivate strong relationships with clients, partners, and vendors, and ensure that the collaboration is mutually beneficial.
The full tool stack of a link-building agency can be pretty expensive. Fortunately, most of the tools in our roundup offer you a chance to try it out for free before you commit to the purchase.
If you want to try BacklinkManager for free and see how it can help you monitor your clients' backlinks and manage relationships, sign up now.