Looking for a link building tool that will help you not only manage your links better, but also repot on what you have done for your clients?
In this post we'll dive into the different link-building reporting tools, and see which one would fit in as the best for overall link-building needs.
TL;DR
Key features to look for in your link-building reporting tools include:
real-time broken link detection and notifications
sharable dashboards that update in real time for your link building agency clients
 competitive insights
compatibility with other SEO tools,
analysis of anchor text distribution
customizable reporting
and user-friendly design.
Review of top tools in highlight SEMrush's wide range of features, Ahrefs' extensive backlink database, Moz Pro's focus on domain analysis, Majestic's extensive backlink metrics-related features, and BacklinkManager.io's unique combination of link management, client reporting and a client-management CRM.
When choosing a tool, it's essential to understand your needs, consider your budget, and ensure the tool is user-friendly, offers real-time insights, provides customizable reports, is integrated well with other tools, is scalable, has good customer support, and offers in-depth data. Trying out tools and checking reviews can also be beneficial.
Tools that offer comprehensive SEO data, from sites linking to your domain to detailed reports on your link-building progress are invaluable.
SEO reporting tools provide insights into what's working, and what's not and help you answer questions like which links and driving the most traffic, or which ones are improving SEO metrics.
These tools not only track the success of your marketing campaigns and monitor progress but also provide insights into areas of improvement.
Must-Have Features in Link Reporting Tools
When it comes to link building, the importance of having the right SEO reporting tool in your arsenal cannot be overstated. But what features you should be looking for in this big pool of tools available? Let's uncover the essentials.
Link Building Strategies Analytics
A reporting tool worth its salt should offer more than just raw data.
It should provide actionable insights into the effectiveness of your link-building strategies whether you are employing guest posting, skyscraper technique, or broken link building.
Real-Time Broken Link Detection
A broken link can harm your site's user experience and SEO. A top-tier SEO reporting tool should have the capability to detect links in real-time, ensuring that your link equity isn't being wasted.
A tool that offers real-time broken link detection ensures that you are always on top of any potential issues, allowing for immediate rectification.
Comprehensive Backlink Profile Analysis
This feature should include knowing the domain linking to your site, their domain authority score, and the content of those links.
Are the links from relevant industry sources? Are they from trusted domains?
A tool that offers a deep dive into your backlink profile can provide invaluable insights, helping you shape your future strategies.
Competitive Analysis Features
Understanding your competition is half the battle won.
A feature that allows you to analyze the competitor's backlink profiles, their top-referring domains, and their overall link-building strategy can help you identify potential avenues for your own link-building efforts.
Integration with Other SEO and Marketing Tools
Your link-building and seo reporting tool shouldn't exist in isolation.
Integration capabilities with other SEO tools, like Google Analytics and Google Search Console can provide a more detailed and elaborative view of how your backlinks impact your overall SEO performance.
Besides, integration with CRM or email marketing tools can further streamline outreach efforts, making the link-building process more efficient.
Anchor Text Distribution Analysis
Over-optimized anchor text can be a red flag for search engines.
A sophisticated link-building reporting tool should provide insights into the distribution of anchor texts in your backlink profiles.
This can help in ensuring that your link-building efforts appear natural and diversified to avoid any potential penalties.
Customizable and Shareable Reports
Every business has unique needs. Link-building tools that offer custom reporting ensure that you are looking at data that's most relevant to you.
Whether it's an agency reporting to clients, or an in-house SEO specialist reporting to stakeholders, the ability to tailor reports to specific needs, highlight metrics, and share them seamlessly ensures that everyone is on the same page.
BacklinkManager offers user-friendly reporting dashboard you can easily customize and share with your clients via a link or an email.
User-Friendly Dashboard and Interface
Data is only as good as its presentation. A cluttered, confusing dashboard can obfuscate even the most important analytical insights.
The best link-building tool offers dashboards that are intuitive, customizable, and most importantly, actionable. They should transform complex data into visual, easy-to-understand reports.
Alerts and Notifications
Your backlink reporting tool should have real-time notifications to let you know when e.g. a link has been removed or the page it was on is 404.
Historical Data Access
SEO Tools that offer access to historical metrics data such as backlinks can help in tracking the evolution of your link-building efforts, understanding what worked, and more importantly, what didn't.
Comprehensive Review of the Best Link Reporting Tools for 2024
It's time to spotlight the creme de la creme of the best link-building tools, ensuring our strategies are not just current but future-proof. Let's take a look at them one by one.
SEMrush
SEMrush, a name that resonates with almost every digital marketer, has been a go-to platform for many, offering a range of features that cater to various aspects of SEO.
From keyword research to competitor analysis, SEMrush has been the Swiss Army knife for many professionals constantly evolving and ensuring it remains not just relevant but indispensable.
Features – Research, Connect, and Track
While SEMrush offers a comprehensive suite that understands the nuances of link-building, let's have a breakdown of its features in the context of link-building reporting.
Research Capabilities: SEMrush provides a goldmine of data with its vast database and extensive capabilities to provide organic search data, paid search data such as Google Ads, and even product listing ads ensuring that you are not flying blind but making data-driven decisions.
Connect : Building relationships is at the heart of link-building. SEMrush's link-building tool simplify this process. It not only identifies potential link-building opportunities but also helps you reach out to them. With its integrated email outreach feature, connecting with potential link partners becomes a breeze.
Track: SEMrush's tracking feature ensures that you're always in the know. Track your website's search engine rankings, monitor your backlink profile, and get an alert if something goes away. It's like having a personal SEO Assistant that helps you get a bird's eye view of how your efforts are translating into real-world traffic.
Pros and Cons of SEMrush's Link Building Reporting
Like any SEO reporting tool, SEMrush has its strengths and areas of improvement.
Pros

Comprehensive Data: One of the standout features of SEMrush is its extensive database that ensures you have the most recent and accurate data at your fingertips.
User-Friendly Interface: Despite its plethora of features, SEMrush's interface is intuitive, ensuring even SEO novices can navigate with ease.
Integration with Google Analytics and Google Search Console: This integration ensures that you're not just relying on SEMrush's data but can cross-reference with data from these two critical sources.
Cons

Price for Small Businesses: For small businesses, or individual bloggers, SEMrush's pricing can be a tad steep.
Overwhelming for Beginners: With so many features, a newbie might feel overwhelmed and without some basic understanding and clear strategy, it's easy to get lost.
Ahrefs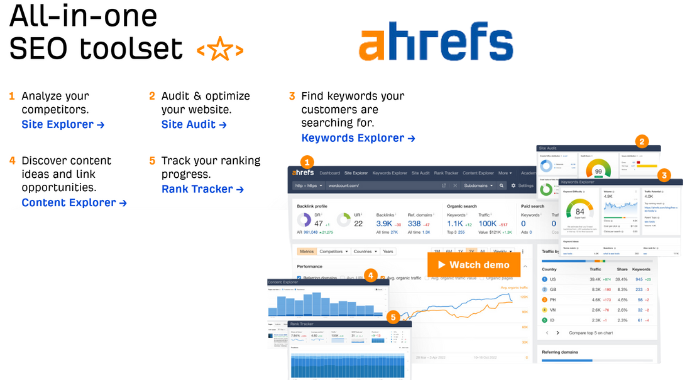 Ahrefs boasts the largest index of live backlinks, a claim that isn't just a marketing jargon but a testament to its process. This tool is an equal favorite among SEO professionals, outreach specialists, content marketers, and even PR professionals alike.
The reason is, Ahrefs offers a treasure trove of data in terms of website backlinks, that can be leveraged for various digital marketing activities.
Features
Ahrefs' features can be summed into three main categories:
Site Explorer: The Site Explorer gives a comprehensive look at the backlink profile and organic search traffic of any website, be it yours' or competitors'. You can analyze your competitors, and where their links are coming from, and even discover their top-performing content. This comes equipped with other important KPIs as referring domains and the anchor text analysis.
Keyword Explorer: With Ahrefs' Keyword Explorer, you get a comprehensive keyword report with detailed insights into search volumes, difficulty scores, click metrics, and even keyword suggestions. With data from multiple websites and not just Google, Ahrefs' Keyword Explorer provides a broader perspective on keyword research with extensive data on the trends.
Rank Tracker: With Ahrefs' Rank Tracker you can monitor your keyword rankings, on both mobile and desktop. It also offers a real-time updated visual representation of your website's SEO performance, making it easier to spot trends and adjust your strategy accordingly.
Strengths and Limitations
Strengths

Comprehensive Data: Ahrefs provides a wealth of data, especially when it comes to backlinks. Their database, which is one of the largest, updates every few minutes ensuring you get the most recent data allowing for better decision-making.
User-Friendly Interface: Ahrefs' intuitive interface and visual representations make it easy to navigate and understand data.
Content Explorer: This unique feature allows you to discover the most popular content in your niche, giving you insights into what your audience seeks.
Limitations

Price Point: Quality often comes at a price. Ahrefs is on the pricier side, which might not be feasible for small businesses and early-stage startups.
Overwhelming Data: For SEO newbies, the sheer amount of data in its reports can be overwhelming. It takes time to understand and interpret all the information.
Prime Focus on Backlinks: While Ahrefs supremely excels in backlinks database and website analytics, it certainly lacks various other important tools like on-page SEO audit/checker.
Mobile Data Limitations: The mobile ranking data is not as comprehensive as its desktop data.
Moz Pro
Moz Pro has been a cornerstone in SEO with its roots deeply embedded in the SEO community.
Moz Pro has evolved from a simple blog to a comprehensive suite of tools that cater to every nuance of link-building and reporting.
Key Features and Benefits for Links Building Reporting
With its vast index of trillions of links, it offers unparalleled insights into your backlinks, helping you understand where you stand in the linkscape. Let's take a look at some of its standout features:
Link Explorer: This feature offers a detailed link analysis of your website's backlink profile, helping you understand where your links are coming from and how they impact your site's keyword rankings.
Keyword Explorer: While primarily a tool for keyword research, this tool works more on backlink checking, linking them to your related keywords.
Page Authority (PA) and Domain Authority (DA): These are proprietary metrics developed by Moz. Domain Authority gives you an idea of the overall strength of your entire domain, whereas page authority focuses on the strength of individual pages. Both are crucial for assessing the ranking potential of the domain and page.
Link Intersect: Using this feature users measure out which links are pointing to competitors but not your website, and this report can be used as a roadmap to potential backlinking opportunities.
Spam Score: Not all links are created equal. Some can in fact harm your site more than do good. Moz Pro's spam score helps you identify potentially harmful links, allowing you to take corrective measures to improve search engine visibility.
Anchor Text Analysis: Understanding the text that is hyperlinked to your site can provide insights into how others view your content. Moz pro breaks down the most common anchor texts pointing to your site, helping you identify potential keyword targeting opportunities or over-optimization risks.
Lost and Gained Links: This dynamic report keeps you updated on which links you have recently earned or lost, and also working as a broken link checker, helping you stay on top of your link-building game.
Advantage and Drawbacks
Advantages:

Elaborative with Vast Backlink Data: Moz Pro, with its vast index, offers a holistic view of your backlink and broken links profile.
User Friendly: The intuitive design of Moz Pro assures that every feature of the tool is easily accessible.
Regular Updates: Moz Pro's tool being updated regularly ensures you have the most trending and updated data at your fingertips.
Community and Learning Resource: Moz is more than just a tool, it is a community. With an abundance of resources, webinars, and an active forum, users can continually upskill and stay updated with what's latest in SEO.
Drawbacks:

Price Point: For small businesses or individual bloggers, Moz Pro might seem a bit on the pricier side.
Data Refresh Rate: While Moz Pro has a vast index, it doesn't update as frequently as some of its competitors. This means that very recent backlinks might not show up immediately.
Depth in International Data: While Moz Pro is robust for US-based data, some users feel it lacks the same depth for international data.
Majestic SEO
Majestic SEO, often simply referred to as Majestic, is often touted as the 'cartographer of the Internet'.
Majestic has carved a niche for itself by offering tools that are intuitive in helping them navigate the intricate web of backlinks, domains, and SEO-related metrics.
Core Link Building Features
At its core, Majestic focuses on backlinks, which are the backbone of any robust SEO strategy. Here's a breakdown of its core link-building features:
Site Explorer: This feature allows users to explore a domain/URL in great detail. With a quick search, you can uncover the number of backlinks, referring domains, and even the Trust Flow and Citation Flow of a site.
Trust Flow and Citation Flow: These proprietary metrics offer a quick snapshot of a site's trustworthiness and influence, helping marketers prioritize their link-building efforts.
Backlink History Checker: Track the growth of backlinks over time. This tool provides a historical account, letting you see if a site's been ramping up its link-building efforts, or its been hit by a backlink loss.
Bulk Backlink Checker: Instead of analyzing URLs one by one, this feature lets you batch process up to 400 URLs at once, providing a quick overview of their metrics. This is a time saver for agencies handling multiple clients or for businesses with several web pages and assets.
Referring Domains: Beyond just backlinks, Majestic lets you see which domains are linking to a site. This is crucial for understanding the diversity and authority of your link profile.
Link Context and Lost Links: The Link Context feature shows the content surrounding your backlinks, helping you gauge the relevance and quality of the linking page. Majestic also keeps you informed about the links you have lost with its 'Lost Link' feature, helping you strategize on how to regain or replace them.
Benefits and Potential Challenges
Benefits

Extensive Data: Majestic SEO offers a treasure trove of data, from anchor text distribution to top referring domains.
Visual Reports: The tool provides interactive charts and graphs, making data interpretation easy. Whether it's tracking your website's Trust Flow, Citation Flow, or understanding link distribution, Majestic's visual reports make the data digestible. With added features like the Link Profile fight, users can visually compare the backlink profiles of two websites, making it easier to spot opportunities and differences.
Historical Data: Understand how your link-building efforts have evolved over time and navigate through what worked and what didn't.
Integration with Other Tools: Majestic integrates seamlessly with other SEO tools, allowing for a more holistic approach to optimization. By combining Majestic's extensive link data with third-party tools such as Google's Insight Tools, users can get a complete overview of their website performance in one place.
Potential Challenges

Learning Curve: With its wide range of features and data points, newcomers might find Majestic a bit overwhelming at first. Like any other robust tool, Majestic SEO comes with a learning curve. It's a tool that rewards those who invest their time to truly understand it.
Data Overload: While having a wealth of data is a boon, it can also be a bane if not interpreted correctly. It's essential to focus on metrics that align with your SEO goals.
Costly Deal for Beginners: While Majestic offers a free version, to truly unlock its potential, the premium plans are necessary and they can be a bit on the pricier side.
Linkody
Linkody has emerged as a pivotal player in the SEO tool market with its effective link management and reporting features.
For businesses and marketers aiming to keep a vigilant eye on their backlinks, Linkody offers a streamlined, user-friendly solution.
Overview and Unique Selling Points
At its core, Linkdoy is designed to simplify the intricate process of link building and management. Let's dive into what makes Linkody stand out.
Comprehensive Backlink Checker: Linkody offers 24/7 monitoring of your backlinks. The tool dives deep into the web, fetching data about who's linking to your site, and notifying you if a link goes down or if there's a change in the nofollow/dofollow status.
Instant Notifications: Linkody's real-time notifications ensure you are always in the loop, allowing for timely interventions.
Disavow Tool Integration: Linkody's integration with Google's Disavow Tool makes it easy to distance your site from potentially harmful links.
Competitor Analysis: With Linkody, you can spy on your competitor's backlinks, getting real-time notifications whenever they get a new link.
Pros and Cons
Let's weigh Linkody on the scales of link-building reporting:
Pros:

Multi-User Support: Linkody provides the facility to seat multiple users, ensuring everyone is on the same page.
User-Friendly Interface: Even if you are not a tech whiz, Linkody's intuitive interface ensures you won't feel lost. Everything is neatly organized, making link arrangements and reporting a walk in the park.
Affordable Pricing: With a 30-day free trial and low prices, Linkody comes up as a win-win for small businesses and startups.
White Label Reporting: For agencies looking to send reports to clients, Linkody's white-label reports offer customization with branding, ensuring a professional look.
Cons:

Limited data for Free Version: While Linkody offers a free version, the data provided is limited.
Depth of Reporting: While Linkody is comprehensive, some users feel that the depth of data, especially when compared to giants like Ahrefs, can be enhanced. It might not offer the depth of reporting that some advanced users might be looking for.
Data Refresh Rate: While the tool is quite optimum in its results, some users have still pointed out that Linkody's data refresh rate could be faster.
Mobile Experience: Linkody's mobile experience could use some refining to match its desktop prowess.
Special Mention: BacklinkManager.io
BacklinkManager.io is a comprehensive suite designed with the nuances of link building in mind, specifically for the modern-day link-builder.
BacklinkManager.io is architected with an acute understanding of the intricacies of link building, ensuring that users are not just collecting data but weaving informing strategies.
A Complete Backlink Reporting and Link Building CRM
Beyond just analysis and monitoring, BacklinkManager.io positions itself as a holistic customer relationship management (CRM) tool for link building.
It centralizes all interactions, communications, and exchanges related to backlinks, providing users with a unified view of their link-building.
This CRM approach not only streamlines operations but also enhances efficiency by consolidating all link-building tasks and data in one place.
Real-Time Backlink Monitoring: BacklinkManager.io understands the importance of staying updated. Its real-time monitoring system notifies users almost instantaneously about new backlinks or the loss of existing ones. This agility empowers professionals to act swiftly ensuring they're always a step ahead in their link-building campaigns.
Advanced Link Analysis and Monitoring: Surface-level data rarely paints the full picture. BacklinkManager.io goes a step further with its profound analysis. It provides a holistic view, scrutinizing the quality of backlinks, and the anchor text distribution, and estimating the potential SEO value of each link while tracking their whereabouts and status in real-time. Such meticulous details empower SEO professionals to discern and prioritize their link-building efforts more efficiently.
Broken Link Detection: Digital assets can become liabilities if not maintained. In a similar manner, broken links can be detrimental not only to user experience but also for ranking on search engines. With BacklinkManager.io's real-time broken link detection, users are equipped to mend these links promptly ensuring consistent link integrity.
Detailed Backlink Checker: BacklinkManager.io offers a granular analysis, elaborating on link quality, anchor text, potential organic traffic, and more. Such precision ensures that users get a complete perspective of their backlink profile.
Contextual Reporting: BacklinkManager.io provides comprehensive reports that don't just spit out numbers but offer a deep understanding of what those numbers signify. These insights help users navigate the ocean of link-building with precision.
Intuitive Dashboard and Reporting: BacklinkManager.io's user-centric dashboard translates complex metrics into clear visuals and easy-to-decipher insights. The customized reports provide actionable insights, not just numbers. These strategic recommendations are tailored to match individual website needs, streamlining the decision-making process.
Link Partnership and Exchange Management: BacklinkManager.io seamlessly manages link partnerships, simplifying the once cumbersome process of link exchanges. Users can track, monitor, and even evaluate the effectiveness of their link partnerships, all from a unified platform.
How BacklinkManager.io Compares with Other Tools
When stacked against industry giants like Moz Pro, Ahrefs, and SEMrush, BacklinkManager.io holds its own.
While these tools offer a broader range of SEO features, BacklinkManager.io's laser focus on link building gives it an edge in this specific arena.
Its real-time monitoring is unparalleled, and its in-depth link analysis is on par, if not better, than most of its competitors.
Moreover, in terms of pricing, BacklinkManager.io offers a competitive edge providing a robust set of features without burning a hole in your pocket, making it an excellent choice for startups and small businesses.
Additionally, its customer support is top-notch, with many users praising its responsive and knowledgeable team.
However, no tool is without drawbacks. Some users might miss the broader SEO functionalities offered by all-in-one SEO platforms.
But for those who prioritize link building and precise outreach management, BacklinkManager.io is hard to beat.
Why not dive in and see yourself? Sign up today for free and manage up to 250 links without spending a dime!
Tips to Choose the Right Link Reporting Tool for Your Business
Every business and website is unique, and so are their link reporting needs.
Let's take a look at some important factors that should be taken into consideration when choosing the right link-reporting tool for your business:
Understand Your Requirements
Different businesses have varied needs.
While freelancers might need basic functionalities, agencies could require advanced features.
List down what you need the tool for be it for tracking backlinks, analyzing link quality, or outreach management.
Budget Considerations
Set a budget. While some tools might offer advanced features, they may come at a premium price.
There are often economical options available that provide a good balance between budget and features.
Ease of Use
A tool should simplify tasks, not complicate them. Choose a tool that offers an intuitive interface, a user-friendly experience, and doesn't have a steep learning curve.
Real-Time Reporting
The digital landscape changes rapidly.
A tool that offers real-time can help businesses, especially agencies and large industries, to quickly adapt their strategies.
Customizable Reports
Agencies and large industries often present reports to clients or higher management.
A good tool offers in-depth analytical reports helping in understanding link quality, anchor text distribution, and other essential metrics.
A tool that allows for customized reporting can be beneficial in these scenarios.
Integration Capabilities
Check if the tool can be integrated with other software and tools you are currently using or might use in the future.
This feature can significantly enhance your workflow and data sharing.
Scalability
The tool should be able to accommodate your business as it grows.
This is especially important for small and medium businesses that intend to expand in the foreseeable future.
Check if the tool offers plans that cater to larger link profiles and more extensive reporting needs in the future.
Customer Support
Especially when starting with a new tool, robust customer support can make all the difference.
Look for tools that offer prompt customer service, have an active community, or provide extensive resources and tutorials.
Outreach Management
For businesses that heavily focus on outreach, features like email integration, template management, and follow-up tracking can be invaluable.
Data Depth and Accuracy
The tool should be able to provide accurate and in-depth insights into backlink profiles, anchor text distribution, the quality of backlinks, and other essential metrics.
Multi-User Collaboration
If you're an agency have a team, or want to share your work with your client, the tool should allow for multi-user access and collaboration, making it easier to work on shared projects.
Training and Resources
Especially for complex tools, see if the provider offers training sessions, webinars, or resource libraries. This can greatly speed up the learning curve.
Feedback and Review
Always check online reviews, testimonials, and feedback.
Real users' experiences can provide invaluable insights into the tool's effectiveness, reliability, and potential issues.
Try Before You Buy
Most tools offer a real period or a limited free version.
Use this opportunity, to test the tool's functionalities and see if it aligns with your requirements.
Link Outreach and CRM Features
For businesses aiming at proactive link building, tools that offer link outreach management and CRM features can streamline and enhance the process.
Conclusion
Choosing the right tool isn't just about features, it's about aligning with your goals, understanding your needs, and ensuring that the tool can grow with you.
While established tools like SEMrush, Ahrefs, and Moz Pro offer a wide range of solutions being comprehensive SEO tools, newer tools like BacklinkManager.io bring specialized expertise to the table.
Its unique features combined with its user-friendly interface and competitive pricing, make it a must-have for any SEO professional.
As the saying goes, "A Craftsman is only as good as his tools."
So whether you're a budding business or an established enterprise, investing in the right link-building reporting tool can be the difference between sailing smoothly and being lost at sea.
As we sail into the future of search engine optimization, it's clear that while the waters might be choppy, with the right set of tools, navigating them becomes a tad bit easier.
The key is to choose wisely and stay ahead of the curve.