Link exchange (also known as Reciprocal Linking or Link Swap) has been used and abused! We've all heard the warnings about this supposedly outdated technique, but is it really as bad as it's made out to be?
It's time to answer the major question – should you do link exchanges to build links for your website in 2023?
Before tackling this question, let's take a moment to familiarise ourselves with the concept of link exchanges.
TL;DR
Link exchange is the process of exchanging links between two websites to increase their search engine visibility.
Benefits include organic rank boosts, improved branding and domain authority, and increased referral traffic.
Link exchanges involve direct link exchanges, guest post swaps, 3-way link exchanges, PINs (Private Influencer Networks) and PBNs (Private Blog Networks).
PBNs can be risky and violate Google's guidelines, so it is important to weigh the risks and benefits before deciding to use this tactic.
Google does not promote link exchanges and suggests webmasters focus on creating quality content that will attract natural links.
Link exchange is still a popular method used by businesses to build their brand and increase their link-building; recent research by AHREFS found that more than 73% of websites are involved in reciprocal linking.
Link exchange can still be a useful tool in 2023, but should be done with caution – Google algorithms may be strict if it's over-used.
Google will assess the quality of link exchanges, so it is important to focus on making them "good" and avoid link schemes.
Make sure to consider the website's domain and page authority, the relevancy of the link to your website, and the type of link (contextual and editorial, not sitewide).
You can do link exchanges more easily with dedicated link-building CRM tools like BacklinkManager  (it has a FREE tier!) + monitor the links easily there to avoid link rot.
Do link exchanges easily & safely and monitor your links with BacklinkManager!
What is Link Exchange?
Link exchange is a process of exchanging links between two websites to increase their search engine visibility. It's also known as trading links, reciprocal link building, and link swapping.
This process includes one website placing a link to another website, and in return, the other website does the same.
Link exchanges typically happen between two or more websites (aka ABC link exchanges) that have link building partnerships with each other or are facilitated by link building and SEO agencies:
Why do Businesses do Link Exchanges?
Link exchange has been a popular form of link building for many years, as it provides a simple, time-efficient way to acquire links from other websites. It is a natural way of providing references between two websites – but only if the content is valuable and resourceful.
Here are the three main benefits of link exchange:
Increasing the speed of link building – by doing link exchanges, you can build dozens of links per week instead of just 1-2 as with traditional means like guest posting, outreach for image or unclaimed brand mention link building. This is because both parties have the same goal – and are equally motivated to close the "deal".
Building links from websites with higher Domain-Relevancy – typically sites that engage in link exchanges have closely overlapping target audiences and highly relevant domains – so the links obtained in such exchanges may carry more SEO weight (aka "link juice") due to high relevancy.
This will help you achieve your link-building goals faster:
• Enhancing Organic Rankings Over SERP: Link exchanges are a great way for websites to gain an advantage over SERPs and enhance their overall search analytics KPIs. Quality outgoing links from relevant sites and incoming links from well-established sites can result in better organic rankings.
• Improving Branding and Domain Authority: By linking to other websites, you can build relationships with other website owners and create an authoritative presence on other web pages. Establishing high authority builds your trust not only with Google but also with your potential customers.
• Improving Referral Traffic: Whenever someone visits your website by clicking on a link on a third-party website – that's referral traffic.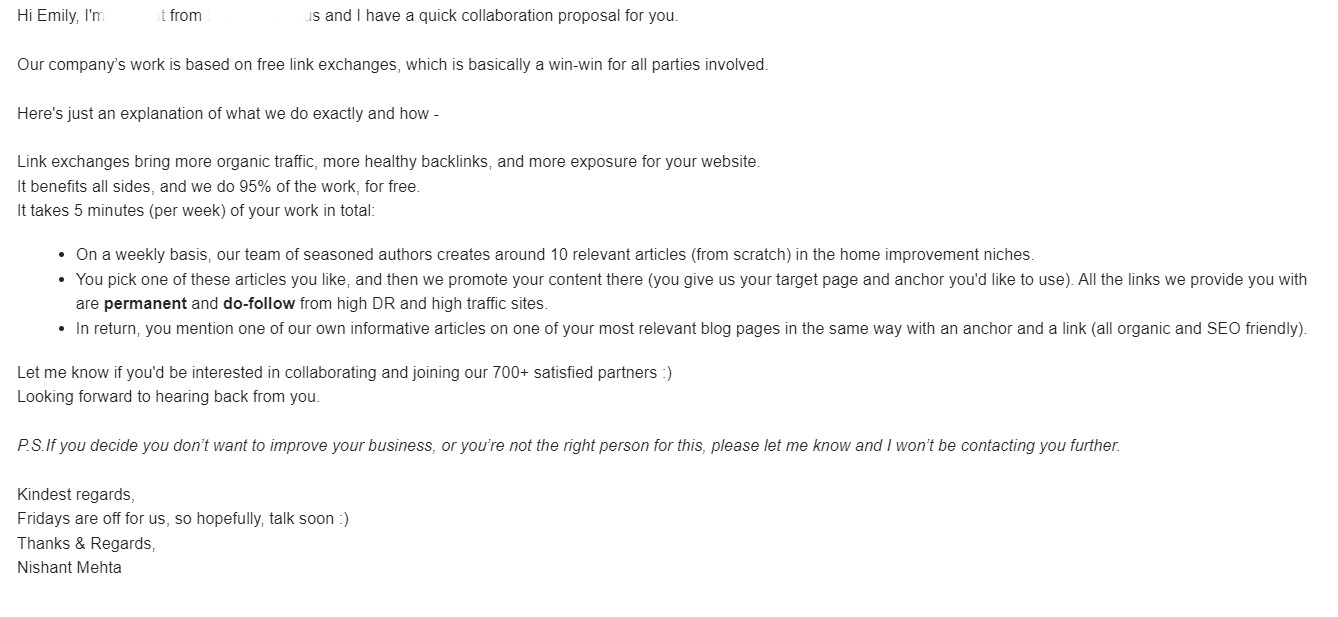 Types of Link Exchanges
If you want to get your website out there, you have several options for link-swapping. You can opt for a direct link exchange, guest post swap, 3-way reciprocal linking, PIN (Private Influencer Network), or PBN (Private Blog Network).
Link Exchange websites always get involved in at least one of these types of link-swapping methods.
Direct Link Exchanges
Direct link exchanges are the simplest and most basic form of link swaps.
Website A is providing a backlink to website Bin exchange for:
Website B providing a backlink to website A.
Reciprocal links can help build a relationship between the two websites, as well as provide mutual benefit by helping to increase website visibility, search engine rankings, and traffic.
Guest Post Swaps
Guest post swaps are becoming popular among online content creators.
It's like a friendly exchange: you scratch my back, I'll scratch yours!
One person will link to the other's website in their guest post and the other person will link back to the first person's website in their own guest post.
It's an easy way to help each other out while building up your own website traffic.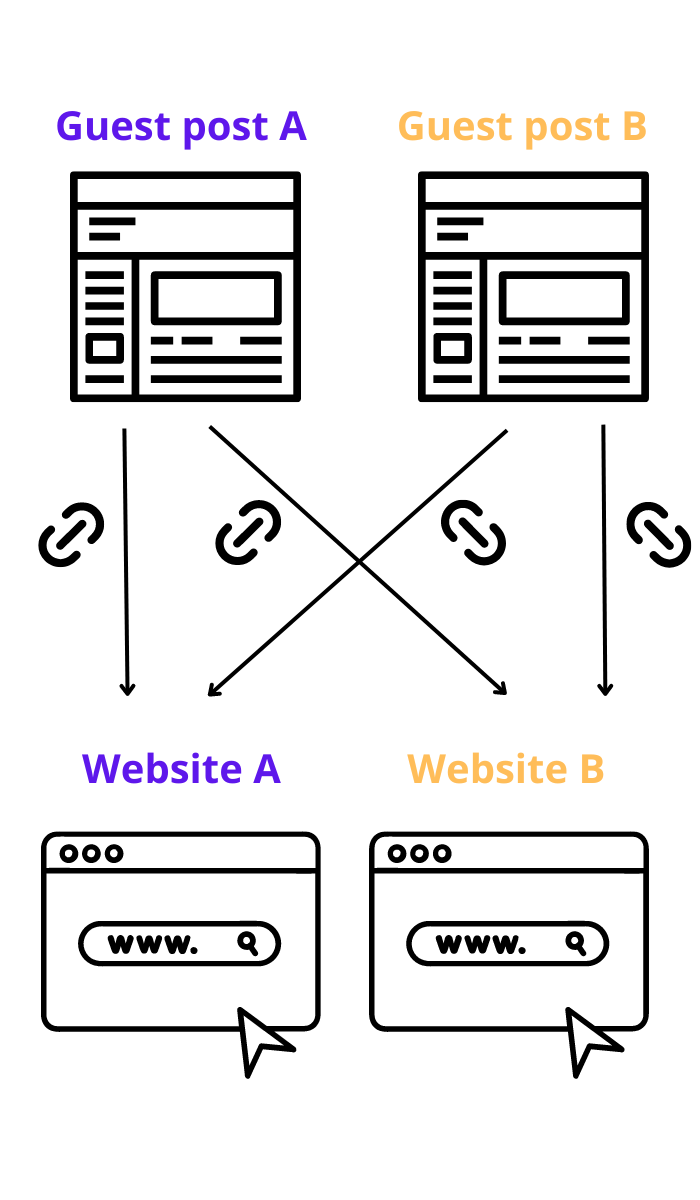 What to do if you're struggling to find a website that wants to do a guest posting swap?
Reach out to someone in your niche who you know or have heard of and offer to include a link to a relevant article from related sites. Ask if they have any target pages they'd like to be included in the post and see what they say. Chances are, they will return the favor someday.
3-Way Link Exchange or Indirect Link exchange or ABC Link Exchange
A three way link exchange is a type of link-building strategy in which three websites agree to link to each other's content. Instead of exchanging links directly with each other, the two sites are connected through a third website, and so:
Site A provides backlinks to Site B
Site B provides backlinks to Site C
Site C provides backlinks to Site A
If you own more than one website, you can also use this technique in a slightly different way, pictured below: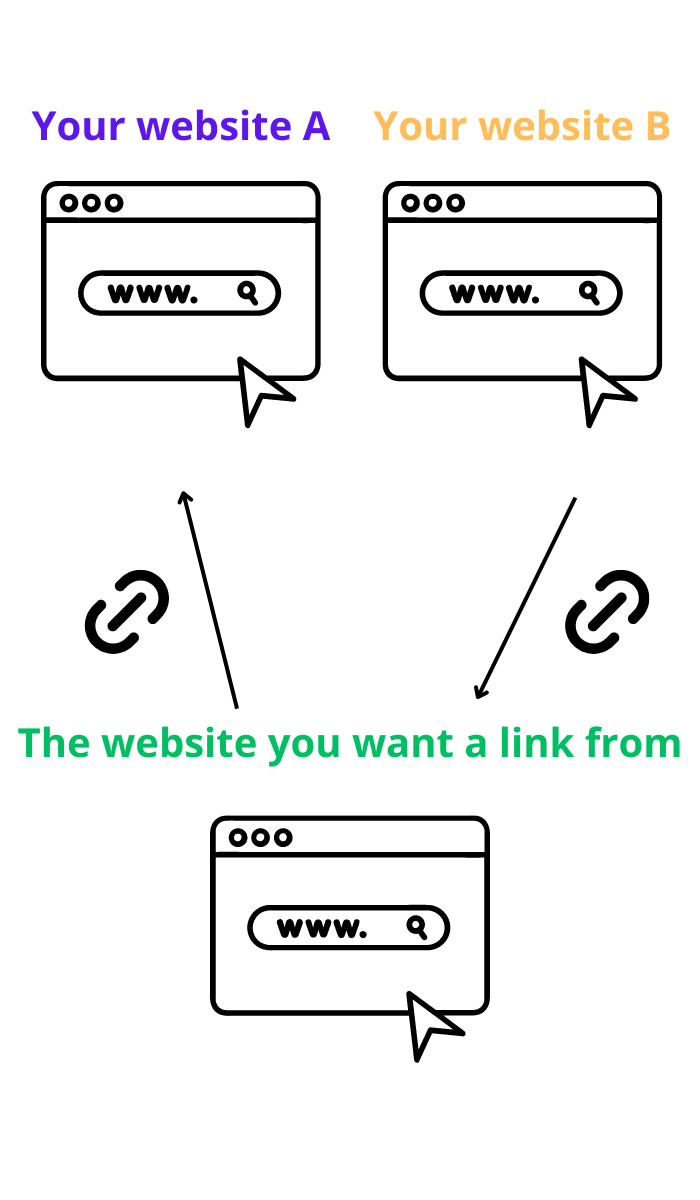 Indirect link exchanges are considered a safer link-building technique than direct link exchanges. It helps to create links across a network of websites that are more likely to be seen as legitimate by the search engine and helps to distribute link juice more evenly.
However, it is only safe unless not over-exploited; as is with any other link-building strategy. Beware of excessive link exchanges!
PIN (Private Influencer Network)
Private Influencer Network is a type of exchanging links that is seen as natural because it's similar to word-of-mouth marketing that businesses do to get the word out about their brand.
Companies link up with each other and they are working together to help each other get more exposure and create more backlinks, thus boosting their domain authority and SERP rankings.
Building Private Influencer Networks is an advanced link-building tactic used by major businesses to get an edge over the competition.
"The golden rule you need to remember is this: If you receive a link from someone from a specific source, you need to replicate the link in kind.

So if you receive a link in a guest post from someone in the network, you need to give them a link from a guest post you write."

– Glenn Allsopp (Viperchill)
TechCrunch and Mashable famously employed this tactic to grow their brands.
They mentioned each other and smaller sites like Copyblogger and Problogger collaborated through guest posts, product promotions, and traffic sharing.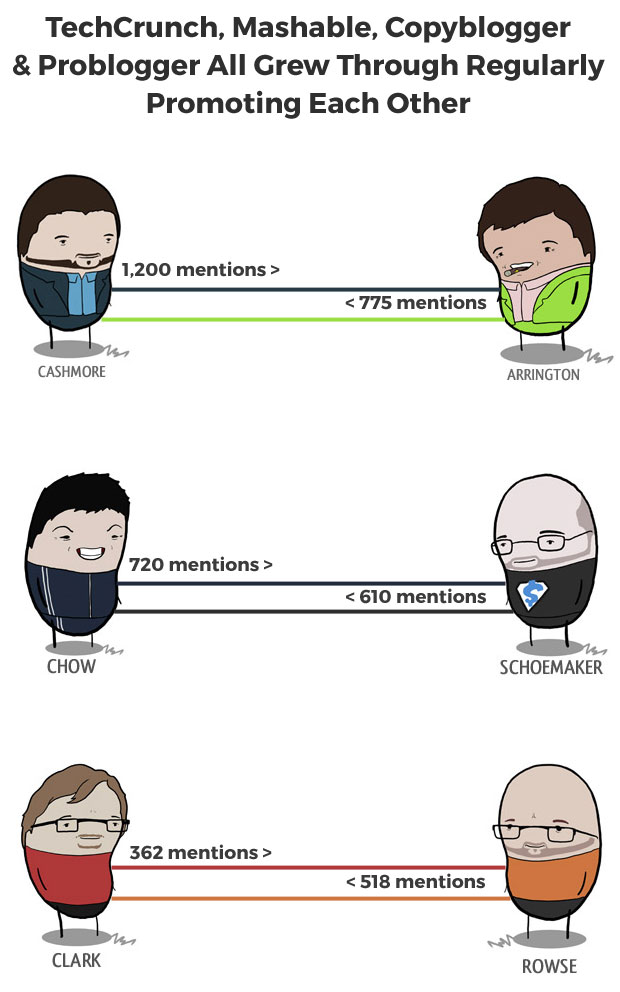 Links were a key element in all these partnerships, but the links had no particular anchor text and weren't to random affiliates.
Everyone involved had the same goal of building a reputable business.
PBN (Private Blog Network)
A private blog network is a collection of multiple sites created to help boost another website's search engine rankings.
It's used as a way to make it look like a website has earned links from other quality sites too, and Google takes those links as a sign that people like and trust the content. So, by linking to your site from the other websites in your PBN, you're faking it till you make it and hoping for a higher rank in return.
To stay under the radar, PBN owners do all they can to keep their network a secret and hide any clues that might lead back to the money site.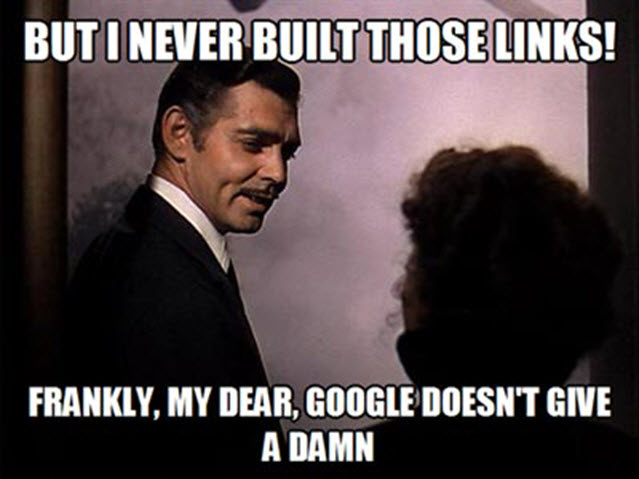 Is it risky? Yes.
Not only does it violate Google's Guidelines, but the links may be ignored by Google's algorithm, as they may be seen as "suspicious". This means the time and effort put into this tactic may be wasted, and you can get a penalty — your whole site or part of it may be demoted in Google, or possibly even deindexed outbound links from entirely.
So why do people do it anyway?
Because it can make the link-building process easier, and you can control the anchor texts of their backlinks. It's usually impossible to control the anchor text of a link built through outreach, as it's at the discretion of the site owner. But it is possible with PBNs.
Should you do it, then? It's up to you to weigh the risks and benefits.
Search Engines' Stance on Reciprocal Links and Excessive Link Exchanges
Google is very clear in its stance on link exchange – they do not promote its use.
They have stated that excessive link exchanges, such as "link to me and I'll link to you" or partner pages solely for cross-linking should be avoided.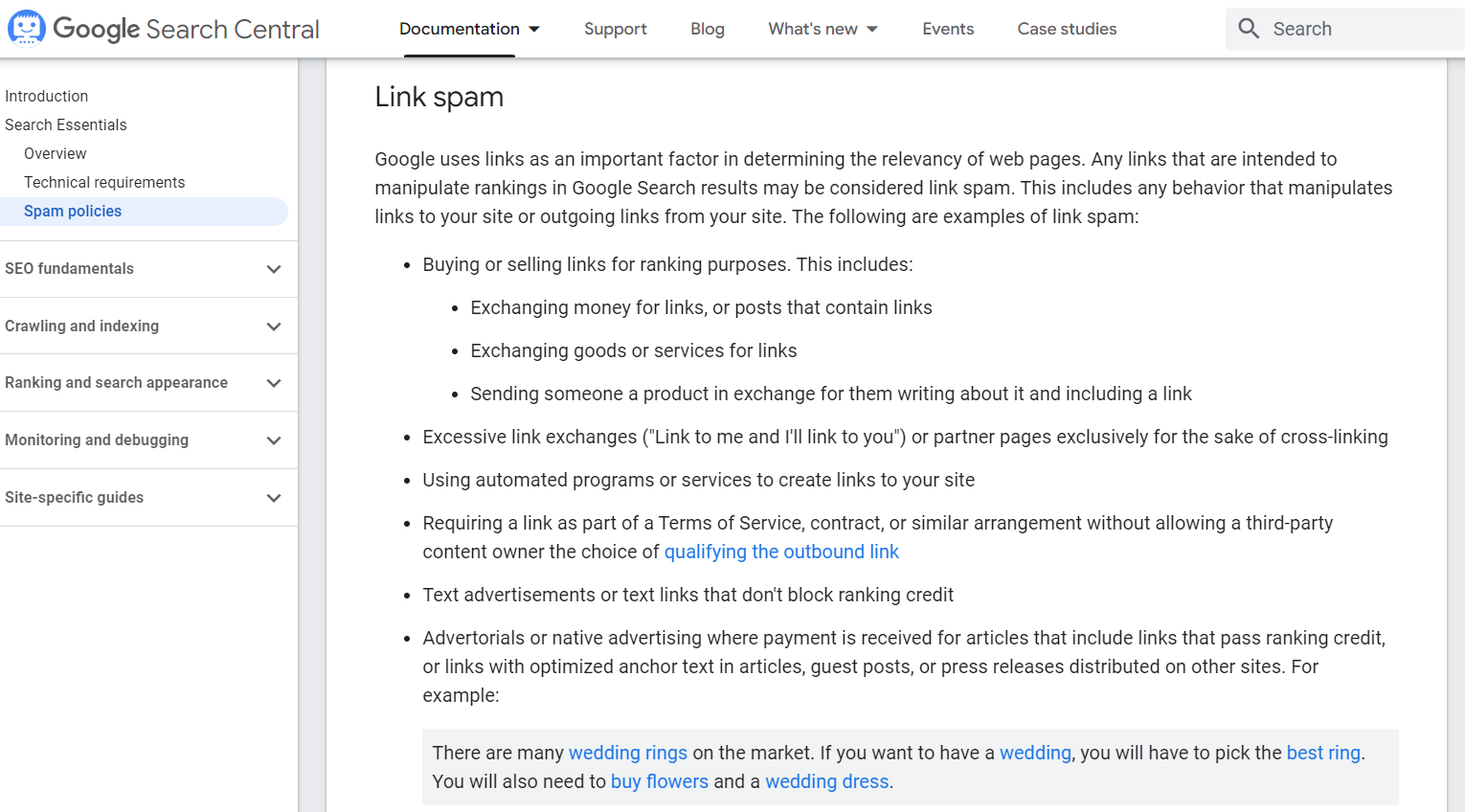 Google strongly suggests that webmasters should focus on creating quality content that will gain natural links, rather than relying on link exchanges.
The emphasis on the word "excessive" in this statement is key – while they do not promote link exchange, some link exchanges may be necessary to build website traffic.
Ultimately, the focus should be on creating quality content on relevant websites that people will want to link to.
Do Businesses Use Link Exchange for Link Building Campaigns?
Short answer: YES, they most certainly do.
Link exchanges are still a popular tool that businesses use to build their brand and increase their link-building.
It is something that Google and other search engines recognize as a natural occurrence when good content, good product, and good service are shared through backlinks on the Internet.
Recent research done by AHREFS on reciprocal links provides some interesting insights.
After analyzing 140k+ websites with more than 5k monthly traffic, they found that more than 73% of websites are involved in the activity of reciprocal linking.
This was also seen to be true for AHREFS itself, with nearly 19% of websites linking back to them after they had placed outbound links to them in the past.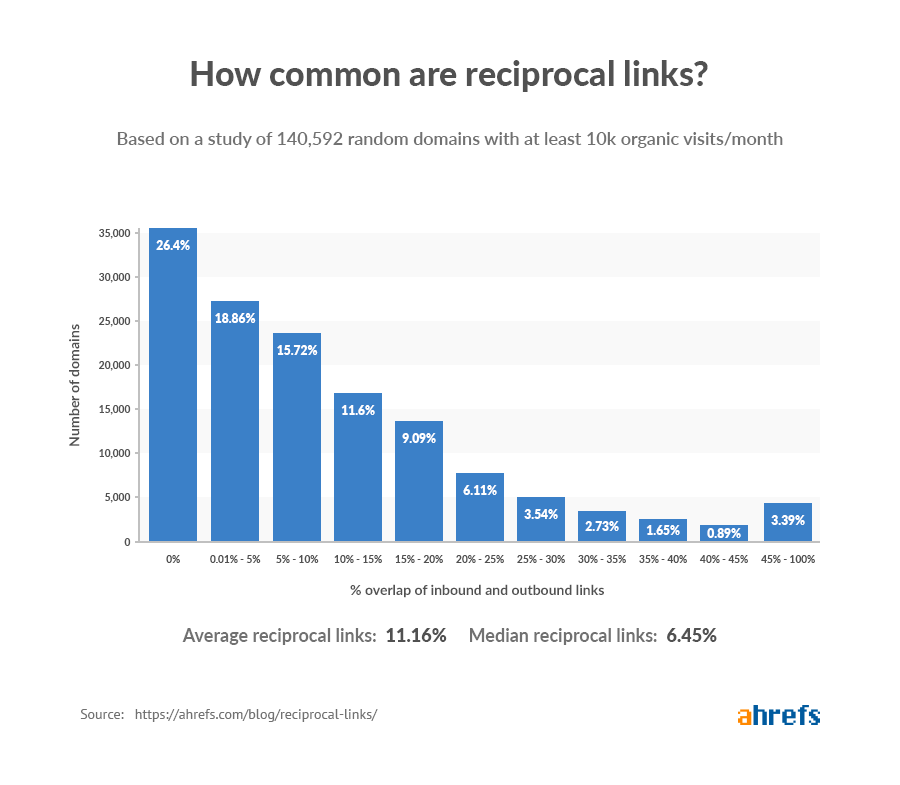 The research also included another report focusing on the top 10 SERPs with non-branded search queries and difficulty scores of 40-60 and 5k – 10k monthly searches. This report provided further evidence of how popular link exchange is on the web.
Generally speaking, the study found that link exchange does have a positive impact on SEO and website rankings, with the effects being more pronounced for websites with higher domain authority.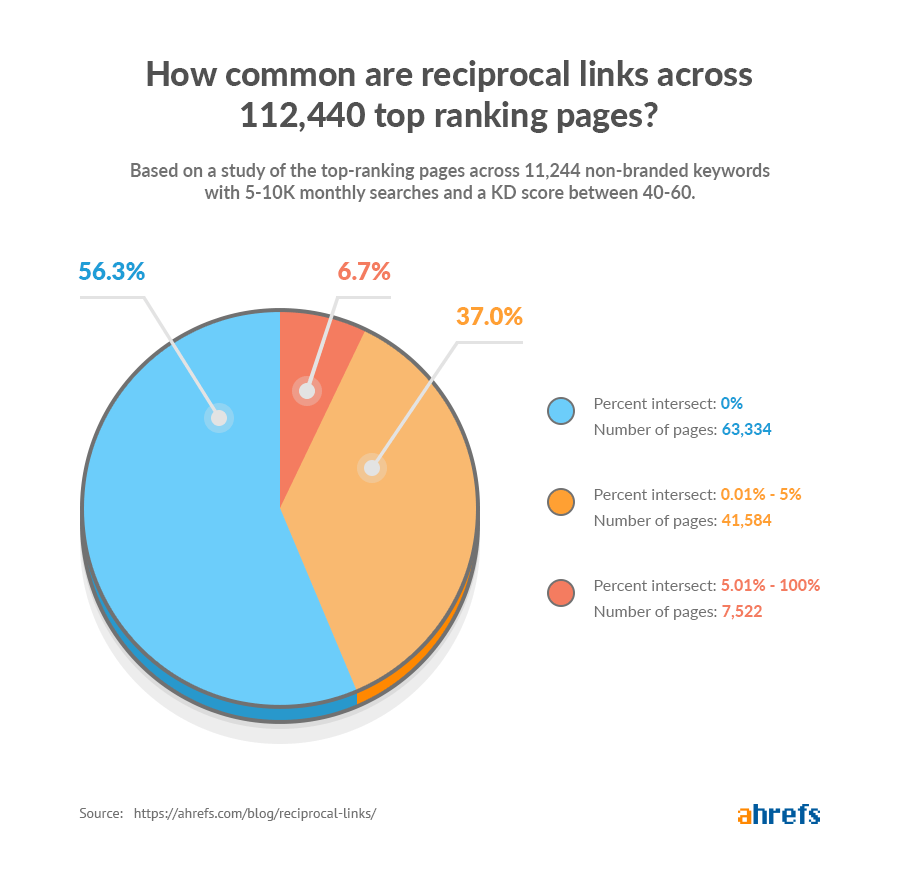 Bottom line? Link exchange is NOT dead.
It is still widely used across the web, despite it being a red flag for search engines. Google algorithms tend to treat it as a natural means of link building, and they only become strict if you're excessively over-using it.
So, back to the main question: should YOU use link exchange for your website in 2023?
Should you do Link Exchange in 2023?
Link exchange can still be a useful tool in 2023.
It as a natural and expected occurrence on the web. When two websites have similar content and high-quality services, it's likely that they will refer to each other. Google acknowledges this, but cautions against overdoing it.
When Google crawls a website, it crawls every inbound and outbound link that it can find, and that assesses if the link exchange is "good" or "bad".
If you decide to exchange links in 2023, put all your focus into making your exchanged links look "good". We'll elaborate on it in the following sections, but in a nutshell: you should only exchange links with highly-domain relevant sites, with high authority (measured in DA or DA).
What is Good Link Exchange and what is Bad Link Exchange?
Here are three key factors to consider when building quality backlinks (Remember! All three of these factors need to work together for you to get the most out of your link exchange):
• Authority: Make sure the website you're exchanging links with has a good domain authority and page authority (like a website with a DA of 80 or higher).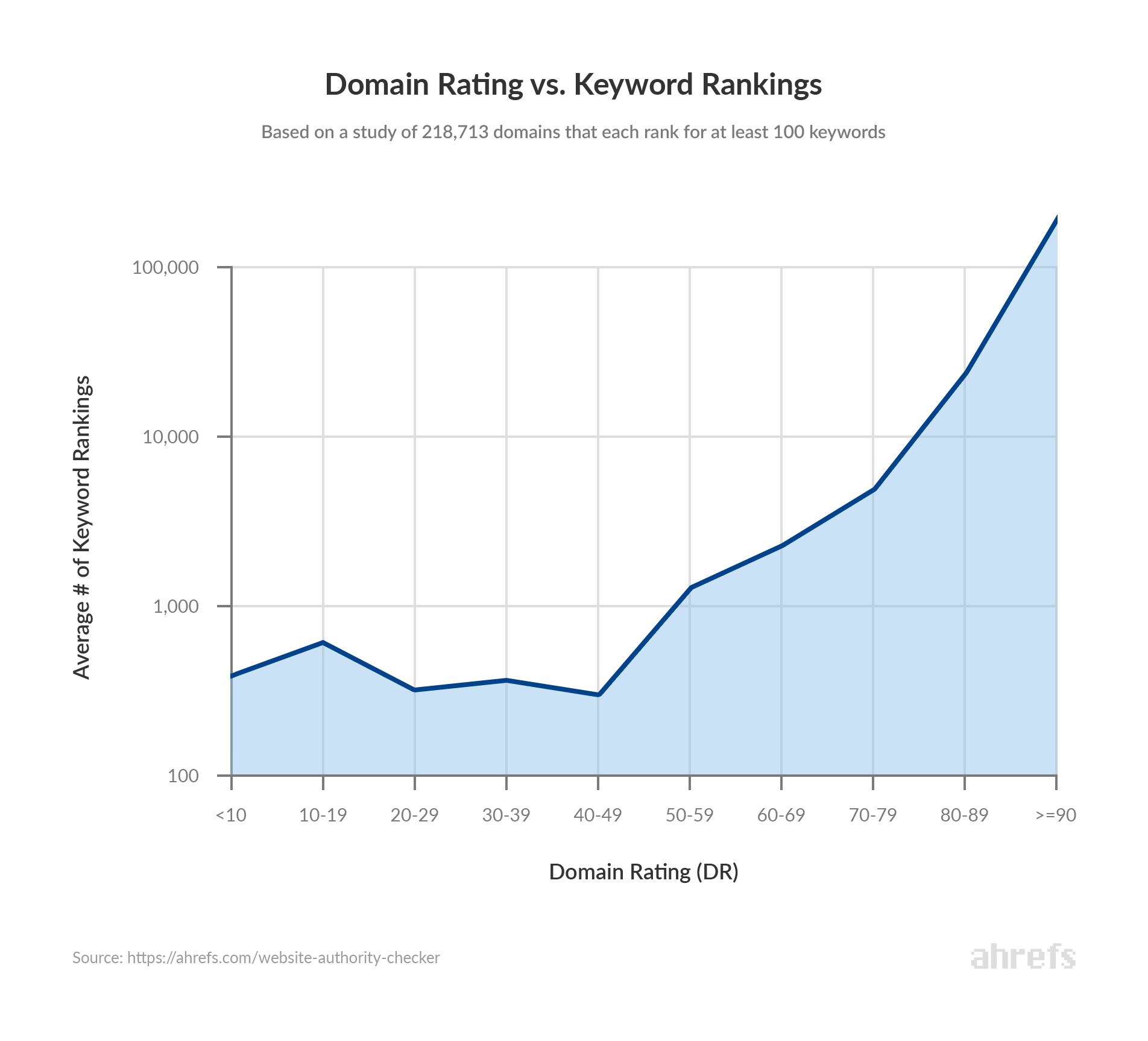 • Relevancy: Make sure the link you're exchanging is relevant to your website. Do not aim for direct competitors, but within close proximity to your niche. For example, a furniture-selling website could be swapping links with a raw wood material-selling website or home decor website.
• Type of link: Make sure the link you're exchanging is contextual and editorial, not sitewide. This means it shouldn't be in the footer or sidebar of the website. Link placement is more relevant to search engines than just identifying an outbound link on the page.
The screenshot below is a great example of how well the outbound links can be placed within the content of web page.
The backlinks at the highlighted/colored text – 'were', 'still are' and 'iframe' – are useful resources with valuable information that a reader should visit to enhance their insights on that particular topic.

Where to find websites for link exchanges?
Looking to find link exchange websites? There are plenty of Slack channels, Facebook groups you can use to find link exchange opportunities. You can also use dedicated tools for link exchanges or try traditional  PR outreach methods.
Let's have a look at each of them!
Link Exchange Communities – Slack Channels and Facebook Groups
Monitor your hard-earned links to prevent link rot for free!
Link Exchange Tools
Backlink Manager, as you may remember from above, is a CRM for managing link exchange partnership. It also has a "marketplace" of its users, with a "matchmaking" functionality that will hook you up with highly-domain-relevant partners who want to exchange links – without the hassle of doing traditional outreach via email and dozens of Google Sheets:
PR outreach
PR outreach, or Public Relations outreach, is the process of proactively engaging with journalists, bloggers, influencers, and other media professionals to secure positive media coverage for your brand, product, or service. The goal of PR outreach is to build and maintain relationships with these key industry players to generate brand awareness, enhance credibility, and ultimately, influence public perception.
PR outreach typically involves several steps, including identifying relevant media contacts, crafting tailored pitches or press releases, and following up on these communications. The process may also include offering exclusive interviews, providing expert commentary, or distributing compelling stories that will capture the interest of your target audience. Successful PR outreach requires a strategic approach, clear messaging, and persistent effort to ensure that your brand's story reaches the right people and resonates with their audience.
Using PR outreach for link building is an effective way to generate high-quality backlinks and improve your website's online presence. By connecting with reputable journalists, bloggers, and influencers, you can secure valuable organic links that boost your site's authority and search engine ranking. Here are some strategies for leveraging PR outreach for link building:
Create share-worthy content: Craft engaging, informative, or newsworthy content that journalists and influencers will be eager to share with their audiences. This may include in-depth articles, research studies, infographics, or interactive tools relevant to your industry.
Build relationships: Establish and maintain relationships with journalists, bloggers, and influencers in your niche. Engage with them on social media, comment on their articles, and share their content. By fostering genuine connections, you increase the likelihood that they will link to your content in the future.
Craft personalized pitches: Develop tailored pitches for each media contact that highlight the value of your content and explain why it's relevant to their audience. Be concise and professional, ensuring your pitch stands out from the crowd.
Leverage newsjacking: Monitor industry news and trends, and respond quickly with relevant content or expert commentary. By positioning your brand as a thought leader, you increase the likelihood of being quoted and linked to by journalists and bloggers covering the story.
Offer exclusives or guest posts: Provide journalists or influencers with exclusive access to newsworthy content or offer to write a high-quality guest post for their site. This can help establish your credibility and expertise, while also securing a valuable backlink.
Monitor mentions and follow up: Use tools like Google Alerts or Mention to track when your brand or content is mentioned online. If a journalist or blogger mentions your brand without linking back to your site, politely reach out and request that they include a link.
By consistently implementing these PR outreach strategies, you can build a strong network of media contacts and secure high-quality backlinks that improve your website's search engine ranking and overall online visibility.
Whichever method you choose to find relevant link exchange websites,  make sure you know the dos and don'ts before you get started. Not all links are "good" and it can be risky if you don't do your research and take the necessary precautions.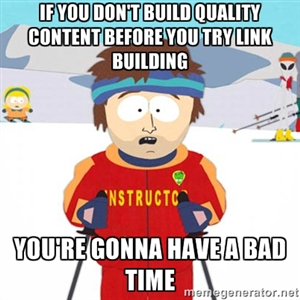 Things to Avoid When Exchanging Links – Dos and Don'ts of Link Exchanges in 2023
Probably stating the obvious here, but it has to be said; you should avoid the following at all costs:
links from low-quality websites, especially with explicit content (such as porn, gambling) or warez/piracy sites;
websites with low SEO scores (low domain authority, low traffic)
spammy link exchange (in the form of comments, sitewide and hidden links – aka "cloaked" links)
link farms
All of the above can harm your SEO scores and are not worth the risk!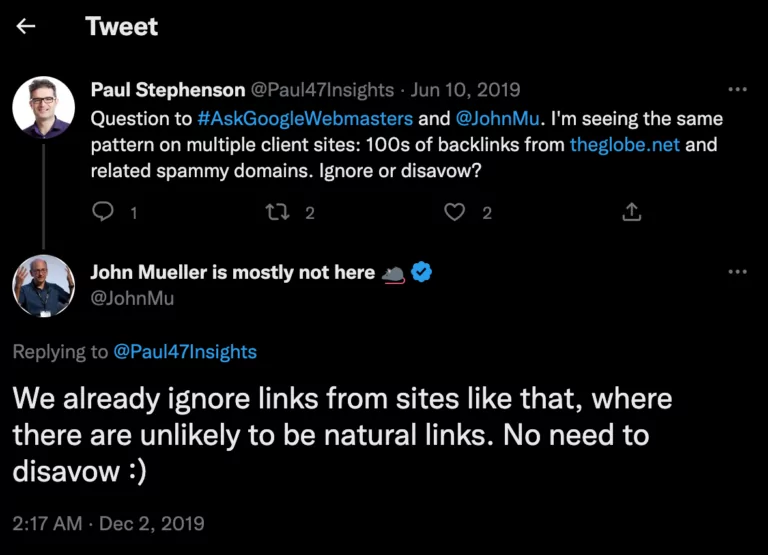 Rather than relying on Google to ignore your bad links, take proactive steps to find and disallow toxic backlinks to protect your SEO strategy.
What To Look For When Exchanging Links
A good website for the purpose of exchanging links should:
High SEO value and high authority, high-traffic sites
Be relevant in terms of the niche (not direct competitors, but topically related, with related keywords)
Have valid editorial links from content (instead of a random sitewide link)
Once the website meets the above criteria, make sure that:
it doesn't have an excessive number of outbound links
it doesn't link to shady, low-quality websites
the links are anchored within a quality content
the links are appropriately attributed, especially in case it is a paid link

Quality over quantity.
The key here is to ensure the content you're linking to is top-notch and useful to your readers. That way, you're not just getting traffic, you're also providing value to your audience. It's a win-win situation for both parties.
Conclusion
Link exchange can be a beneficial tool for website owners when done with care and for the purpose of delivering the right content to the right and relevant audience, instead of just doing it for the purpose of SEO and link building.
With the right strategy and research, link exchanges can help to boost your website in 2023 and beyond.