Whatever some content marketing "gurus" might be saying: link building programs aren't "dead", and it's still a critical part of a successful off-page SEO strategy in 2023. To make sure your link-building efforts bring you a great ROI, you shouldn't "spray and pray" backlink outreach request, nor just lay your link-building operation in the hands of a random hustler from Upwork.
Instead, you should design a solid link-building program – and we'll tell you how to do it step-by-step in this post!
TL;DR
Link building is the process of establishing relevant hyperlinks from external websites to your own website in order to increase its visibility, traffic, and online presence. It is similar to networking in the real world.
Link-building programs are systems that help build quality links from relevant websites to your own website to improve SEO by increasing backlinks, building brand awareness, bringing relevant traffic, and creating trust and credibility, leading to more conversions.
Link building is an essential component of SEO that helps websites to rank higher in SERPs and gain more visibility from potential customers. It should be done with high-quality sources and on a consistent basis in order to remain competitive. Benefits include increased traffic, establishing authoritativeness, enhancing revenue-generating opportunities, improving website analytics metrics, and offering long-term benefits. Focus on creating high-quality and relevant links to avoid search engine penalties.
When creating a link-building strategy, it's essential to consider the quality of the backlink. Authority of the referring website, relevancy of the website, positioning, placement, and text used for the link on the page, as well as the type of link built (DoFollow or NoFollow) are all important factors to consider. Ensure you get the balance right to give your link-building the best chance of success.
Link building is an ever-evolving field that requires creativity and an understanding of what works best for each situation. Tactics such as guest blogging, broken link building, link reclamation via unlinked brand mentions, reverse image search, resource page link building, HARO, and email outreach are all great options to get high-quality links to your website. Additionally, collaboration through podcasts and webinars can be a great way to get your brand seen and build links. Remember to focus on what the audience will find valuable, rather than what you want to say, and make sure you have the right equipment for the job.
To leverage the power of high-quality content in your link-building program, create content that is interesting, relevant, informative, and engaging, and use visuals such as charts, graphs, and infographics. This will help you generate more mentions online and demonstrate your expertise in your industry.
Link building is an important part of SEO, but some techniques should be avoided to ensure success. These include investing in paid links and link trading, not diversifying backlink sources and attributes, taking links from general niche websites, and using black hat techniques. Sticking to white hat techniques is essential for creating a secure, ethical, and effective link-building program.
Monitor your backlink profile regularly to ensure the quality of links pointing to your website. Make use of link-building tools like BackLink Manager, Ahrefs, and SEMRush to track your progress, identify low-quality links, and find new link-building opportunities.
What is Link Building?
Link building is a bit like networking in the real world.
For example, if you are looking for a job, you would reach out to people in your network, like friends, family, and colleagues, to ask if they know of any job openings.
In the same way, link-building efforts are about reaching out to other websites and asking if they are willing to link to your website. Doing so increases your website's visibility, which can help you get more traffic and increase your online presence.
In other words, link building is the process of establishing relevant hyperlinks to a website from external websites.
What is a link-building program?
Link building program is a structured system that helps build quality links from relevant websites to your own website in order to increase visibility and authority, which in turn improves SERPs and overall SEO KPIs.
Building links helps to improve SEO by increasing the number of backlinks that point to a website, building brand awareness, bringing relevant traffic, and creating trust and credibility for the website, leading to more conversions.
Importance of Link Building
Don't underestimate the importance of creating a formulated and well-designed link-building program – it is essential for businesses to achieve long-term success.
Why?
Because link building is one of the biggest influencing factors when it comes to measuring SERPs for a website.
It is a vital component of search engine optimization (SEO) because it helps websites to rank higher in SERPs and gain more visibility from potential customers.
"Essentially, backlinks act as a vote of trust. The more high-quality backlinks your website has, the more likely it will earn higher rankings." – Kenny Trinh, CEO of Netbooknews
Of course, it is important to ensure that links are from high-quality sources and relevant to the content and industry of the website.
Additionally, building high-quality links should be done on a consistent basis to ensure that the website remains competitive and visible in SERPs.
Here's a list of some of the benefits that building links has to offer:
Increasing Traffic

Link building helps to increase relevant traffic from organic sources.

Creating links on other websites that point to your website increases visibility and helps to draw more visitors to your own site. It also helps to improve your website's search engine rankings, which further increases the likelihood that people will find and visit your website.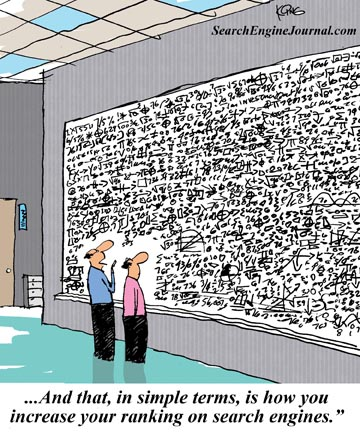 Establishing Authoritativeness

It means that the right link-building strategy establishes the reputation and trustworthiness of a website by showing that other websites are pointing to it.

If a website is referred to by pages with high domain authority (check this article if you're not sure what domain authority is), it automatically makes it more relevant and reliable – both for users and for search engines.

Gaining Topical Authority

A topical authority in SEO is a website that is considered to be an expert in its field.

This can be achieved by producing a large amount of content related to the topic, as well as having links from other authoritative websites.

For example, if you have a website about gardening, you can become a topical authority in SEO by creating content such as blogs and articles on gardening topics, having other websites link to your content, and engaging with other gardening influencers.

Enhancing Revenue-Generating Opportunities

Organic search results are based on user queries and are considered to be more credible and trustworthy than sponsored or paid search results.

Having higher authority and relevance toward user searches provides a higher chance of appearing in the search results. This, in turn, leads to more conversions, resulting in increased revenue.

Enhanced authority, relevance towards the user searches, and increased traffic, all contribute towards better possibilities of increasing your overall revenue in an organic manner – without requiring you to invest in direct advertising!

Improving website search analytics metrics

Working with a strong and robust link-building program also helps enhance the overall search analytical metrics of the website such as the page authority, domain authority, domain rating, page rank, organic traffic, and most important SERP standings for relevant keywords.

All of this impacts your website's visibility, traffic, and conversions.

Offering Long-Term Benefits

In the long run, SEO can help websites generate passive income, as it can lead to a steady flow of organic traffic who may be interested in purchasing products or services from the website.

Additionally, SEO can help build trust and credibility for years to come, which can also lead to more sales and revenue, and – of course – much better brand recognition.

Building Valuable Relationships with Businesses in Correlative and Similar Niches

Reaching out to people, like through a blogger outreach process or guest posting, can help you build high-end beneficial relationships with other businesses in the same or related fields.

Building links through outreach campaigns can help your business in several ways:

gaining valuable insights and feedback on your website
increasing traffic and gaining potential new customers
increasing brand recognition
reaching new audiences and expanding your customer base
and even getting some freebies from your business partners!
Link building has traditionally been used as a way to boost a website's visibility in search engine rankings.
However, with ever-changing search engine algorithms, link building has had to evolve.
It is now essential to focus on creating high-quality links that are relevant to the website's content and topic.
This is because search engine algorithms are now able to detect and penalize sites that use spammy, irrelevant, or unnatural links. These links can not only damage a website's SEO but can also lead to a decrease in rankings.
This is why it's so important to focus on creating links that are actually helpful and add value to the website's content.
How to identify which sources work for quality and link-building campaigns? Keep reading.
The Essential Indicators of a Good Backlink
Before creating an effective link-building strategy, it's essential to know what makes for a great backlink.
You should take into account a variety of factors to decide if a referring website's inbound link is of high quality.
So, without further ado, let's see what makes a great backlink!
Authority of the Referring webpage and website
Getting backlinks from high authority pages and referring domains can seriously boost your website's search engine rankings.
It's like a secret weapon that can turn your online presence into a powerful force.
So don't miss out – make sure you're connecting with the right sources for maximum search engine success!
When it comes to the best link-building strategies, it's all about quality over quantity.
Make sure you only build links using high-authority websites by checking out different SEO tools like AHREFS and SEMRush to gauge a website's authority. With this insight, you'll be able to get the most bang for your buck and build a strong, trustworthy link profile.
On the contrary, linking from low-authority sites could hurt your own site's SEO. Avoid taking shortcuts, and always strive for quality links!

Relevancy of the website
Choosing the right website for a backlink can be a tricky task.
It's important to ensure that the website you choose has a similar niche or one that is closest to yours in order to maximize the SEO benefits.
Imagine that you're looking for a new restaurant to try. You have two friends – Amy, who is a food critic and regularly reviews restaurants; and Emily, who is a financial analyst.
Whose advice would impact your decision the most?
It goes without saying, it would be Amy, who has more relevant knowledge and industry experience for your queries. Search engines evaluate backlinks the same way. If it is from an irrelevant source, it won't do much good to your website. On the contrary, a backlink from a similar niche website would definitely help boost your position in the SERPs.
Getting a backlink from a website that is irrelevant to yours won't provide the same benefits, so take the time to make sure you select a website that aligns with your goals and topics.
Doing the extra research can pay off in the long run!
Position, placement, and text used for the link on the page
Correct placement of a link is important for optimizing the visibility of a page for search engine algorithms, as well as for providing a better user experience.
Anchor text links placed strategically within the content of a webpage can have a positive impact on search engine rankings.
For example, when using the targeted keyword at the beginning of a sentence, it creates a stronger contextual relation between the linked content and the keyword.
Some great examples of contextual link placement can be seen in Forbes articles, such as the one below:

In this example, the anchor texts used are: "surveilled the physical location of journalists" and "seeking to ban" TikTok.
Remember that the anchor text used to create the backlink is just as important as the position and placement of the link, and this text has an impact on the website's ranking in search engine results pages.
Type of link built – Dofollow or Nofollow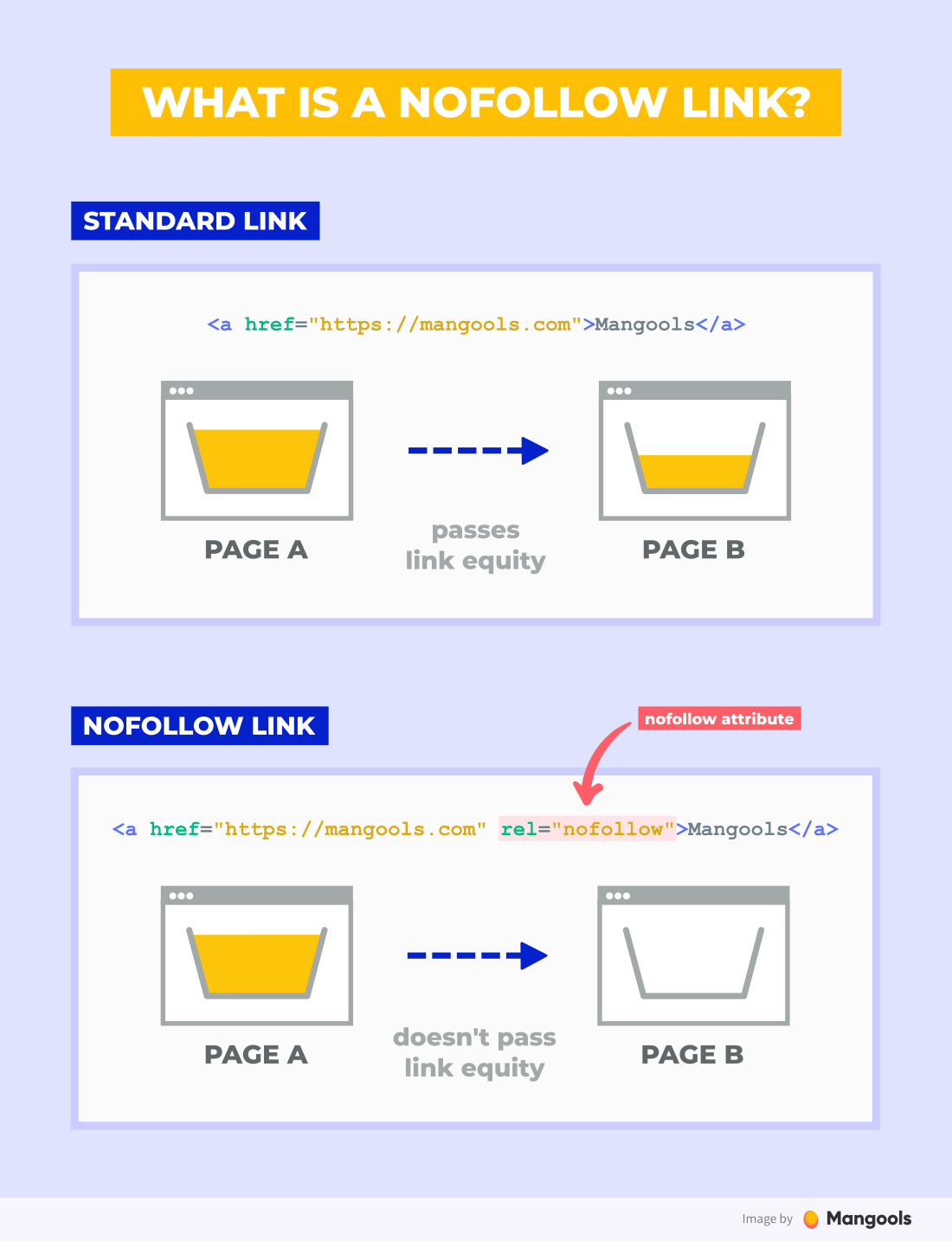 Link attributes, such as DoFollow and NoFollow, are important when it comes to link building.
DoFollow links are the ones that help to pass link juice, making them great for SEO.
NoFollow links, on the other hand, don't provide the same link juice, but they can still be beneficial as they make your link-building efforts look more natural!
To make the most of your link building, you should aim to have a mix of both DoFollow and NoFollow links. That way, your links will look as natural as possible and you can enjoy the advantages of both types of links.
By getting the balance right, you can give your link-building the best chance of success.
How to create a high-quality Link Building Program? 9 Top Tactics
Search engine algorithms have become more sophisticated and so have the ways we build links.
As a result, SEO professionals must remain up to date with the latest strategies and tactics for the link-building process to remain successful. It's an ever-evolving field that requires creativity and an understanding of what works best for each situation.
There are a variety of tactics that you can use to get high-quality links to your website, which will help you improve your ranking and visibility in search engine results. So let's dig in!
Guest blogging
Ah, guest blogging – the ultimate way to get an organic boost for your business. But you've got to be careful when choosing the right website, or else all your efforts may go to waste!
The basic idea behind guest blogging is that you write content for a 3rd party website, and in exchange, you can get backlinks to your website.
The key is to find a website that has:
an appropriate authority score (DA – Domain Authority)
good social reach
a similar audience and/or similar niche
By following these specifications, you can ensure that you target the right audience and maximize your reach.
But don't forget that even with the right website, quality content is key. You should research the website you're writing for and make sure that you create content that is relevant to their audience and meets their standards.
So make sure that whatever you write is informative and engaging – then you'll see the results you're looking for!
Broken Link Building
Broken link building is a great way to get your site out there.
For example, let's say you own a blog about cooking.
You could look for other cooking blogs with a good reputation and see if their links are working.
If you find any broken links, you can contact the owner of the blog and offer your website to replace all the links with relevant anchor text. That way, you can benefit from the authority and traffic of the other website.
Finding broken links can be made easier with the help of certain tools, both free and paid. SEMRush's Link Gap Analysis tool, XENU Link Sleuth, and Broken Link Checker are some popular options that can help you discover and address broken links.
Link Reclamation via Unlinked Brand Mentions
Searching for unlinked brand mentions is like a game of hide and seek – except it's more rewarding when you find them!
If you have content on your website that is full of valuable research, facts, and helpful tips and tricks, you should keep an eye out for unlinked mentions of your brand.
If you find content featuring your brand name, you can reach out to the website owner and ask them to link to your website. Link reclamation via unlinked brand mentions is a great way to score valuable backlinks and boost your SEO. It's also a great way to get in front of potential customers and build your online presence.
The best way to go about this is to search for brand mentions using search engine operators.
Here's an example – let's say you want to find unlinked mentions of Ahrefs on the Userpilot blog: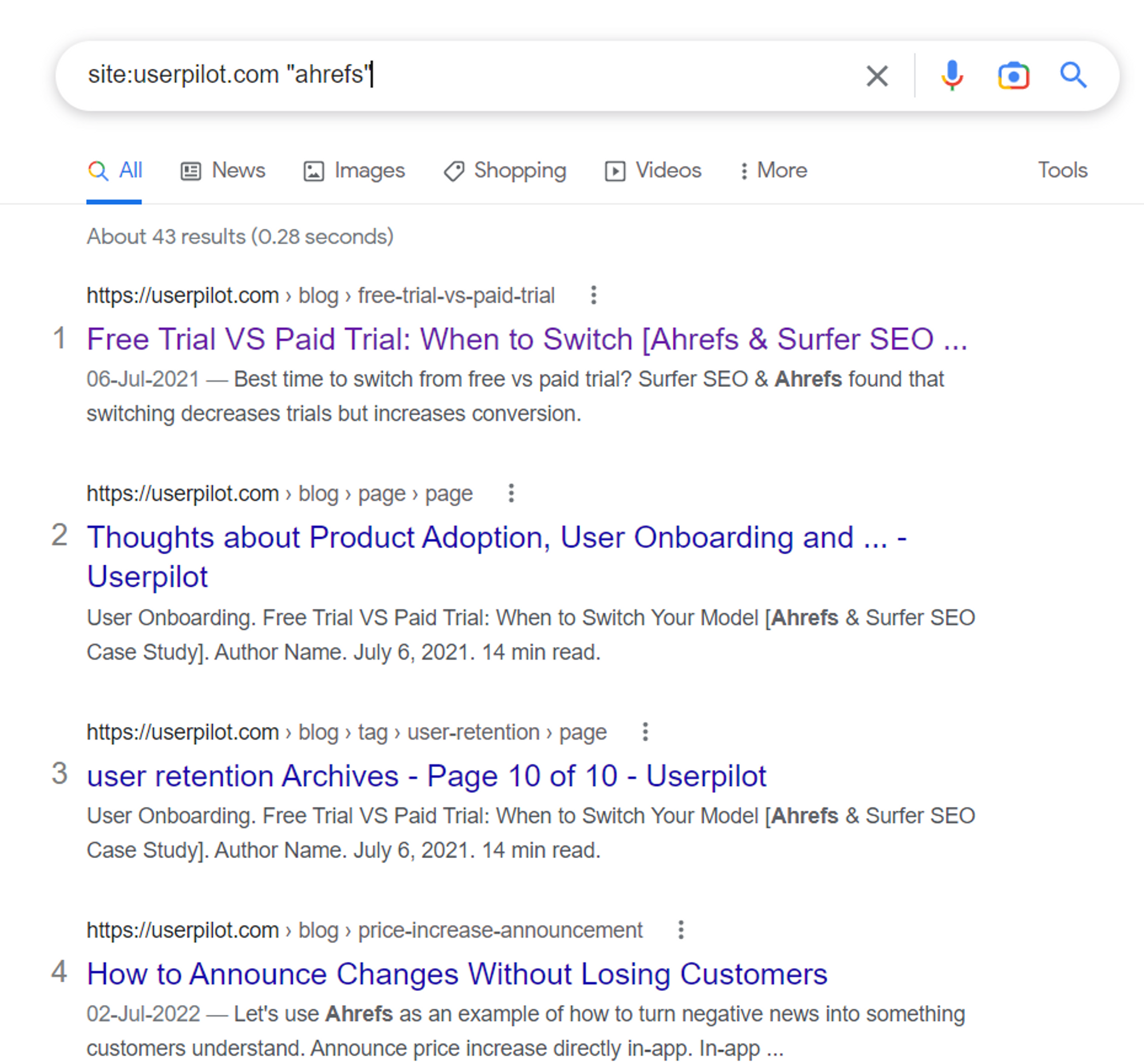 As you can see, you can use Google's site search operator to search for mentions of a brand on a specific website.
Searching for:
site:www.example.com "Brand XYZ"
…will return results including mentions of Brand XYZ on the website example.com.
Apart from doing this manually, various other tools – such as SEMRush content gap analysis tool – can be used for this purpose.
Reverse Image Search
Reverse image search is a handy tool for businesses that use visuals (such as infographics, research data presentation charts, and figures) to communicate important concepts, data, and ideas.
It can help you track down websites that are using your visuals and help you gain backlinks from them. This can be a great way to increase your website's visibility and get your content in front of more people.
Plus, it's really easy to use – just upload the image to the search engine and watch as the results start rolling in!
Using Google's image search is the easiest way to find out which websites are using your visuals. Simply drag and drop the image you want to search into the search bar and it will give you a list of all the sites that are using it!
To find out which ones are linking back to you, you'll need to do some manual keyword research first to see if they are providing a link to your website. If they are not, you can reach out to the respective website owners and kindly ask them to link back to you for the asset they are using. This way, you'll get credit for your work and it will also help boost your SEO.
Resource Page Link Building
Resource pages are an excellent way to get your website noticed and included in a list of the best and most useful websites related to a particular topic.
They can be an effective part of your backlinking program since they come from websites with great search metrics!
By reaching out to these resource pages and asking them to include your website on their list, you can ensure that your website is seen by a larger audience and get the recognition it deserves.
And how to find such resource pages, you may ask?
You guessed it – Google Search Operators come to the rescue once again!
Try using the following operators:
"Keyword" + inurl:links

"Keyword" + "helpful resources"

"Keyword" + "useful resources"

"Keyword" + "useful links"
Here's an example of how it works for "Link building" keyword: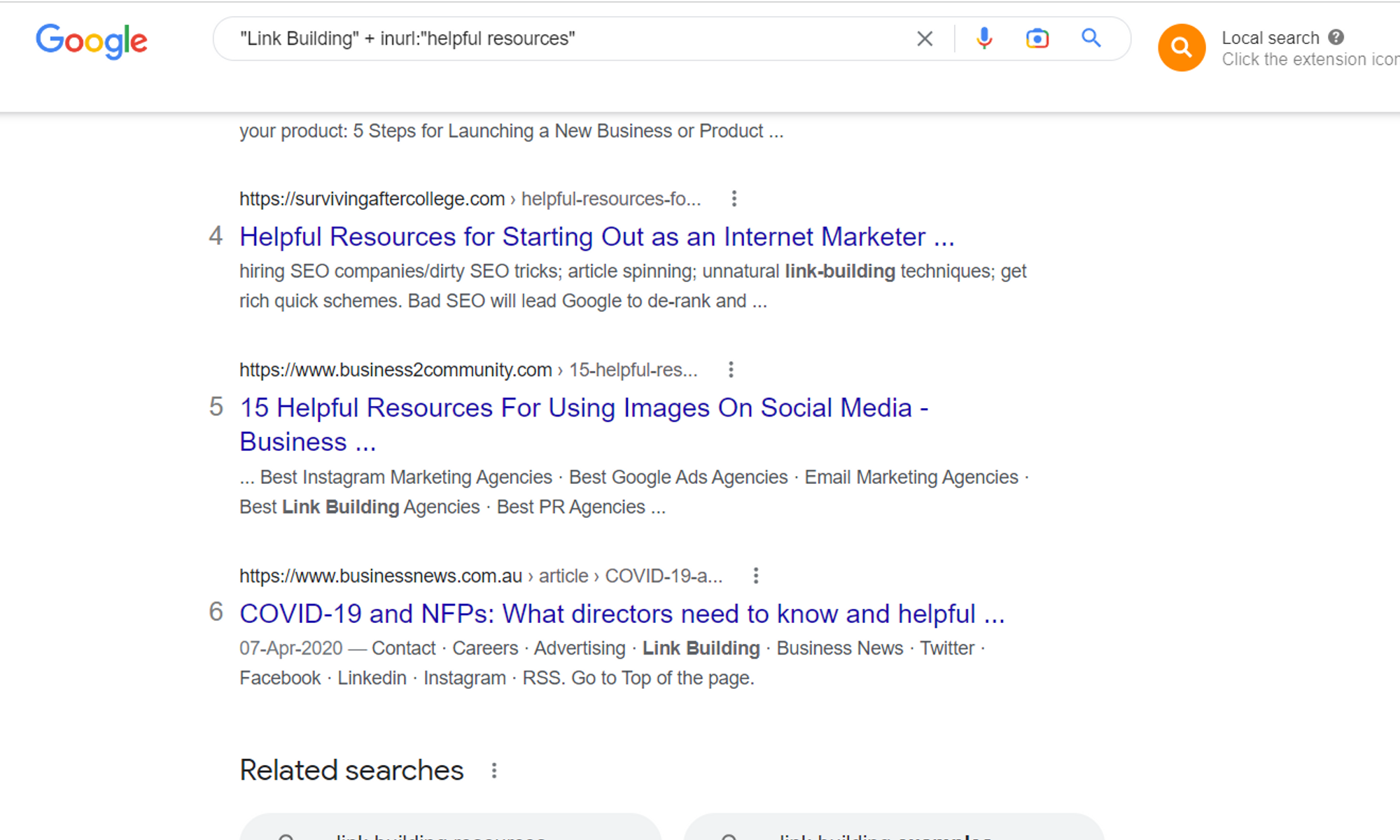 However!
Don't rush with this tactic.
Do not directly approach a resource page until your website has some high-quality, value-driven content, and some deep-researched, well-oriented information for its users.
Quality is key; poorly written or irrelevant content can damage the reputation of your website and reduce the trustworthiness of the page. And you may not get a second chance on making a good impression on the resource page which you're trying to woo with your content.
Link building using HARO
HARO stands for Help A Reporter Out, and it's a great way to get your website out there and seen by a larger audience.
Basically, journalists post their content needs on the dedicated website (https://helpareporter.com), and if you have expertise in the topic, you can connect with them and provide the content they need.
It's a great way to get your website featured in some of the biggest news and journalism websites, and it can give your website an authority boost.
Connecting with the journalists can be tough, due to the amount of competition and the high expectations for the content; but if you're able to provide what they're looking for, it's a great way to get your website seen and recognized!
HARO is one of the best resources to get digital PR done for your business – if you do it the right way.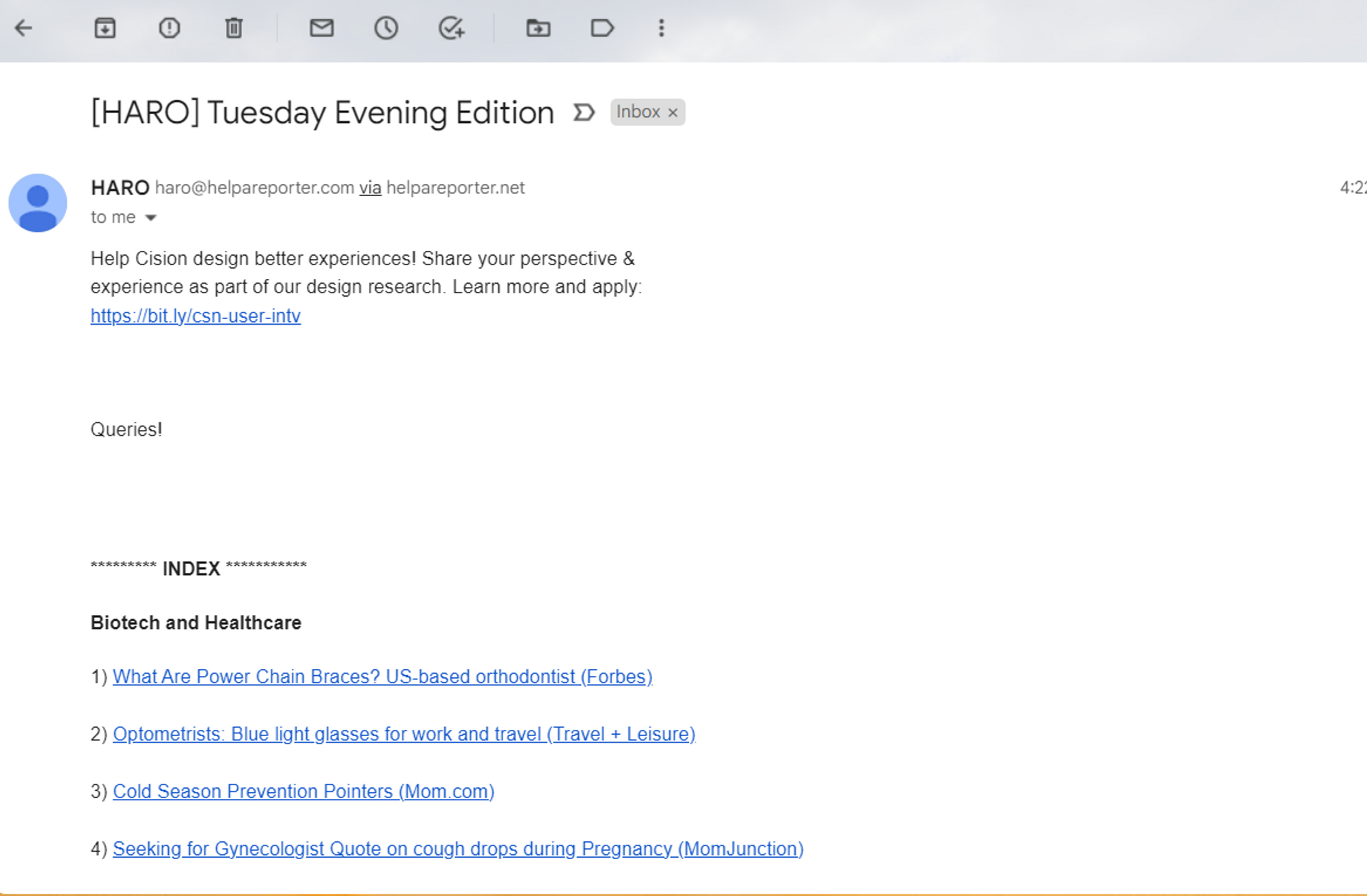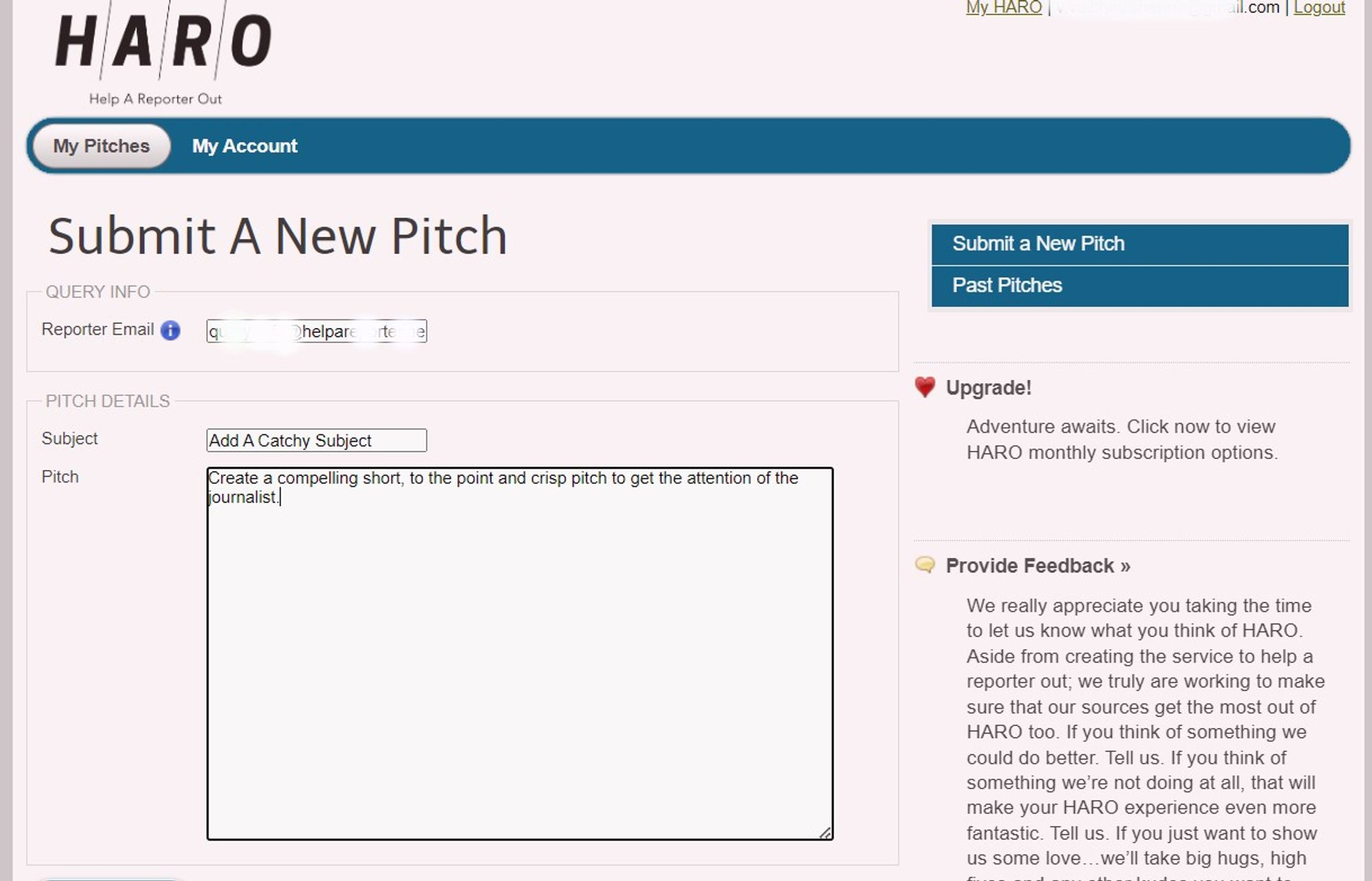 Email Outreach – An Integral Part of Your Link Building Program
When it comes to link-building tactics such as guest blogging, broken link building, resource link building, link reclamation, and HARO, the common denominator is email outreach.
Email outreach should always begin with identifying the right prospects.
The prospects are obvious when it comes to reverse image search, link reclamation, and broken link building; however, compiling a list of prospects for guest blogging and resource link building often requires more effort.
The best way to go about it is by:
using search operators on Google to compile a list of prospectsor
utilizing a paid tool such as AHREFS, SEMRush, or ScreamingFrog.
Once you have your list, the best and most cost-effective way to reach out to them is through email.
Crafting a personalized email that is well-formulated and to the point is essential for getting your message across, as any sloppiness or lack of detail can land your email in the trash.
Include Collaboration as a part of your Link Building Program
Podcasts, interviews, and webinar participation are all great sources of gaining authority in front of a similar audience. Here are some of the benefits of collaboration:
Brand mention
Brand promotion
Presentation of expertise to the public
Hyperlinked brand mentions
Social mentions

…and, of course:

Link building
Pitching for a podcast or interview can be a great way to build links, increase your brand recognition, and drive traffic.
But to do it effectively you need to think about what the audience will find valuable, rather than what you want to say.
Find podcasts that align with your area of expertise and have an engaged audience; and pitch your content focusing on their needs and expectations, not your own.
Ask yourself: what will my audience get out of this?
That way you'll be sure to make an impact and get the most out of your podcast pitch.
To ensure success, you'll also need to make sure you have the right equipment – a high-quality microphone – and that the sound of the podcast is good, without irritating background noise.
Leverage the Power of High-Quality Content in Your Link Building Program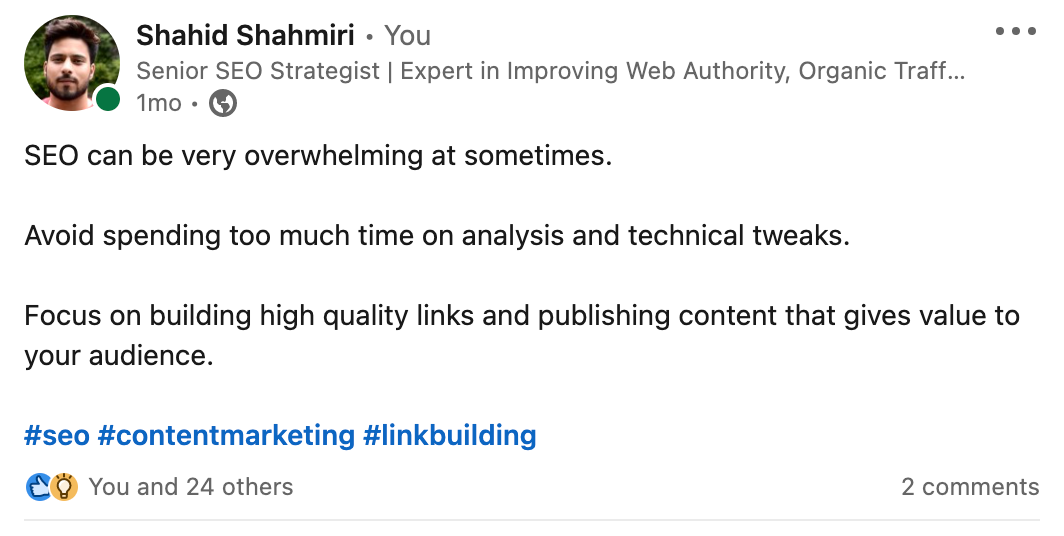 Do you want to leverage the power of high-quality content in your link-building program? The answer is yes! Content that is packed with valuable and interesting information is key when it comes to making your website more noticeable and successful.
The best way to gain traction is by creating content with:
statistical facts
researched data
visuals such as charts and graphs, and comprehensive guides
The more your content is consumed and shared, the more mentions you will receive online. Visual content such as infographics, charts and guides, and videos will help your website gain even more attention and generate opportunities to earn both linked and unlinked mentions.
This is also a great way to demonstrate your knowledge and expertise in your industry.
Here are some tips for creating high-quality content for your link-building program:
Focus on creating content that is interesting and relevant to your target audience
Make sure the content is well-written, informative, and engaging
Use visuals such as charts, graphs, and infographics to make your content more shareable
So, take advantage of the power of high-quality content in your link-building program to help your website stand out and build connections with other professionals in your field.
Things That Must Be Avoided in Link Building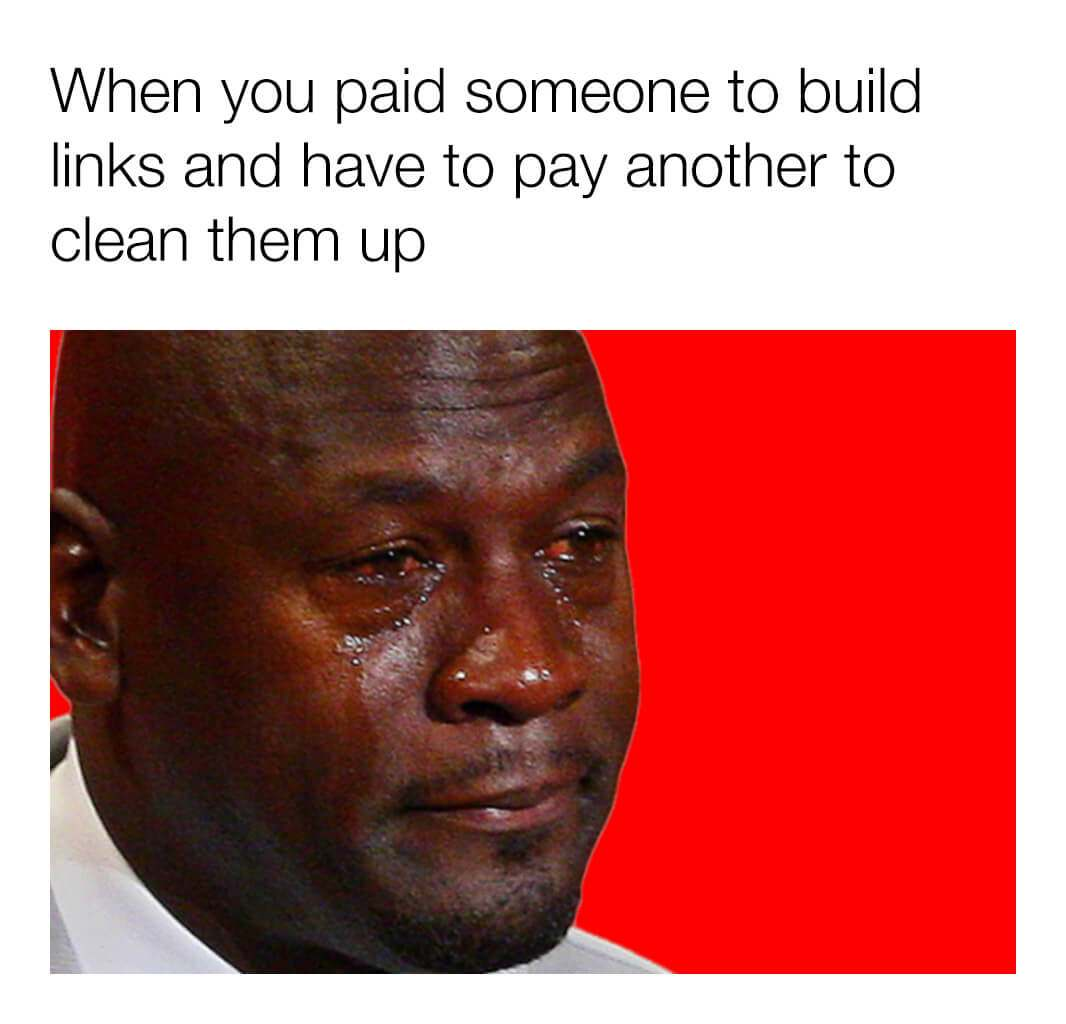 Link building is an important part of any SEO strategy, but it is important to be aware of certain pitfalls that can undermine your efforts. Taking the time to understand what should be avoided can help ensure your link-building campaign or program is successful. So, let's talk about what NOT to include in your link-building strategy.
Investing in Paid Links and Link Trading
This technique is a strict no-no as per search engines.
Google does not promote gain backlinks through paid links. Detection of such technique can lead to severe penalties from Search Engine's end.
Paid links and link trading is the practice of buying or exchanging links from other websites. This practice is one of the oldest link-building techniques, but it is highly discouraged by search engines due to its deceptive nature. The following are some of the reasons why you should avoid this technique:
• Search engines consider it to be an unethical practice as it does not involve any editorial discretion.
• The links obtained through this practice are usually of low quality and may not be related to the content of your website.
• Paid links can be easily recognized by search engine algorithms, and heavy penalties can be imposed if they are detected.
• Link trading can easily lead to link spamming and can also end up in an unnatural link profile.
• Link trading also reduces user trust in your website, as you are essentially "selling" links.
Not Diversifying Your Backlink Sources and Attributes
It's important to create a variety of backlinks from different websites and domains to ensure your SEO efforts are successful.
Having a mix of do-follow and no-follow backlinks is a great way to naturally increase your online visibility. This can help you gain the trust of search engines and boost your ranking.
A variety of backlinks from different sources can strengthen your website's reputation and authority.
You should always avoid gaining backlinks from the same website again and again, as this could be seen as spammy and lead to unwanted Google algorithm flagging or penalty.
Taking Links from General Niche Websites
Taking links from generalized websites is not recommended for link building because these websites generally have a low domain authority and their content can be of low quality.
This means that the link from these websites will not provide much value to your website in terms of SEO. These kinds of websites may also have a large number of outbound links which may be to low-quality websites. This can cause your site to have an association with low-quality websites, which in turn could negatively impact its ranking.
Additionally, many of these websites are not well established and may be closed down or removed at any time, causing the link to be lost.
Bottomline: accepting backlinks from generalized websites should be strictly avoided unless it is a very high authority website with exceptional traffic.
Resorting to Black Hat Techniques of Link Building
Black hat techniques are a form of link-building strategy that is usually employed to acquire a high quantity of backlinks quickly, without having to follow the traditional and more time-consuming white hat link-building practices.
Some examples of black hat techniques are cloaking and link inserting.
Cloaking is a method of disguising a website or web page from search engine spiders and other bots. This is done by showing different content to human visitors and search engine crawlers, or by redirecting search engine crawlers to a different URL. Cloaking can be used to manipulate search engine rankings and can also be used to hide malicious code or other content from visitors.
The link insertion black hat method, also known as link injection, is a method of manipulating search engine rankings by inserting external links into a website's content without the permission of the website's owner. This method is considered to be a form of spamdexing or search engine spam.
It can be tempting for any beginner trying to devise a link-building program, as it looks to provide the fast results that everyone wants.
But, if you're looking to build a lasting relationship with Google, black hat techniques are not the way to go. It's like trying to build a friendship with someone by lying to them and sneaking around behind their back. It might work in the short term, but it won't last for long – and you could end up in a lot of trouble!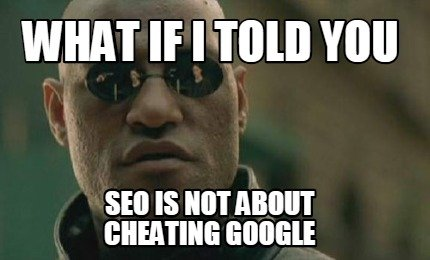 The risks of using black hat techniques for link building include:
Search engine penalties: such as being penalized in the rankings or even being banned from the search engine altogether.
Reputational damage: leading to a loss of trust from customers and potential customers.
Legal risks: Link building with black hat techniques may violate certain laws and regulations, such as the Federal Trade Commission Act, and can result in fines or other legal action.
Loss of time and resources: Since black hat techniques are often ineffective, they can take up time and resources that could have been put to better use.
Sticking to white hat techniques (which we have listed in this article) will help you to create a link-building program that is both effective, secure, and ethical.
Monitor Your Progress Using Link-Building Tools
Monitoring your backlink profile is just as important as building them – if not more!
Keeping an eye on your backlink profile is a must to ensure that the quality of links pointing to your website is up to scratch.
Take the time to regularly check for any low-quality backlinks that may have slipped into your profile and don't hesitate to disavow them. This way, you can rest assured that your website is only receiving the best links from the best sources. So, don't forget to monitor backlinks!
Here are some of the best link-building tools you can use for this purpose:
Freemium link-building tool – BackLink Manager
Using BackLink Manager is a super simple and effective way to manage and monitor your website's backlinks.
BackLink Manager is a user-friendly backlink tracker which helps you keep track of all the links (incoming and outgoing) on your website so that you can make sure everything is up-to-date and working correctly.
Why is it such an invaluable tool when you need to monitor backlinks?
First, it provides a detailed view of your backlinks, and it allows you to easily check their quality and performance. BackLink Manager also offers a range of features that make identifying and removing any low-quality or spammy backlinks easy.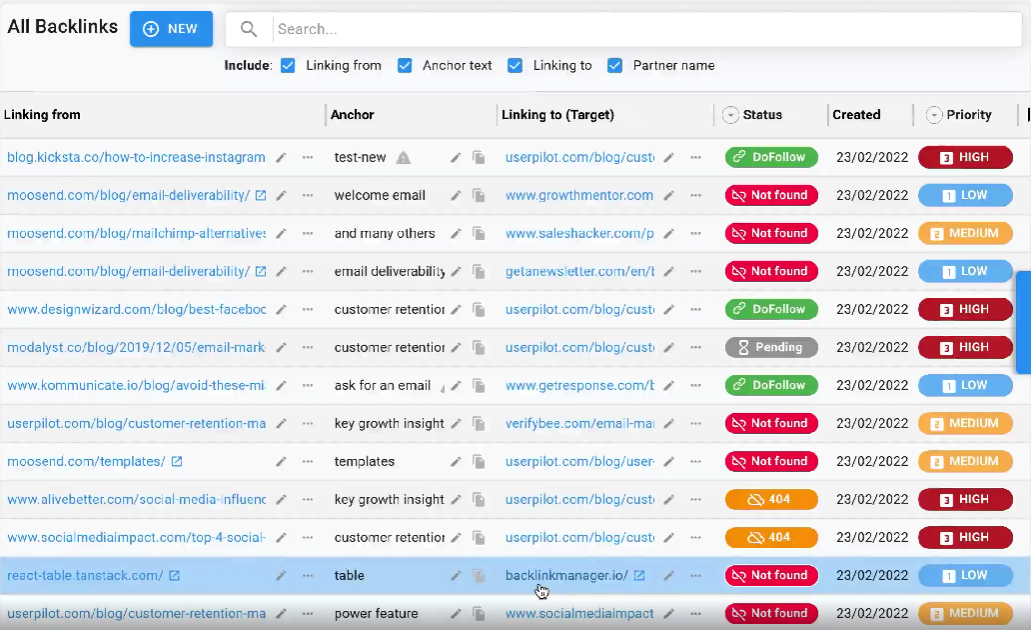 Second, BackLink Manager also offers great insights into your backlinks. You can easily see which sites are linking to your website, how many links you've acquired, and which links are driving the most traffic. You'll always be able to identify the best sources of backlinks and make sure that your website is getting the most from its links.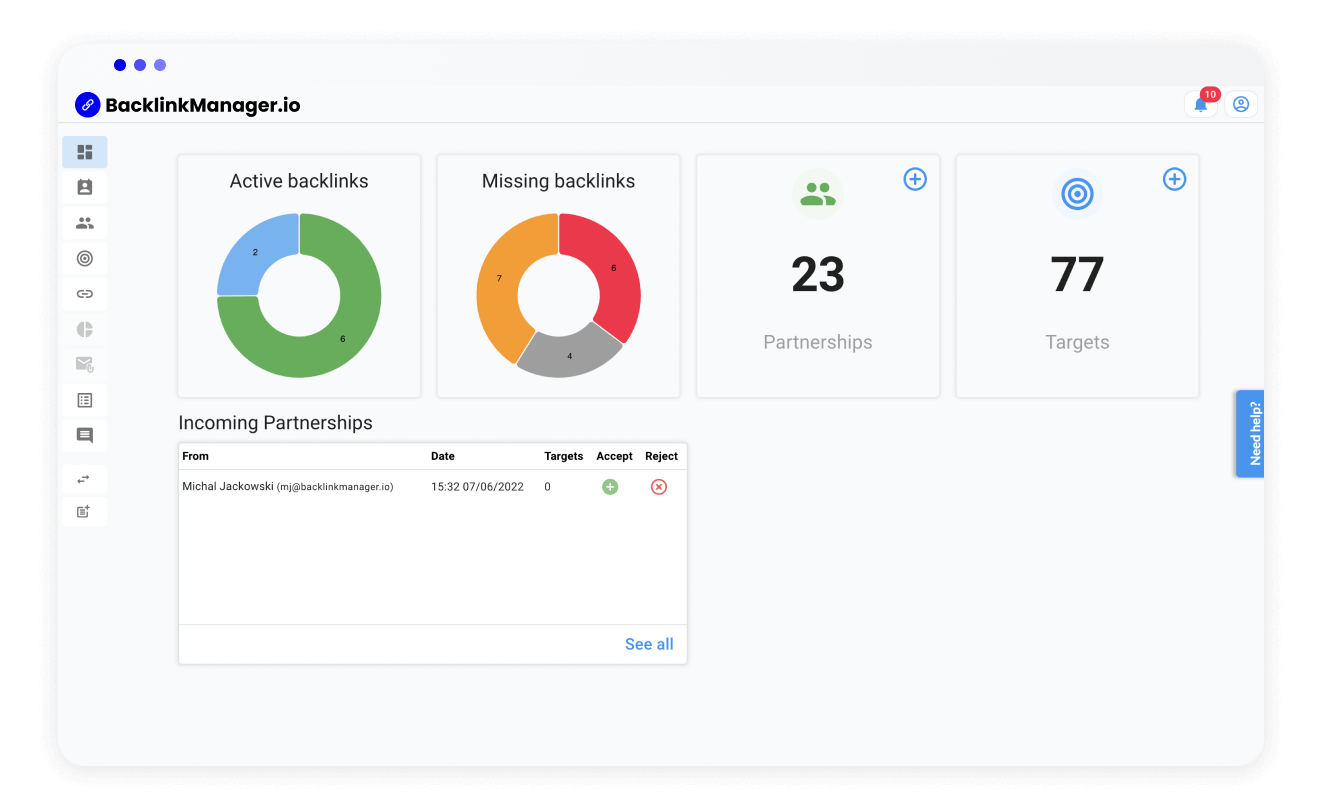 Finally, you can count on great support and customer service. If you ever have a question or need help with something, you can always reach out to their team and get the help you need.
BackLink Manager offers a variety of pricing plans to meet the needs of both small and large businesses. The most basic plan is completely free! It includes up to 250 backlinks.
You can either start with a free trial (basic plan) or book a demo to learn more about the tool.
Paid link-building tool – Ahrefs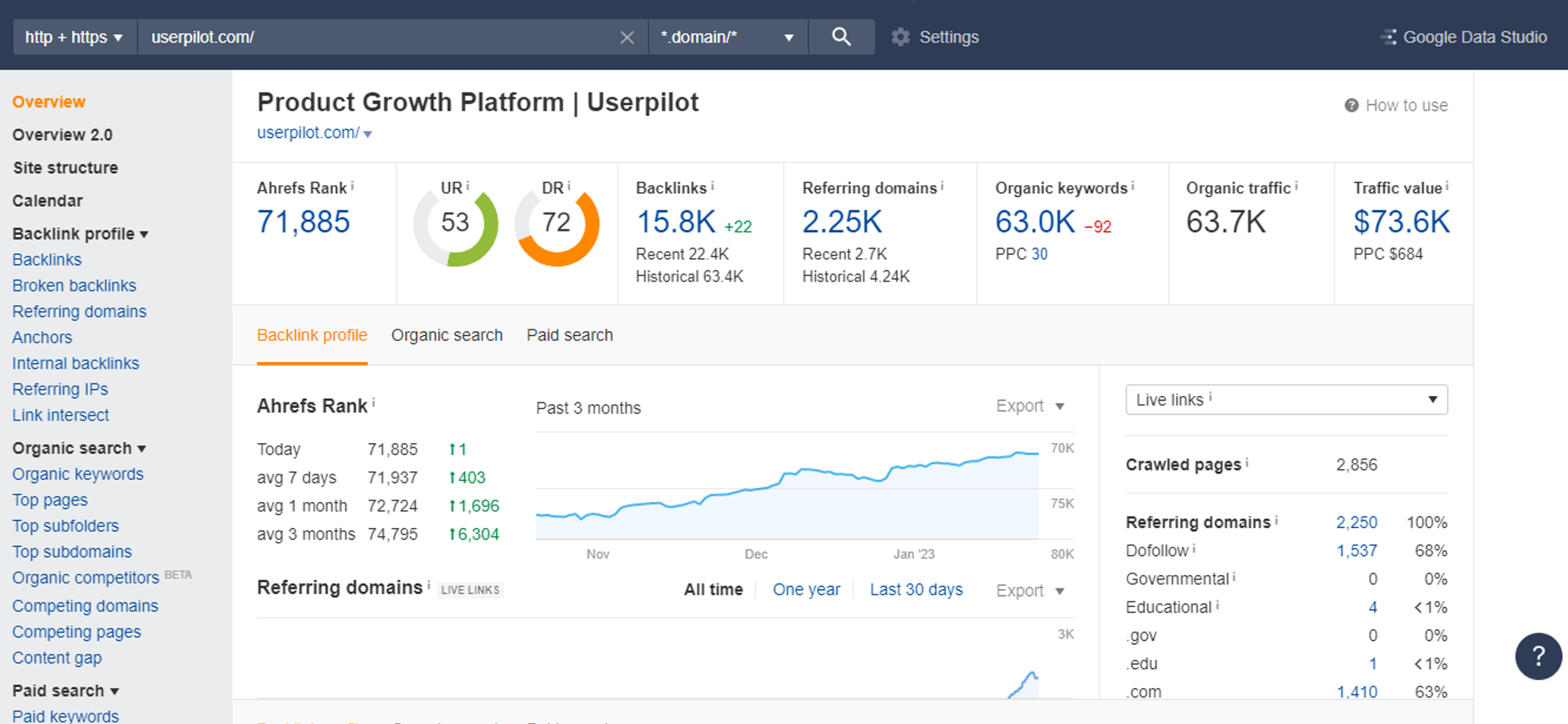 Ahrefs is a powerful tool for tracking backlinks. It's an all-in-one suite for link building, keyword research, competitor analysis, and more.
Ahrefs provides access to the world's largest backlink database, which contains more than 400 billion backlinks from over 200 million websites.
With Ahrefs, you can analyze the link profiles of any website, and determine the quality of the links that are pointing to it. You can also track your link-building progress and monitor your competitors' backlinks in real time.
Paid link-building tool – SEMRush
Semrush provides backlink tracking, analysis, and reporting. It offers a comprehensive view of your backlink profile and how it compares to your competitors' profiles. You can also use the tool to identify new link-building opportunities and track the progress of your link-building campaigns.
Additionally, you can use Semrush to monitor the health of your backlinks, identify malicious links, and identify backlink opportunities.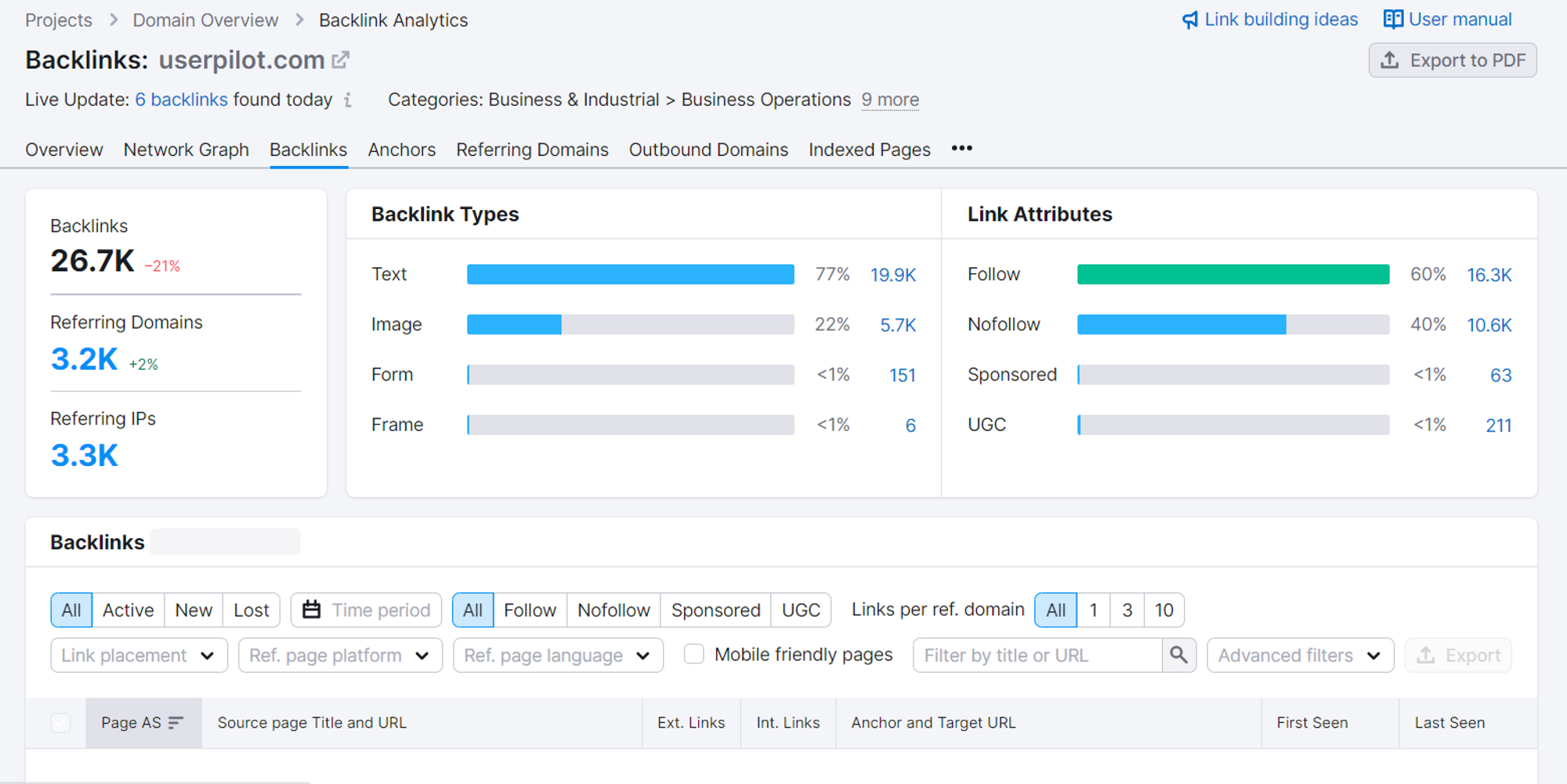 Conclusion
Link building is still one of the top 3 ranking factors over search engines and is an important part of any SEO strategy.
Link building helps search engines understand the relevance of your content and can even help you increase your online visibility.
A successful link-building campaign should focus on quality over quantity, and should include high-value links from reliable sources.
Monitoring your backlinks is just as important as building them; make sure to choose the best link-building tool for you.
By including link building in your SEO strategy, you can help your website reach its full potential and achieve higher rankings in the search results.