How much does link building cost in 2024?
As it often happens in marketing, the most accurate answer is "'it depends". But we won't leave you hanging! The article explores all the different factors that affect link-building costs for different companies:
the quality factors that can affect the price of a backlink;
different approaches to link-building along with their pros and cons;
the cost of building links via different methods;
how to measure the ROI of your link-building efforts;
how to get the most out of your link-building budget and save on link building.
Let's get right in!
TL;DR
The cost of acquiring backlinks depends largely on link quality. Cost increases with domain authority.
Another factor that affects the cost of the link-building campaign is how many links you need to build.
High-quality, original, well-researched content attracts valuable backlinks but is expensive due to the need for skilled researchers, writers, and designers.
The competitiveness of your industry or niche significantly impacts link-building costs, with high-cost niches like gambling and finance, mid-cost niches like SaaS and legal, and low-cost niches like gaming and education.
Established brands with visibility and authority naturally attract backlinks, but building and maintaining a strong brand requires consistent marketing efforts and investment.
The pros of in-house link building include better control over the process, better communication, faster turnaround, and better brand understanding. However, in-house teams may have limited expertise and lack of connections in the particular niche.
To estimate the costs of in-house link-building, factor in the salaries for SEO specialists, content managers, content writers, and outreach specialists, along with necessary tools and training.
Outsourcing parts of the link-building process to freelancers gives you flexibility, access to specialized skills, and diverse perspectives. However, the cons may include inadequate consistency, limited control, communication issues, and variable quality.
Link-building agencies have adequate expertise and partner networks. They offer scalable and comprehensive services of consistent quality.
Their main downside is the cost. Agencies charge from $80 and up to $2000 for links from the most authoritative websites.
These costs vary based on pricing models and the different link-building strategies that they use, for example, like price-per-link, guest posting, niche edit, or fixed price.
Measuring the ROI of link-building is difficult because it's only one aspect of search engine optimization that teams use. Metrics to track include organic and referral traffic volume, domain and page authority, keyword rankings and link lifetime value.
One way to save your link-building budget is to monitor your backlinks to avoid link rot. If you want to see how BacklinkManager can help you automate link monitoring, book the demo!
Factors That Determine Link-Building Costs
The cost of acquiring links depends on a number of factors. Let's have a closer look at each of them.
Quality of links
The quality of backlinks appears to be the main factor that affects their cost.
High-quality links, that is those from authoritative and relevant domains, can greatly enhance your website's search engine rankings. And we're not talking about a short-term spike but a long-term impact run.
However, securing links from esteemed websites typically demands more strategic outreach, compelling content, and sometimes, placement fees.
Basically, the cost of backlinks increases along with the domain authority.
The number of backlinks
While quality trumps quantity, to compete with established websites with excellent domain rating and backlink profiles, you still need lots of backlinks.
How many exactly?
This depends on your competition. The best way to determine this is by researching their profiles using tools like Ahrefs or SEMrush. Competitive analysis will help you not only set your targets but also identify opportunities for link-building.
Standard of content
Content is the foundation of all link-building efforts.
Content that is original, well-researched, and provides genuine value to readers is more likely to attract valuable backlinks. Thus, investing in top-tier content not only elevates your brand but also enhances your link-building prospects.
However, creating high-quality, engaging, and relevant content is not cheap because it requires skilled researchers, writers, and designers, and they all charge top dollar.
Your industry or niche
The industry or niche of your business significantly influences link-building costs.
Some niches are highly competitive, which can escalate costs.
High link-cost industries include gambling, loans, finance, and real estate. Acquiring a link in this niche costs in the region of $600-1500.
In the middle, we have such industries as SaaS, technology, nutrition and food, and legal. Such links cost on average $350-450.
The easiest niches for link-building include gaming, charities, education, and lifestyle. The prices here range from $250 to $350 on average.
The strength of the brand
Some brands find it easier to build links than others.
Well-established and recognized brands naturally attract backlinks due to their visibility and authority.
Just have a look at the Ahrefs website performance. As one of the market-leading SEO tools, Ahrefs gets lots of natural links.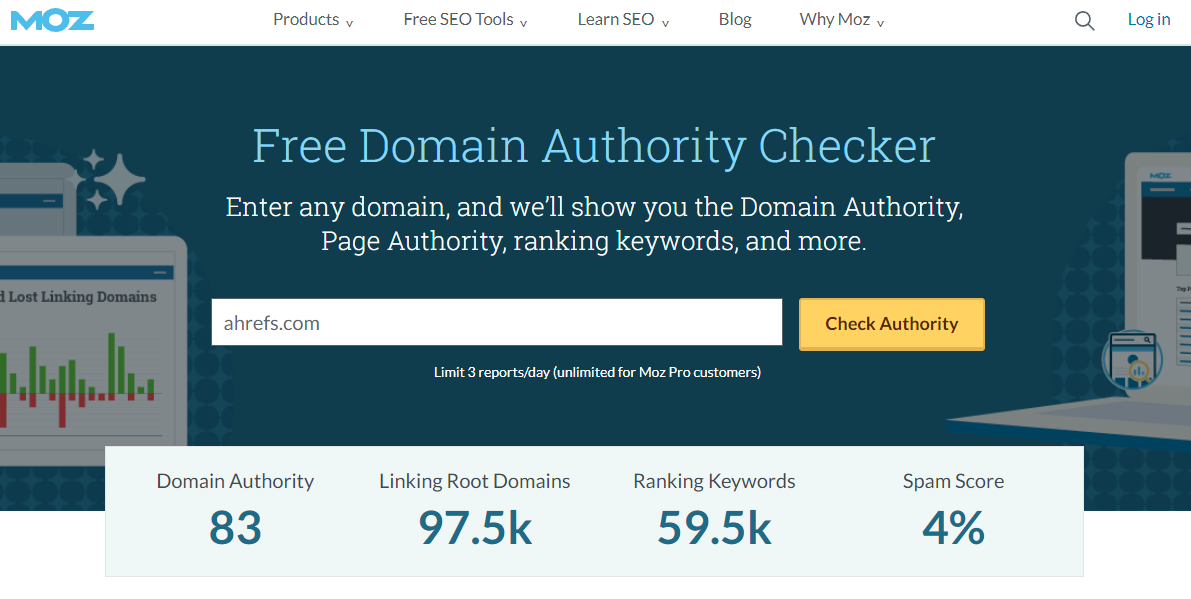 However, bear in mind that building and maintaining a strong brand involves consistent marketing efforts, quality assurance, and often, substantial investment.
Different Approaches to Link Building and Their Costs
Another factor that affects the cost of link-building is your approach.
When deciding on your link-building strategy, you have 3 options to choose from. You either do everything in-house, outsource aspects of the process to freelancers, or outsource everything to specialist link-building agencies.
Let's look at the pros and cons as well as the costs of each approach.
In-House Link Building
To build links in-house, you need a dedicated team to develop the strategy, create content, conduct outreach, continuously track performance, and monitor the status of acquired links.
Pros of building links in-house
The main advantages of in-house link building include:
Complete control – managing link building internally allows full control over the entire process, from strategy development to outreach.
Better communication – even if your internal team is large, they will find it easier to coordinate their efforts than with agencies or freelancers.
Faster turnaround – because of the improved communication, in-house teams can be potentially quicker to deliver results because they can implement and adapt the strategy immediately.
Better brand understanding – in-house teams inherently have a deeper understanding of your business, industry, and target audience.
Accurate brand representation – by using an in-house team, you ensure that your brand is accurately and consistently represented in outreach communications.
Detailed updates – your teams can provide more frequent and detailed progress updates compared to some external agencies or freelancers.
Cost-effective – once you have the processes in place, in-house teams are more budget-friendly than outsourcing to an agency.
Pros of building links in-house
What about the downsides?
Limited resources – an in-house team may have restricted resources and capabilities compared to specialized agencies.
Lack of expertise – to build a successful team, you need to invest in training and skill development to ensure they're well-versed in SEO and link-building best practices.
Tool investment – link-building requires a pricey tool stack.
Context switching – if the team members are not dedicated link builders, balancing link building with other responsibilities can reduce their efficiency and effectiveness.
The Cost of In-House Link Building
How much does running an in-house link-building team cost? Let's break down all the expenses.
SEO Specialist
An SEO specialist plays a pivotal role in planning and optimizing the link-building process, ensuring that strategies align with overall SEO and business objectives.
Their job is to identify viable link opportunities, analyze competitors' backlink profiles, and pinpoint high-authority and relevant websites to target for link acquisition. They collaborate with content creators to develop compelling, high-quality content that is both valuable to the target audience and optimized for search engines.
SEO specialists also monitor and analyze the impact of link-building efforts on keyword rankings, organic traffic, and overall SEO performance, continuously refining strategies to enhance efficacy and ROI.
On average, an SEO specialist earns around $74k in the USA.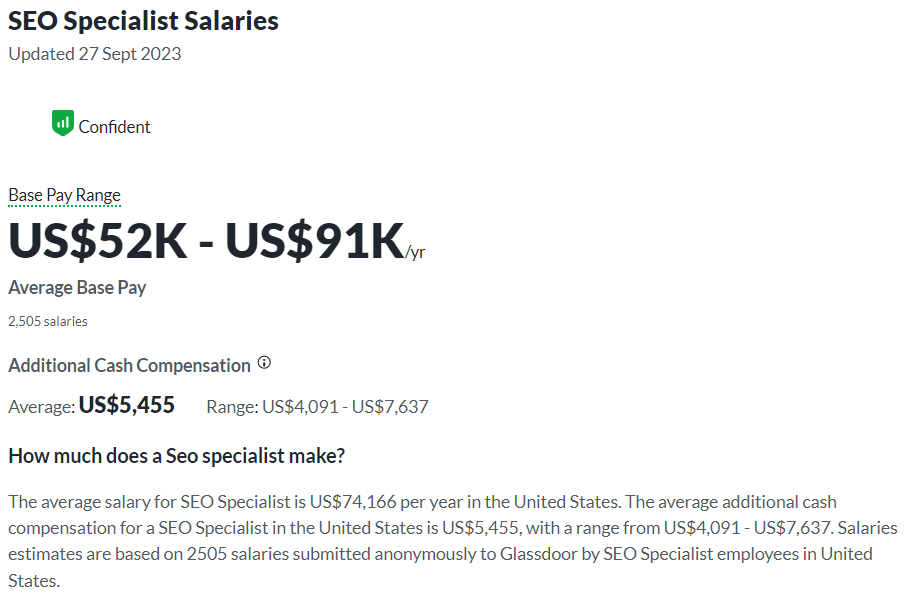 Content manager
The content manager plays a pivotal role in orchestrating the content strategy, ensuring that the content aligns with SEO goals and resonates with the target audience.
They oversee the entire content lifecycle, from ideation and creation through to publication and analysis, ensuring consistency, quality, and relevance. They collaborate with SEO and outreach teams to optimize content for link building and ensure that it effectively supports outreach efforts.
In the United States, a Content Marketing Manager can expect to earn an average annual salary of approximately $82k.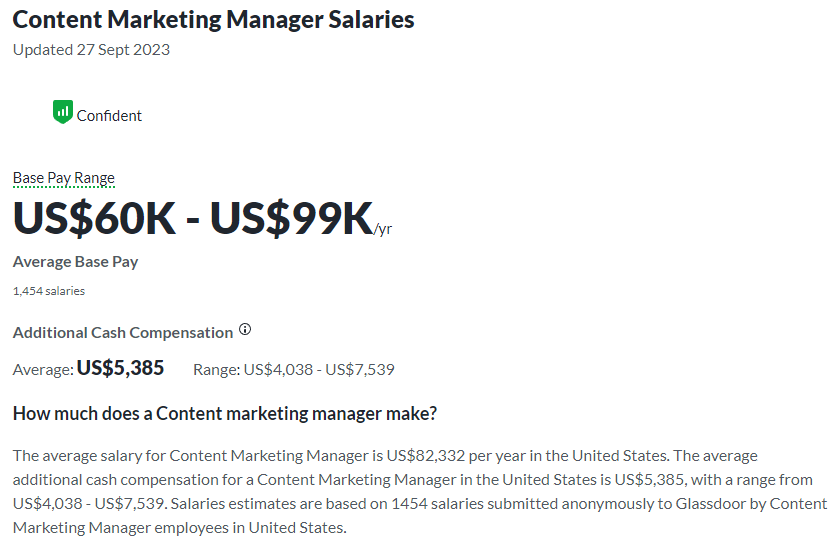 Content Writer
Content Writers are the backbone of any link-building strategy.
Their task is to craft compelling and high-quality content that will attract backlinks. This includes blog posts, whitepapers, and infographics that provide value to the audience and are deemed link-worthy by other websites.
According to Glassdoor, US-based content writers earn on average in the region of $62,000 a year.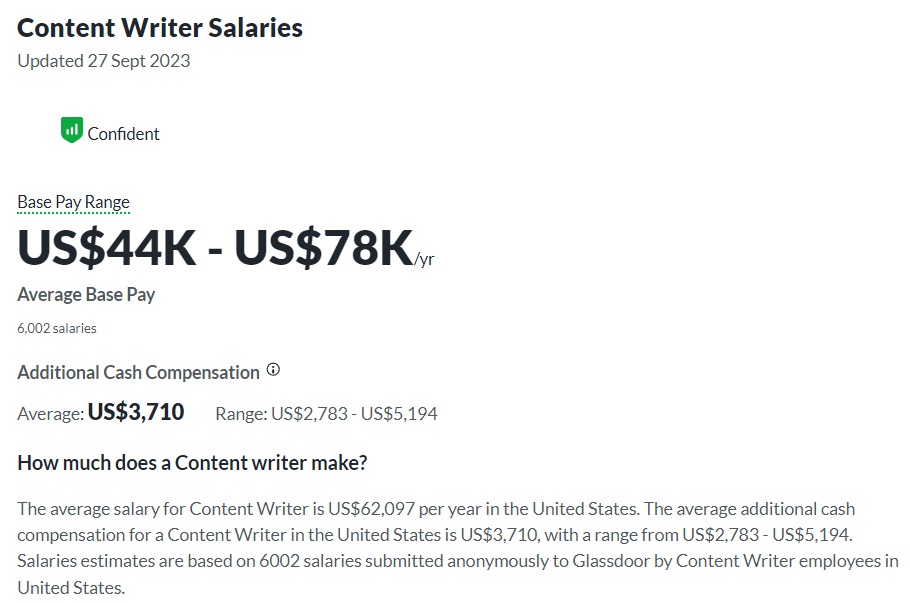 Outreach Specialist
The outreach specialist is instrumental in the link acquisition phase,
Their job focuses on identifying link opportunities, crafting outreach communications, and building relationships with bloggers, journalists, and website owners.
They navigate through the intricate web of relationship-building, ensuring that the content reaches the right eye and secures valuable backlinks. Their role involves strategic planning, meticulous communication, and negotiation to successfully place content and earn links.
Based on Glassdoor data, the average salary for an SEO Outreach Specialist is $58,063 per year in the United States.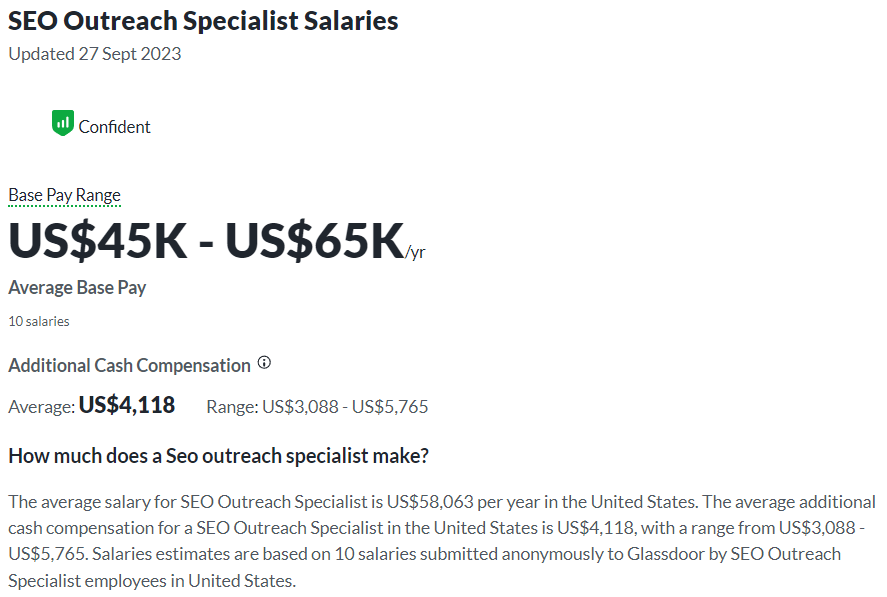 Tools And Training for Your In-House Team
As mentioned, you need to provide the right tools to support your team's link-building efforts. You're most likely to need:
SEO and Link Building Tools
Email Outreach Tools
Content Creation Tools:

Canva – from $99/year
SurferSEO – from $69/month
chatGPT – $20/month

Backlink monitoring and CRM system:
Of course, you're not going to need all of these tools but at the same time the lowest plans are unlikely to cover large-scale link-building campaigns.
Freelancer Link Building
An alternative approach to link-building is outsourcing parts of the process, like content creation or outreach, to freelancers.
Freelancer Link Building Pros
Freelancers bring numerous advantages to the table:
Cost-savings – freelancers often provide a more budget-friendly option compared to hiring full-time staff or engaging an agency.
Flexibility – freelancers offer flexibility, allowing you to scale your link-building efforts up or down based on your current needs and budget.
Specialized skills – you can hire freelancers with specialized skills tailored to specific link-building strategies or industries.
Diverse perspectives – freelancers from varied backgrounds can bring fresh, innovative ideas and approaches to your link-building campaigns.
Freelancer Link Building Cons
Hiring freelancers comes with a number of challenges though.
Consistency challenges – maintaining consistency in quality and strategy might be challenging when working with multiple freelancers.
Limited control – you may have less control over freelancers compared to in-house staff, especially in terms of working hours and immediate availability.
Communication issues – working with freelancers requires excellent processes and communication flow to ensure they know exactly what is required and the work stays on track.
Variable quality – the quality of work might vary between freelancers, requiring a rigorous selection process to ensure standards are met. That's probably the biggest challenge many teams face.
Freelancer costs
A freelance link-builder – hourly rates on Upwork start from $12/hour and go up to $160/hour. On Fiverr, you can easily find offers that are much cheaper and yet promising miracles, but let's not even go there.To be on the safe side, let's budget for $30-40/hour if you want to hire an SEO professional with decent experience and expertise.
Content Writer – a quality piece of content of around 2000 words, will cost around 250-300 USD, and for original well-researched content and thought-leadership articles, you're looking at $600-1500 per article.
Agency Link Building
Agency link-building typically involves partnering with a specialized SEO agency that takes on the responsibility of strategizing, executing, and managing your link-building campaigns.
Agencies leverage their expertise, established processes, and potentially, a wide network of contacts to secure high-quality backlinks, often providing a holistic service that encompasses content creation, outreach, and performance analysis.
Agency Link Building Pros
Expertise and experience – agencies bring a wealth of knowledge and experience in link-building, understanding the nuances and best practices of effective strategies.
Access to established networks – many agencies have pre-established relationships with website owners, bloggers, and publishers, facilitating easier link placement.
Scalability – agencies have the resources to scale link-building efforts up or down based on your requirements, without the need to hire or train staff.
Time-efficiency – paid links you acquire through an agency can save businesses time and allow you focus on core operations while the agency manages the link-building campaign.
Comprehensive services – agencies often provide end-to-end link-building services, including strategy development, content creation, outreach, and reporting, offering a one-stop solution.
Consistent quality – with standardized processes and experienced professionals, agencies can often deliver consistent quality in terms of content and backlinks.
Reduced risk – experienced agencies are well-versed in adhering to SEO best practices and guidelines, reducing the risk of penalties from search engines.
Customized strategies – good agencies develop customized link-building strategies tailored to your business goals, industry, and SEO objectives.
Performance tracking – many agencies provide regular reports and analytics, offering insights into the performance and ROI of the outsourced link-building campaign.
Agency Link Building Cons
Working with agencies does have a few downsides too.
Cost – engaging an agency can be more expensive than managing link-building in-house or using freelancers, especially when considering high-quality, reputable agencies.
Less control – while agencies manage the bulk of the work, businesses might have less direct control over the link-building process and strategies employed.
Generic strategies – some agencies might use a one-size-fits-all approach, utilizing similar strategies across various clients and industries, which may not always align with your specific needs.
Communication gaps – depending on the agency, there might be communication barriers or delays in updates and reports, potentially impacting the alignment and timely adaptation of strategies.
Inconsistent quality – the quality of services can vary widely between agencies, and some might utilize black-hat or grey-hat SEO tactics that can risk penalties.
Long-term contracts – some agencies might require long-term contracts, which can be a disadvantage if the partnership is not yielding the desired results.
Dependency – relying heavily on an agency might create dependency, potentially causing disruptions if the partnership ends or if there are issues in the collaboration.
Alignment challenges – ensuring that the agency fully understands and aligns with your brand, values, and objectives might sometimes be challenging, impacting the coherence of the campaign.
Link-building Agency Pricing
Agencies usually offer different pricing models, such as monthly retainers, project-based pricing, or pay-per-link, providing flexibility and scalability to cater to various business needs and budgets.
Price-Per-Link Link Building Services
Price-per-link services involve charging a set fee for each link acquired.
The cost per link can vary widely, with factors such as the domain authority of the target site, the complexity of acquiring the link, and the agency's expertise influencing the price.
ome agencies might offer tiered pricing based on the domain authority or other metrics of the linked site.
Typically prices range from $80 to $2,000+ per link.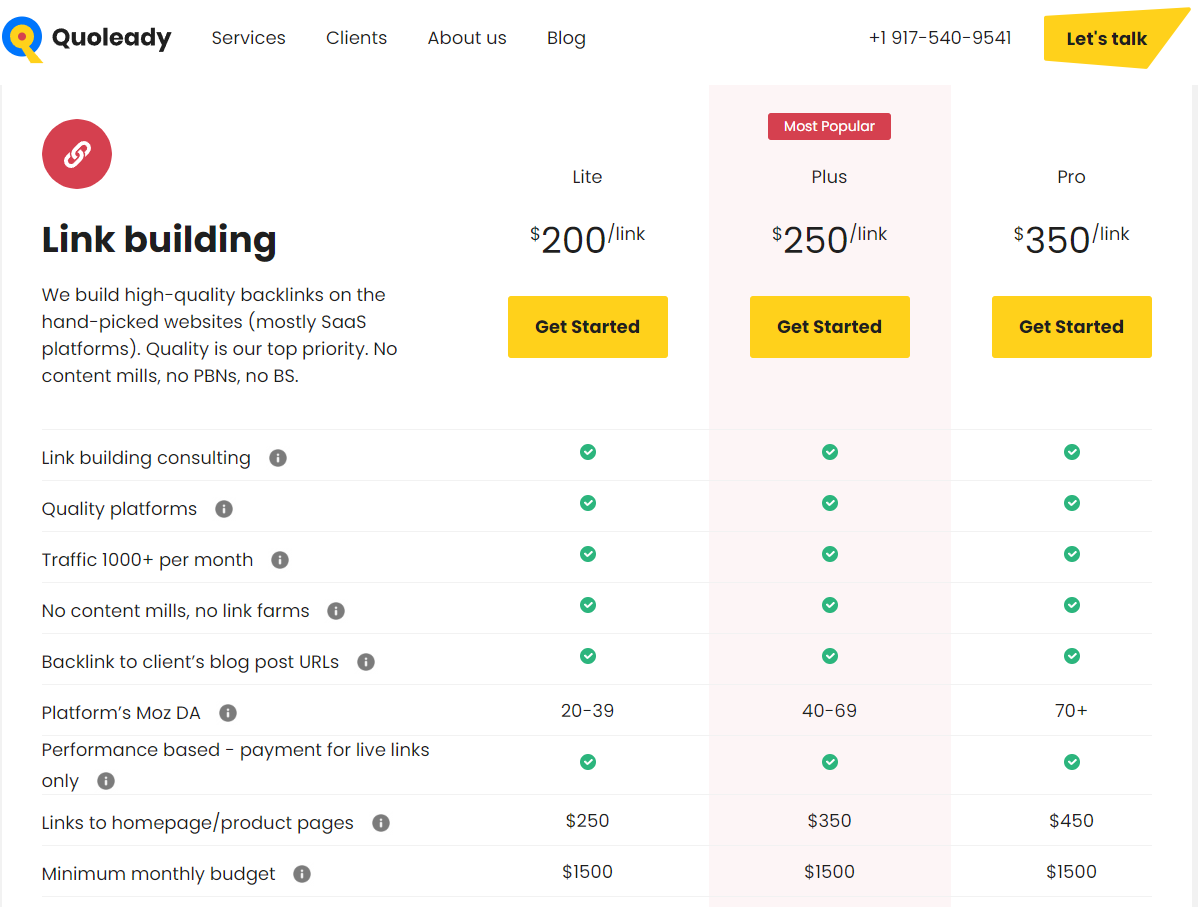 Guest Posting & Blogger Outreach Link Building Pricing
Guest posting and blogger outreach involve creating and placing content on third-party websites to acquire links.
Pricing for these services can depend on the agency's network, the quality of the target sites, and the complexity of content creation. Some agencies might charge a flat fee per placement, while others might have variable pricing based on the target site's authority and niche.
The cost is normally between $50 and $1,000 per post/link.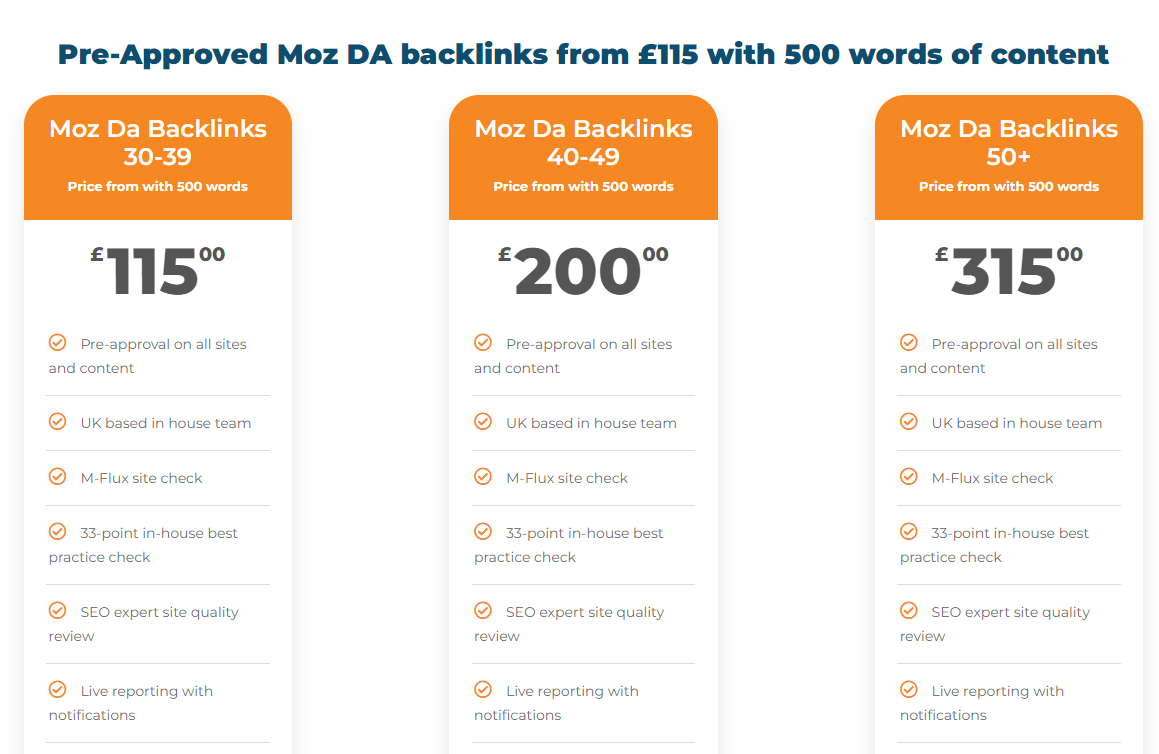 Niche Edit Link Building Pricing
Niche edit link-building, which involves inserting links into existing content on websites, can be priced based on the authority of the website and the relevance of the content.
The pricing might also be influenced by the agency's relationship with website owners and the difficulty level of securing placements in high-authority sites.
Generally falls between $50 and $500 per link.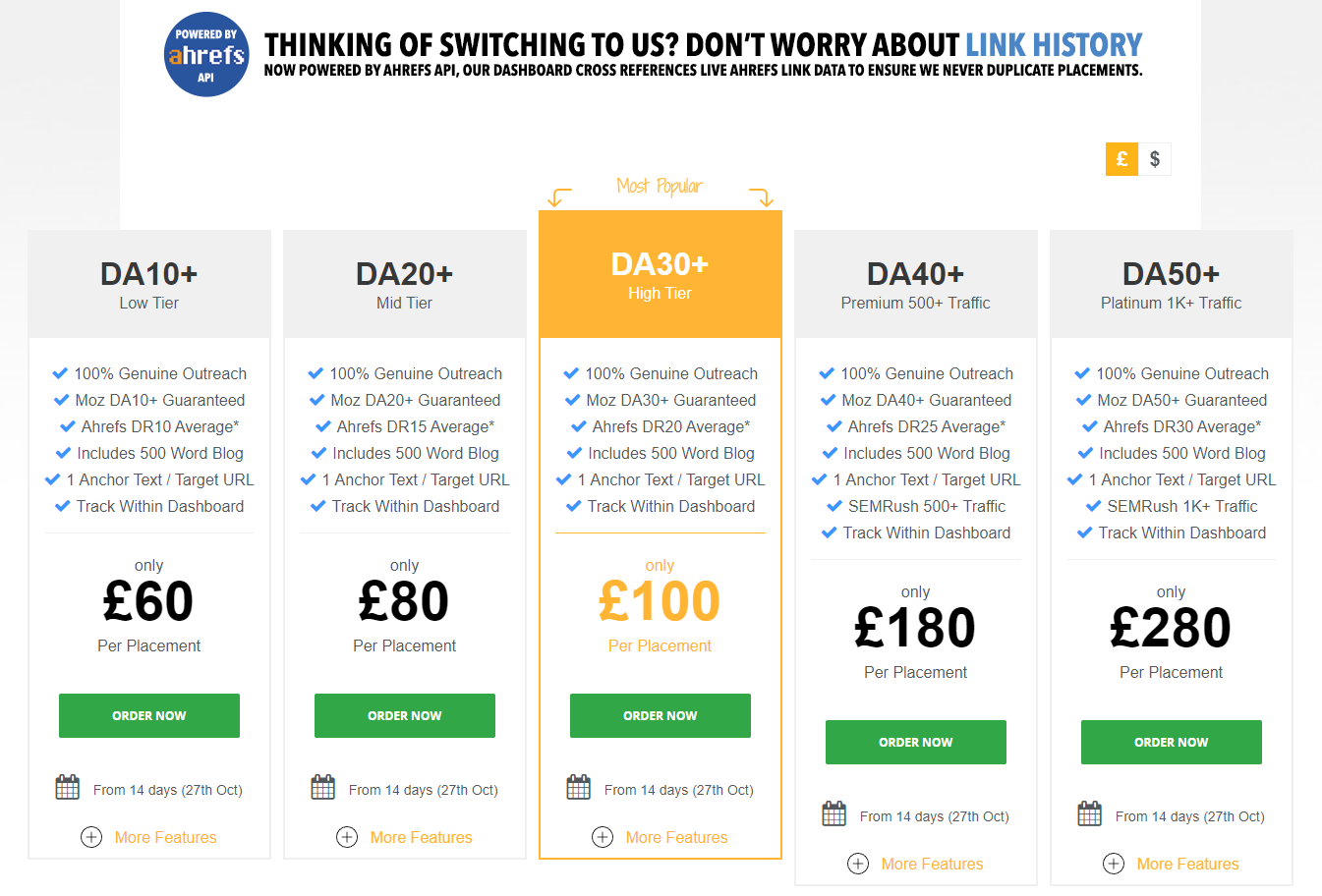 Fixed Price Link Building
Fixed-price link-building services involve a set fee for a specified number of links or a particular link-building package.
This model provides clarity and predictability in terms of budgeting but might offer less flexibility in adapting strategies. The fixed price might be determined based on the overall scope, the quality of target sites, and the expected impact on your SEO.
Packages can range from $1,000 to $10,000+ per month/project.

How to Measure the ROI of Link-Building Campaigns
Considering the considerable cost of link-building, measuring the Return on Investment (ROI) becomes imperative to ensure that the strategy is effective and aligns with overall business objectives.
Here's a breakdown of key metrics to evaluate the ROI of link-building campaigns.
Bear in mind though that it's impossible to determine how much links alone have on key these metrics. That's because they are only one of the factors that search engines use to rank pages and teams work on optimizing all of them at once.
Organic Search Traffic
One of the key reasons for investing in link-building is increased organic search traffic. The more high-quality sites link back to a page, the higher it ranks in SERPs which increases the number of visitors.
An uptick in organic search traffic often indicates improved search engine visibility and is directly correlated with effective link-building.
The easiest and cheapest way to track and analyze changes and trends in organic search traffic is with Google Analytics, a free yet comprehensive web analytics tool.
Referral Traffic
Apart from increasing organic traffic, backlinks can help you increase website views via referral traffic. That's when visitors land on your site by clicking through a link on another website.
With GA you can track referral traffic as well as organic traffic. It will help you identify which backlinks are driving traffic so that you can double down on your efforts to secure links from similar sites.
Domain Authority and Page Authority
Domain Authority (DA) and Page Authority (PA) are metrics developed by Moz that predict a website's (or page's) ability to rank in search engine results. As such, they're similar to Domain Rating (DR) by Ahrefs and Authority Score by SEMrush.
Increases in DA or PA can indicate the growing strength and credibility of your website in your niche, which partly be attributed to successful link-building.
To monitor changes in DA and PA Use Moz's Link Explorer or similar tools, correlating improvements with ongoing link-building activities.
Keyword Rankings
Keyword ranking is the position of your website in search engine results for specific keywords or phrases.
Effective link-building should positively impact keyword rankings, elevating your website's position in search results and enhancing visibility.
Utilize SEO tools like SEMrush, Ahrefs, or Google Search Console to track keyword rankings, observe improvements, and assess whether link-building efforts are translating into enhanced search visibility.
Link lifetime value
Calculating the monetary returns from your link-building over their lifetime is no exact science.
Let's look at two ways to do it.
The first is based on the traffic value as per Ahrefs data.
Start by running the search to determine the traffic value of the top website or web page ranking for your keyword.
Next, divide the traffic value by the number of root domains linking back to it.
That's how you get the average monthly value of the link in this particular niche.
Next, multiply it by 24. This is the assumed link lifetime.
The figure that you get is the link lifetime value. How does it compare to the cost of securing a backlink?
The second approach is specific to your particular circumstances as it takes your business conversion rates into account.
Let's imagine you're a SaaS business. Your funnel looks like this: users visit the site, sign up for a free trial, and convert to paying customers.
Run a search to determine organic traffic for your site or page.
Divide it by the number of root domains linking back to it.
What you get is the number of visits per backlink.
Multiply it by your sign-up conversion rate.
Multiply the result by your trial-to-paid conversion rate (percentage of sign-ups who convert to paying customers).
Multiply the result by your CLV (Customer Lifetime Value) to determine the lifetime value of the link.
How to make the best of your link-building budget?
Taking into account how much link-building costs, how do you make sure that you use your link-building budget well?
Here are a few tips from SEO experts:
Use a reputable agency that focuses on your results, and not just their profits.

How to save on link-building: Michal Jackowski, BacklinkManager.io

Monitor your links to avoid link rot.

How to save on link-building: Emilia Korczynska, the Head of Marketing at Userpilot

Join guest blogging communities.

How to save on link-building: Antonio Gabric, Outreach Manager at Hunter.io

Don't build links from link farms, content mills, or news magazines.

How to save on link-building: Olga Mykhoparkina, founder and CEO of Quoleady

Focus link-building effort on MOFU and BOFU pages.

How to save on link-building: George Blandford, the Co-owner of UK Linkology

Collectively buy domains via Shared.Domains.

How to save on link-building: Dmytro Sokhach, the founder of Editorial Link

Use your expertise to build links via HARO.

How to save on link-building: Milosz Krasinski, the owner of Chilli Fruit Web Consulting
Strategically trade links with your partners.

How to save on link-building: Jakub Rudnik, Director of Content at Active Campaign
Conclusion
Whether you're building links in-house, hiring freelancers, or specialist SEO agencies, the costs are considerable. To determine if the investment is worth it, use a formulate to calculate the ROI per link and compare it against the cost of acquiring the link.
If you want to see how BacklinkManager can help you reduce the cost of link building, book the demo!