The outreach email signature might seem like a small detail, but it can play a crucial role in SEO link-building outreach. A professional-looking outreach email signature not only creates a good first impression but also provides essential contact information for your recipients.
In this blog post, we will explore the best practices for crafting the perfect outreach email signature to maximize the impact of your outreach efforts. We will cover
the key components of an effective outreach email signature,
design aspects that make it visually appealing and professional,
tools and platforms for creating an outreach email signature, and
how to monitor and optimize its performance.
By the end of this post, you will have a comprehensive understanding of what it takes to create an impactful outreach email signature for your SEO link-building outreach.
TL;DR
Crafting an effective and professional email signature for SEO link-building outreach will create a positive first impression, enhance your credibility and provide essential contact details.
Key elements of an outreach email signature include your name, job title, company information, contact details, and social media links.
It's essential to include your full name and job title in the email signature for the recipient to identify who you are and understand your role.
Including a clickable link to the company website allows recipients to learn more about the business.
While a physical company address isn't necessary for most professionals, it might be a legal requirement in some jurisdictions and can lend credibility to your business.
Contact details like email addresses and phone numbers in an email signature are important for effective communication.
Depending on your work style, you might include Skype or Zoom ID or a link to your scheduling software like Calendly.
Including social media links in your email signature can promote your latest content, enhance engagement, expand your reach, and strengthen credibility.
Simplicity and consistency in design, avoiding clutter, and ensuring mobile responsiveness are key to creating a professional email signature.
After crafting the perfect email signature, implement it across your outreach platforms to ensure consistency across all emails.
Tools like WiseStamp, HubSpot's Email Signature Generator, Newoldstamp, MySignature, and Canva can make creating an email signature easy.
Monitor performance regularly to optimize open & conversion rates with data-driven decisions.
Are you doing email outreach for link building? Make sure you monitor your-hard earned links to avoid link rot by monitoring them with BacklinkManager.
The Importance of Email Signatures in SEO Link-Building Outreach
Considering that bulk emails and outgoing emails are an integral part of SEO link-building outreach, it is crucial to invest time and effort into creating an email signature that reflects your professionalism and provides the recipient with the necessary information.
An email signature serves as a digital business card that introduces you and your company to the recipient. When reaching out to other websites for backlinks, a professional-looking email signature can create a positive initial impression and provide essential contact details.
A well-designed email signature can enhance the credibility of your outreach efforts and increase the likelihood of receiving a positive response from your prospects.
Key Components of an Effective Outreach Email Signature
An effective email signature should include essential elements such as
your name and job title,
company name and address,
contact details, and
social media links.
Incorporating these components not only assists the prospect in recognizing who they are communicating with but also eliminates the need for a redundant self-introduction at the start of the message.
In the following subsections, we will delve deeper into each of these components and discuss their significance in crafting a successful email signature.
Name and Job Title
Including your name and job title in the email signature is an absolute must!
It is recommended to include your full name in the email signature to ensure prospects can easily identify who you are. Your title is essential for your recipient to understand your role.
For most people, a simple format such as "John Doe, Marketing Manager at XYZ Company" would suffice.
This straightforward approach not only provides your recipient with important information but also ensures a clean and professional appearance.

Company Name and Address
Incorporating the company name in your email signature is essential for conveying credibility and professionalism.
The company name and address component of your email signature should include the company website. Make sure to include a clickable link to your company website to allow readers to easily navigate to it and learn more about your business.
How about the physical company address?
Including your company's physical address in your email signature isn't necessary for most professionals, especially those in the digital field like SEO. Physical location is simply not relevant and may make your signature look a tad bloated.
However, there are some exceptions.
In some jurisdictions, it may be a legal requirement for businesses to include their physical address in email communications, particularly for marketing or promotional emails.
What's more, including a physical address can lend credibility to your business, demonstrating that you're an established entity. This can be particularly useful for newer businesses seeking to build trust.
Finally, if you primarily serve clients in a specific geographic area, including your address can help boost your local SEO efforts.
Contact Details
Providing contact details in your email signature is an important aspect of effective communication, as it offers the recipient multiple ways to get in touch with you.
Essential contact information should include your email address at the very least.
Including a phone number makes you more accessible and may boost the efficiency of communication. Hopping on a quick phone call beats can save you a lot of back and forth.
Ultimately, whether you choose to include it or not depends on your work style. You may prefer to stick to email, especially in the early days of the relationship with your prospective partners or when you're connecting with recipients from different time zones.
If you're not sure whether to include your phone number, why not include your Zoom or Skype ID instead? Instant messengers are a sweet spot between email and phone, allowing direct communication but also enabling you to control who calls you and when.
Adding a calendar link is another alternative. If you use scheduling software like Calendly, you can include a link to allow people to schedule calls or meetings directly at a time that works for you.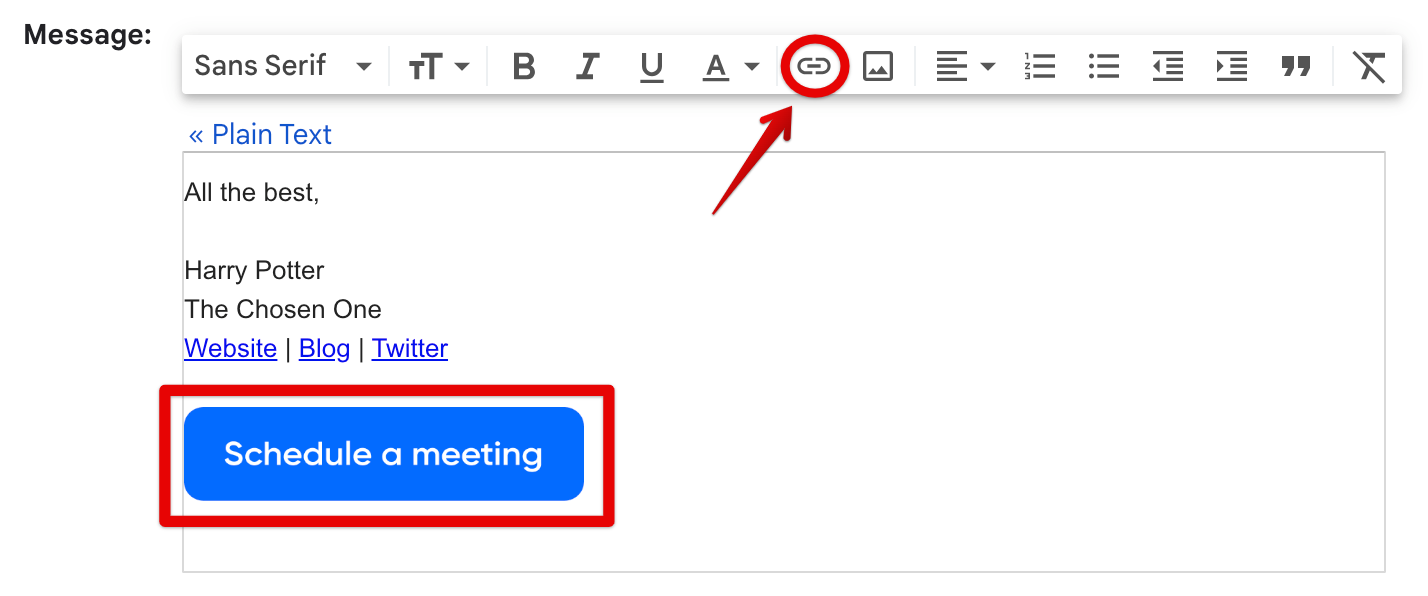 To ensure that your contact details are up to date and easily readable, use a consistent font and style throughout your email signature. Additionally, consider the mobile-friendliness of your email signature, as more and more people access their emails on mobile devices.
By prioritizing legibility and accessibility, you can make sure that recipients have no trouble reaching out to you when needed.
Social Media Links
LinkedIn, Twitter, Facebook, Instagram… Incorporating social media links into your email signature can promote your latest content to readers, enhance engagement with customers, expand your reach, and strengthen credibility.
These links provide an opportunity for those you communicate with to further engage with your brand and explore your content on various social media platforms.
When adding social media links to your email signature, it is essential to include only the most relevant and active profiles.
This ensures that the recipients can connect with you on the platforms where you have a strong presence and are actively sharing valuable content. By doing so, you can further boost your brand's online visibility and credibility.
Designing an Aesthetically Pleasing and Professional Email Signature
An aesthetically pleasing and professional email signature requires a careful balance between design elements and essential information.
In the following subsections, we will discuss the key aspects of email signature design, including simplicity and consistency, avoiding clutter, and mobile responsiveness, to create an email signature that leaves a lasting impression on your recipients.
Simplicity and Consistency
Simplicity and consistency in email signature design are essential for generating a unified appearance and demonstrating professionalism.
A straightforward design with uniform formatting helps recipients easily retrieve essential information, making communication more efficient and effective.
To achieve simplicity and consistency, use a clean and easy-to-read font, such as Arial, Helvetica, or Verdana, which are typically supported by most email clients.
Additionally, ensure that your font size, color, and style are consistent throughout your email signature. This uniformity not only enhances readability but also contributes to a polished and professional look.
Avoiding Clutter
An email signature that is clutter-free ensures a professional and aesthetically pleasing design.
Including only essential information in your email signature prevents the recipient from being overwhelmed with too much information or distracting elements.
By minimizing clutter, you can create a clean, professional, and legible signature that leaves a favorable impression on your recipient and enhances the overall effectiveness of your outreach efforts.
Mobile Responsiveness
As more people access their emails on mobile devices, ensuring mobile responsiveness in your email signature is crucial for smooth readability across various screen sizes.
A responsive design template that automatically adjusts the signature to the device's screen size can help achieve this goal.
In addition to using a responsive design, it is essential to test your email signature on multiple devices to guarantee that it is clear and legible on all platforms.
By prioritizing mobile responsiveness, you can ensure that your email signature remains effective and professional, regardless of how your recipients access their emails.
Tools and Platforms for Creating an Outreach Email Signature
Creating the perfect email signature can be a breeze with the right tools and platforms at your disposal. Let's at a few options that allow you to craft an effective email signature that suits your needs.
Email platform: email providers let you customize and manage your email signature directly within your preferred email client.
WiseStamp: a popular email signature generator that offers a variety of templates. You can add your photo, social media links, and even promotional banners. It supports most email clients including Gmail, Outlook, and Apple Mail.
HubSpot's Email Signature Generator: a free tool from HubSpot that allows you to create a professional email signature in just a few minutes. It offers a variety of customizable templates, and the resulting signature can be easily inserted into any email client.
Newoldstamp: it provides a variety of signature templates that can be customized with your own text, images, and social media icons. It also allows you to create different signatures for different members of your team, ensuring a consistent look across your company.
MySignature: This email signature generator offers a variety of templates, and allows you to add your photo, logo, and social media links. It also supports multiple email clients.
Canva: While not an email signature generator per se, Canva's versatile design platform can be used to create a custom email signature. You have control over all design elements, including color, font, layout, and graphics.
Implementing Your Email Signature in Outreach Platforms
Once you have crafted your perfect email signature, it is time to implement it across your outreach platforms.
This involves connecting your primary email to the outreach platform, enabling a custom unsubscribe link, and customizing the unsubscribe signature link.
Implementing your email signature in outreach platforms ensures that your signature is consistently displayed across all your outreach emails, reinforcing your professional image and providing recipients with the necessary contact information.
By integrating your email signature with your email outreach efforts, you can maximize their impact and boost their success.
Conclusion
In conclusion, crafting a proper email signature for SEO link-building outreach is a vital aspect of your overall digital marketing strategy.
From including essential components like your name and job title to designing an aesthetically pleasing and professional signature, every element plays a crucial role in creating a lasting impression on your recipients.
If you want to see how BacklinkManager can help you keep track of your links, book the demo!
Frequently Asked Questions
How do I create an outreach email signature in Outreach?
Outreach users can create an email signature in a few simple steps. First, access the Outreach Platform and click your user's initials (avatar) in the bottom left corner of the navigation sidebar.
Then, go to the User Admin section of the Settings panel and input your desired signature into the Signature field. Finally, save the changes for your signature to take effect.
How do I remove an email signature from Outreach?
To remove your email signature in Outreach, access the platform, go to User Admin under Settings Panel, click Mailboxes, and then select Edit next to the applicable email account.
This will allow you to customize the Unsubscribe Signature link and remove it as needed.
What are acceptable email signatures?
An acceptable email signature should include your name, job title, company, phone number, address, website link, and any relevant legal requirements.
Additionally, a photo of yourself, a direct phone number, social media icons, and pronouns may be included in a personal email signature to make a connection with the reader.
How do I add a professional signature to my email in Gmail?
To add a professional signature to your email, go to Gmail settings and click "Signature" to create a new signature with your name, affiliation, contact information, social profile icons, and any other relevant info.
Add a photo or logo and save the changes. Your signature will now be visible in all your emails.